Econoom Alex de Vries, die een artikel publiceerde over het "groeiende energieprobleem van Bitcoin", gisteren 16 mei, in het wetenschappelijke tijdschrift Joule, vertelde The Independent dat Bitcoin (BTC) mining aan het eind van 2018 0,5% van het totale energieverbruik in de wereld zal verbruiken.
De Vries concludeert dat, wanneer het BTC-netwerk momenteel ongeveer 2,55 GW aan elektriciteit verbruikt en in richting het verbruik van 7.67GW gaat in de toekomst (ter vergelijking: Ierland verbruikt 3.1GW en Australië 8.2GW) het netwerk "een groot probleem heeft en dat probleem groeit snel". Hij merkte echter wel op dat oplossingen zoals het Lightning Network de situatie kunnen verlichten.
Bitcoin mining heeft energie nodig voor het uitvoeren van de berekeningen, hashes, die miners Bitcoin-beloningen geeft. Halverwege februari werd gemeld dat crypto mining in IJsland meer energie zou verbruiken dan de huishoudens daar. Het debat over de vraag of Bitcoin mining overdreven schadelijk is voor het milieu wordt door sommigen gezien als een non-issue, vanwege de hoge behoefte aan Bitcoin in underbankte landen.
De Vries vertelde The Independent echter dat "een half procent al behoorlijk schokkend is".
Het is een extreem verschil in vergelijking met het reguliere financiële systeem , en deze toenemende vraag naar elektriciteit zal zeker niet helpen om onze klimaatdoelen te bereiken.
De wetenschappelijke studie gaat in detail over de verschillende soorten Bitcoin miners en hun individuele energieverbruik; erop wijzend dat "het meten van het elektriciteitsverbruik van de Bitcoin mining machines die al die hash-berekeningen produceren tot op de dag van vandaag een uitdaging blijft." De Vries gebruikt Bitmain's Antminers als zijn grootste voorbeeld om te laten zien hoeveel energie elke machine gedurende haar gebruiksperiode verbruikt.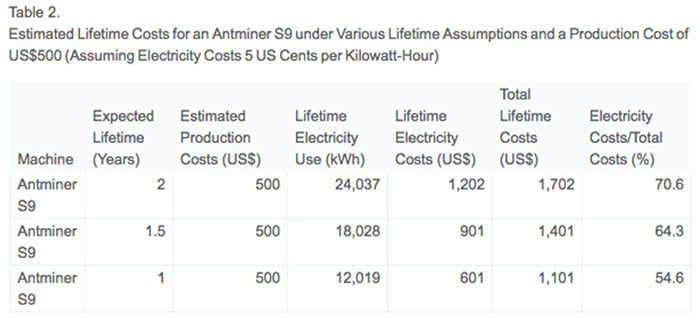 Omdat het onderzoek van De Vries de eerste keer is dat gegevens over Bitcoin-energieverbruik peer-reviewed zijn, hoopt hij dat zijn paper "het gesprek op gang zal brengen", omdat hij van mening is dat de wereld "meer wetenschappelijke discussie over waar dit netwerk naartoe leidt" nodig heeft, in tegenstelling tot 'back-of-the-envelope'-berekeningen, zei hij in The Independent.
Omgekeerd wordt blockchain, de technologie achter Bitcoin, in sommige gevallen gebruikt om de milieu-impact te verminderen. Deze week kondigde IBM een samenwerking aan met Veridium Labs met als doel om CO2-credits te tokeniseren zodat bedrijven hun CO2 balans beter kunnen volgen via blockchain en daarmee de CO2-uitstoot kunnen verminderen.