Overheden vinden het principe van een goed traceerbare blockchain misschien erg interessant of zelfs ideaal, maar de monetaire aspecten van cryptocurrencies vinden ze minder leuk. Sterker nog, een denktank van de Verenigde Naties denkt dat de crypto-markt nog steeds in een bubbel verkeert.
Opkomende economieën extra kwetsbaar voor crypto
Dat schrijft de United Nations Conference on Trade and Development (UNCTAD) in een vier pagina's tellend rapport. "All that glitters is not gold", benadrukt de VN-organisatie. De voordelen die cryptocurrencies bieden voor sommige individuen en instituten worden overschaduwd door de risico's en de kosten, volgens de denktank.
Met name voor ontwikkelende landen zou dit gelden, omdat in deze landen de adoptiegraad van private cryptovaluta erg hoog is. De pandemie heeft dat het afgelopen paar jaar exponentieel versneld. Deze opkomende economieën hebben een minder sterk financieel systeem en een minder sterke valuta. Dat kan risico's vormen voor de monetaire soevereiniteit, het beleid en de macro-economische stabiliteit.
Veel landen ervaren al de risico's van een gebrekkige monetaire stabiliteit. Dat zou komen doordat veel inwoners van deze landen soms liever crypto gebruiken dan de nationale valuta en het bijbehorende betalingssysteem.
In november 2021 was het volgens het onderzoek al in 41 landen verboden voor banken en andere financiële instituten om crypto-diensten aan te bieden, of exchanges mochten geen tokens verkopen aan individuen en bedrijven. Negen landen hebben crypto zelfs helemaal verboden. Dat zijn Algerije, Bangladesh, China, Egypte, Irak, Marokko, Nepal, Qatar en Tunesië.
Crypto adoptie in Oekraïne en Rusland het grootst
Verder zet het rapport uiteen in welke landen de adoptie het grootst is. Oekraïne staat aan kop, waar niet geheel onverwachts 12,7% van de bevolking in crypto investeert. In Rusland is dit 11,9%. In Venezuela, dat lang geplaagd is door hyperinflatie, vertrouwt 10,3% van de bevolking op de activaklasse. Het overgrote deel van de grafiek is rood. Dit zijn ontwikkelende economieën. Slechts vijf van de twintig landen in de lijst zijn ontwikkelde landen, die doorgaans financieel een stuk sterker staan.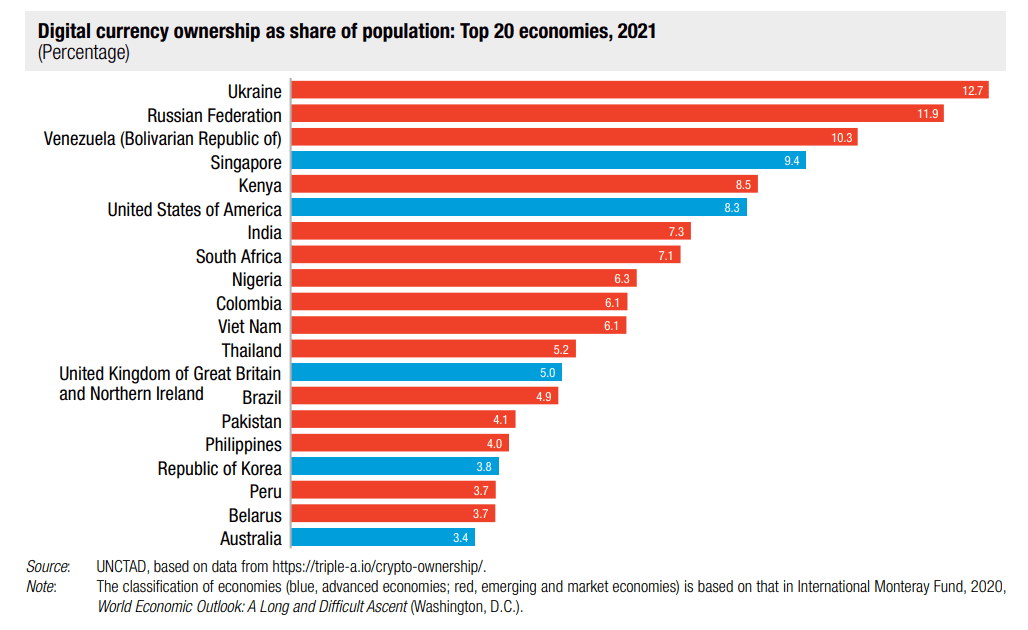 De organisatie pleit voor het beperken van advertenties voor crypto-activa, het reguleren van de industrie en voor een "modern, betrouwbaar en betaalbaar betalingssysteem voor de publieke sector." Met dat laatste bedoelt het een Central Bank Digital Currency (CBDC) of een snel betalingssysteem voor de retail-markt.
Dat dit soort overheidsorganisaties niet direct voorstander zijn van crypto is geen geheim. Onlangs was het International Monetary Fund (IMF) in het crypto nieuws omdat stablecoins voor meer pijn gingen zorgen.