De paniek op de markt veroorzaakte een flinke dip in de bitcoin (BTC) prijs. Deze dip bracht bitcoin zelfs even onder de $4.000. Ondanks het negatieve sentiment, biedt de daling mooie kansen, zo blijkt onder andere uit data van Skew.
Skew, een platform dat analyses van verschillende data biedt, laat zien dat het volume op de bitcoin futuresmarkten de afgelopen dagen aan het toenemen is. De toename is vooral te zien bij de fysiek afgewikkelde bitcoin futurescontracten van handelsplatform Bakkt: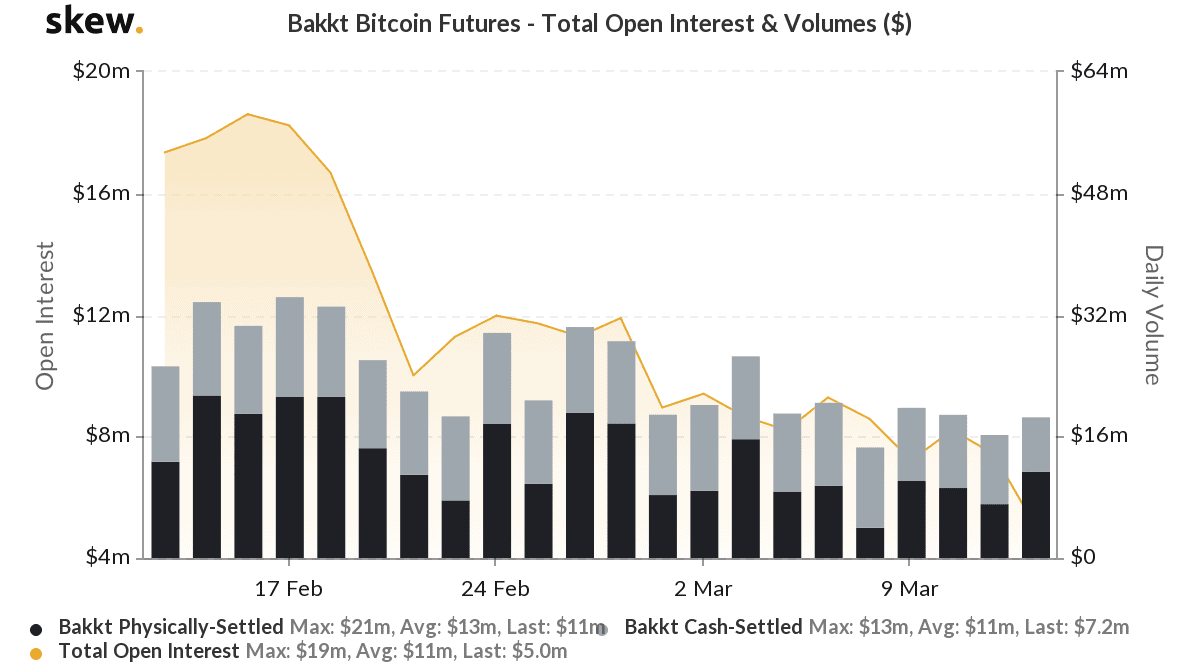 Een mogelijke reden voor de toename in handelsvolume ten tijden van een sterk dalende BTC koers is dat de lage prijs mooie kansen biedt. Zo stelde Charlie Morris onlangs nog dat dit het "minst risicovolle moment" is om bitcoin te kopen:
De twee grote risico's van #bitcoin die mij bezighouden zijn waardering en het netwerk. Met $18 miljard aan wekelijkse uitgaven doet het netwerk het goed. Wat de waardering betreft, deze is terug naar de reële waarde. Dit is het "minst risicovolle" moment om bitcoin te kopen! Veel beter dan dit wordt het niet.
The two big risks in #bitcoin that concern me are valuation and the network. With $18bn of weekly spend, the network is thriving. As for valuation, it is back to fair value. This is the "least risky" time to buy bitcoin! It doesn't get much better than this. pic.twitter.com/TInkLHLre3

— Charlie Morris (@AtlasPulse) March 12, 2020

Ook de bekende klokkenluider Edward Snowden laat weten dat tijdens de flinke dip van bitcoin, hij voor het eerst sinds lange tijd overweegt om wat bitcoin te kopen. Hij zei op Twitter:
Dit is de eerste keer in een tijdje dat ik zin heb om bitcoin te kopen. Die daling was te veel paniek en te weinig reden.
This is the first time in a while I've felt like buying bitcoin. That drop was too much panic and too little reason.

— Edward Snowden (@Snowden) March 13, 2020

Gisteren deelde Michiel zijn visie op de huidige situatie van Bitcoin. Waar staan we nu te midden van de onrust omtrent het coronavirus? Lees het in in zijn meest recente column!