Crypto Insiders leden ontvangen in onze Discord omgeving dagelijks nieuwe technische analyses voor cryptocurrencies. In dit artikel delen we een recente analyse van chilliz (CHZ) uit onze Premium omgeving. Ben je nog geen lid of mocht je na het lezen van dit artikel nog vragen hebben, neem dan eens een kijkje op onze Premium informatiepagina en probeer de eerste 30 dagen gratis.
Laatste Chilliz nieuws
Technische analyse CHZ koers
Chilliz is over de afgelopen periode weer enorm in opspraak en heeft dat te danken aan het aankomende FIFA wereldkampioenschap in Qatar. Het product achter het project maakt het namelijk mogelijk voor voetbalfans om hun favoriete club of landelijk elftal te supporten. Dit was natuurlijk voor de analisten van Crypto Insiders een goede reden om een blik op de koers te werpen. Zij deelden onlangs het volgende over de CHZ koers:
"CHZ toont over de afgelopen tijd veel meer kracht dan ethereum of bitcoin en is naar onze mening al begonnen aan de verwachte opwaartse beweging. Tot nu toe zijn alle innerwaves en Fibonacci niveaus gerespecteerd door de koers en volgen we nog perfect onze prognose.

Op de grafiek van CHZ zien wij namelijk een groter 12345 Elliott Wave patroon vormen waarbij we nu ook een innerwave 12345 EW patroon maken in de grotere derde wave. Deze wave zal volgens de theorie hard omhoog kunnen gaan. Dit beeld komt overeen met de prestatie van de cryptocurrency over de afgelopen drie dagen.

De koers heeft ook perfect de 50% fFbonacci aangetikt en heeft hiermee de tweede wave afgemaakt. De CHZ wijst nu naar boven en is daarom een coin die wij de komende dagen en weken tijdens het WK strak in de gaten zullen blijven houden."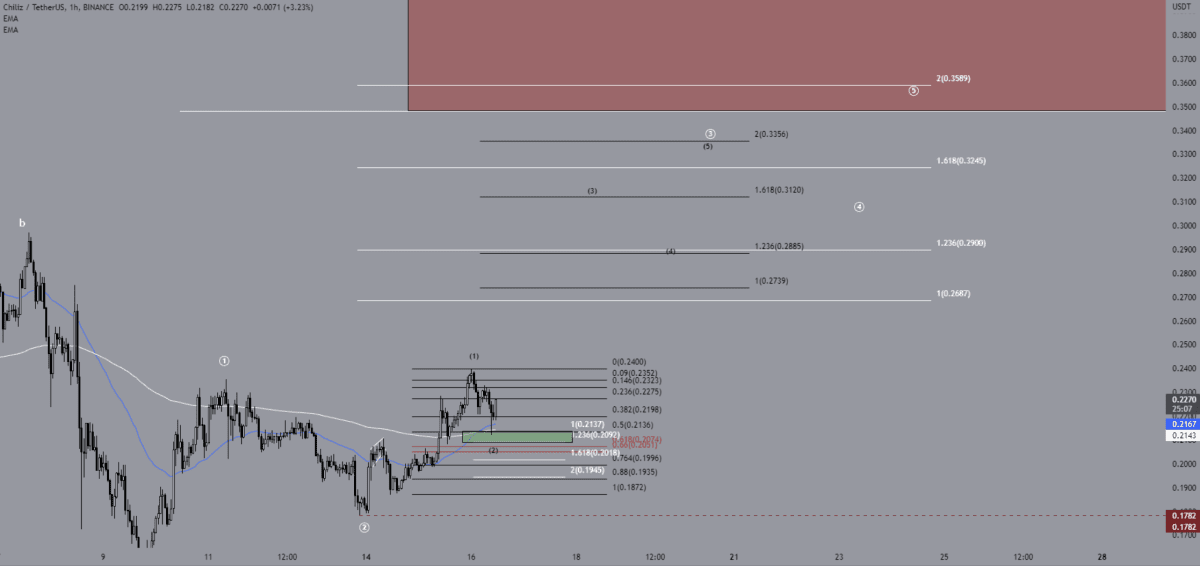 Chilliz kopen of verkopen?
Overweeg jij CHZ te kopen of verkopen? Zoek jij hulp met handelen in crypto? Dan verwijzen we je graag door naar onze Premium membersgroep. Hier ontvangen leden als eerst de nieuwste technische analyses van een groot aanbod aan crypto.
Ook krijg je toegang tot exclusieve crypto-projecten, koersvideo's, handelsplannen en ask me anything (AMA) sessies met onze analisten. In onze Discord kunnen we 24/7 kennis met elkaar delen en proberen we samen met onze leden de markt voor te blijven. Word lid en probeer een Premium-lidmaatschap 30 dagen gratis.
Disclaimer: Beleggen brengt risico's met zich mee. Onze analisten zijn geen financieel adviseurs. Raadpleeg altijd een adviseur bij het maken van financiële beslissingen. De informatie en tips die op deze website zijn verstrekt is gebaseerd op eigen inzichten en ervaringen van onze analisten. Deze dienen daarom alleen voor educatieve doeleinden.