AVAX is in de afgelopen periode met 34% gestegen. In dit artikel kijken we naar een van de mogelijke fundamentele redenen waarom deze cryptocurrency in waarde is gestegen en analyseren we de AVAX koers zodat je een weloverwogen beslissing kunt maken om de coin te kopen of verkopen.
Een van de top stijgers van de afgelopen periode is Avalanche (AVAX). Deze coin wist in de afgelopen 24 uur een rendement van ongeveer 4% te halen. In de afgelopen zeven dagen deed AVAX het aanzienlijk beter. In deze periode steeg de coin met ongeveer 34%. Door de stijging staat Avalanche op de 10e plaats op basis van marktwaarde. 
Wat is Avalanche?
Avalanche is een platform waarop iedereen haar eigen multifunctionele blockchain en gedecentraliseerde applicaties (dApps) kan bouwen. Avalanche werkt middels smart contracts binnen de Decentralized Finance (DeFi) sector. Daarnaast probeert het platform om enkele beperkingen waar oudere blockchain-platforms mee kampen op te lossen. Denk hierbij aan de lage transactiesnelheid, centralisatie en schaalbaarheid.
Waarom stijgt AVAX in waarde?
De stijging zou onder andere mogelijk te maken kunnen hebben met deze aankondiging. Hierin geeft het project aan dat Frontier V2 live is gegaan. Dit is een mobiele app die geïntegreerd is op Avalanche. Dit zorgt ervoor dat gebruikers via de app ook gebruik kunnen maken van AVAX staking, non-fungible tokens (NFT's) en TrueUSD (TUSD), een stablecoin op het Avalanche protocol. 
Dit zorgt er dus niet alleen voor dat gebruikers weer net een beetje meer kunnen doen met hun wallet, maar het zorgt er ook voor dat gebruikers gemakkelijk in aanraking komen met nieuwe DeFi applicaties. Dit is juist waar Avalanche zich hard voor maakt.  
Technische analyse
AVAX heeft sinds de vorige analyse wilde sprongen gemaakt. De analyse toonde dat AVAX op $95,50 stond. De koers heeft sindsdien een nieuwe all-time high (ATH) gemaakt op $147. De koers kwam hierna toch weer terug. Maar wat opvalt is dat er steun is gevonden op de oude weerstandslijn. Dit is vaak een erg positief teken. De koers maakte hier inderdaad een bounce en lijkt weer de ATH op te willen zoeken. Mochten we toch weer naar beneden gaan dan zal de steunlijn nogmaals getest worden.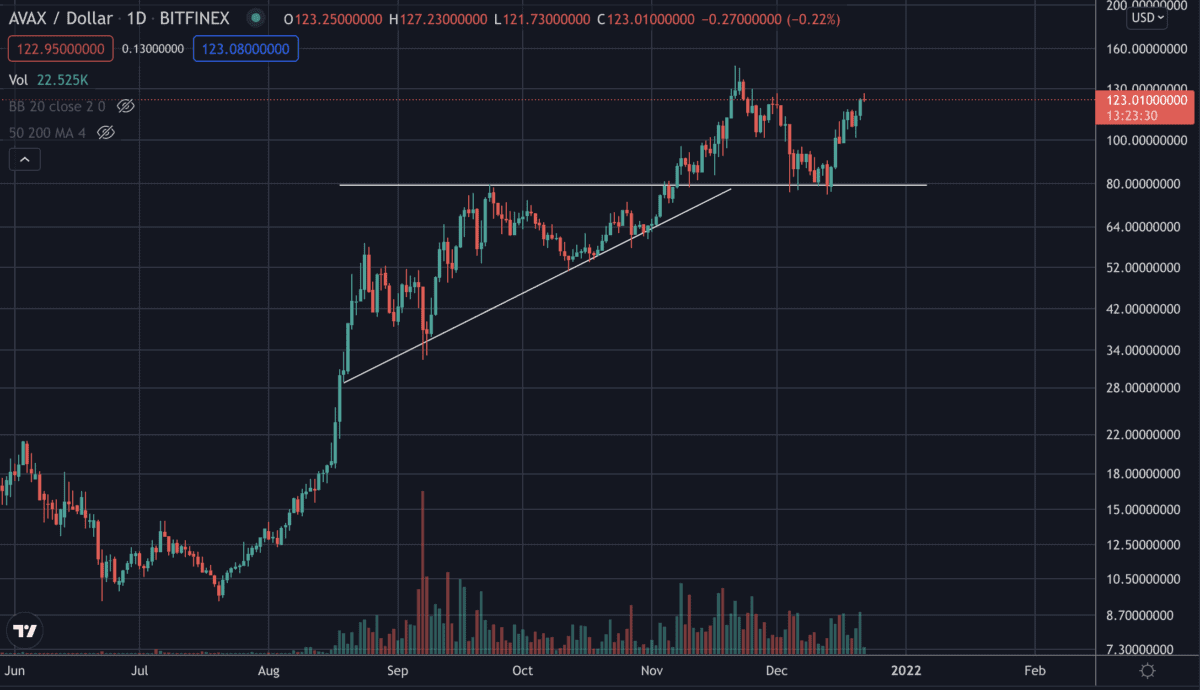 Wat zijn de verwachtingen voor de komende periode?
Of de lancering van de nieuwe app verder impact gaat hebben op de koers is natuurlijk afhankelijk van een aantal factoren. wil jij een positie nemen in AVAX? In ons Discord kanaal voor leden bediscussiëren we het nieuws en zullen we verdere updates met jullie blijven delen. Je komt hier eenvoudig in contact met onze analisten en crypto coaches, zij helpen je graag een weloverwogen beslissing te maken.