LUNA heeft vandaag een geweldige stijging ondervonden van maar liefst 8%, zoals besproken in de Crypto-Insiders premium omgeving voor leden. Hieronder kijken we naar fundamentele redenen die de stijging kunnen verklaren. Daarnaast analyseren we de koers op basis van technische analyse zodat je een doordachte beslissing kunt maken om LUNA te kopen of juist te verkopen.
Een van de best presterende cryptocurrencies van vandaag is terra (LUNA). LUNA is in de afgelopen 24 uur met ongeveer 8% gestegen. Over de afgelopen dagen zagen we de koers met ongeveer 10% toenemen en over de afgelopen dertig dagen zagen we al helemaal een mooi resultaat. In deze periode steeg de koers namelijk met ongeveer 37% wat ervoor zorgde dat de vorige all-time high van LUNA werd verbroken. Door de stijging staat LUNA op de 8e plaats op basis van marktwaarde.
Wat is Terra (LUNA)?
Terra is een project waarbij de focus wordt gelegd op het maken van stablecoins en werkt met behulp van Cosmos SDK. Elke stablecoin die wordt geproduceerd kan ook weer omgezet worden in de LUNA-token. Zo wordt voorkomen dat de stablecoin stabiel gehouden moet worden door middel van fiat en over-collateralized crypto als reserve. LUNA kan door gebruikers worden toegepast bij het betalen van hun fee's, bij het staken of het meedoen aan stemmingsrondes bij de governance. Daarnaast wordt LUNA dus gebruikt bij het stabiel houden van de stablecoins.
Waarom stijgt de koers van Terra (LUNA)?
Een mogelijke reden van de stijging zou kunnen zijn dat de Terra Foundation, een non-profit organisatie en de organisatie achter de LUNA token, bitcoin (BTC) zou hebben gekocht. Naar verluidt zou de Foundation voor ongeveer $1,32 miljard aan bitcoin bezitten ondertussen. Het was echter nooit een geheim dat Do Kwon, de oprichter van Terra, met de Foundation bitcoin wilde kopen, hij heeft aangegeven uiteindelijk zelfs een reserve van $10 miljard in bitcoin te willen hebben. Met deze reserve wil hij UST, de stablecoin van LUNA, stabiel houden. Het feit dat bitcoin zo hard gestegen is over de afgelopen dagen zou er dus mogelijk voor gezorgd kunnen hebben dat de koers van LUNA ook is gestegen. De waarde van deze reserve is dus in dollar waarde ook hard gestegen waardoor ze meer zekerheid hebben in het feit de stablecoin stabiel te houden.
Technische analyse Terra (LUNA) in verhouding tot bitcoin (BTC)
Als we kijken naar de grafiek van LUNA zien we dat de koers zich over een langere periode prachtig heeft weten te ontwikkelen. Waar we de afgelopen maanden steeds hogere bodems zagen, zagen we ook dat de koers meerdere malen een nieuwe all-time high wilde neerzetten. Dit ondanks dat de rest van de markt weinig goeds liet zien steeg LUNA hard.
Op het moment van schrijven is de all-time high wederom doorbroken. Dit is voor een cryptocurrency altijd een prachtig moment aangezien deze zich nu in de price discovery phase zit. Dit wil zeggen dat we nu nog moeten ontdekken waar nieuwe weerstandzones liggen. Omdat we hier nooit eerder geweest zijn kunnen we die nu nog niet zien op de grafiek. Het zal interessant zijn om te zien of LUNA eerst op de kleinere time frames van de weerstand op de oude ATH nieuwe steun kan vinden. Als dit gebeurd is dit een erg positief teken.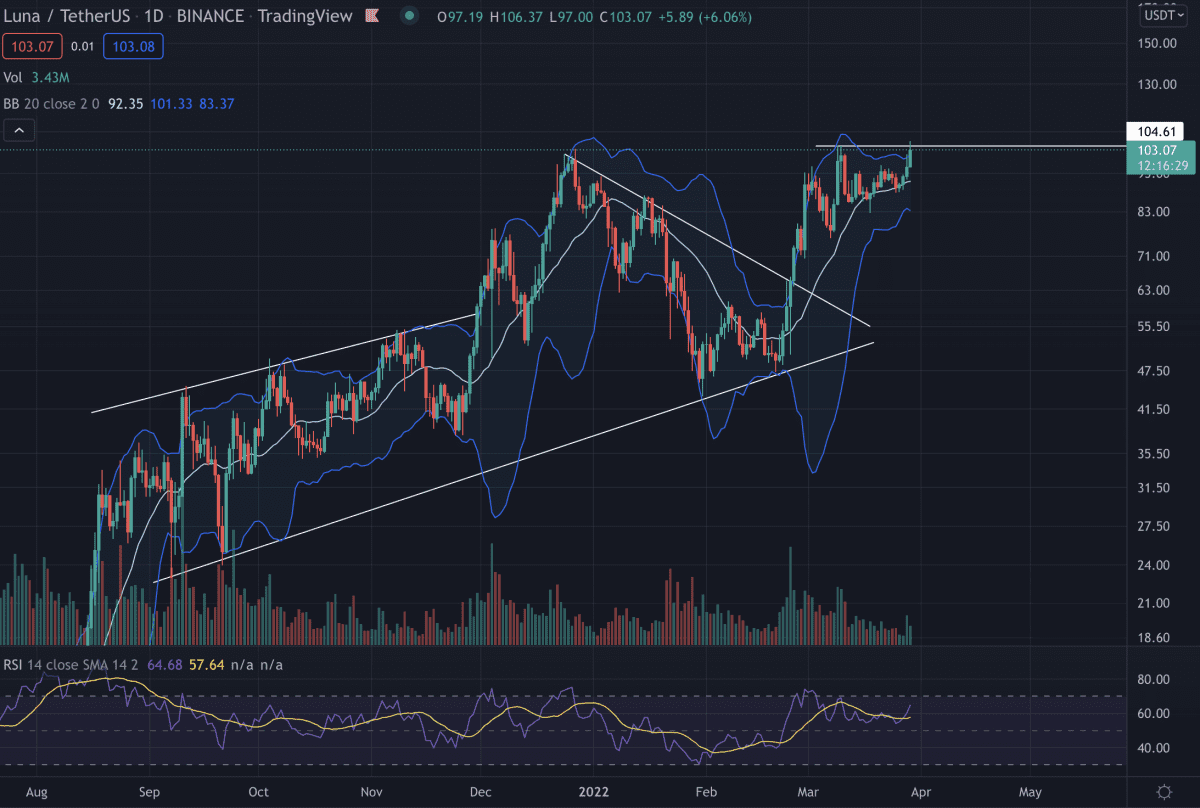 Als we kijken naar hoe LUNA zich tegenover bitcoin verhoudt zien we dat er op de LUNA/BTC grafiek nog geen nieuwe ATH is gemaakt. We schommelen op het moment nog tussen de 26.569 satoshi en de 20.460 satoshi. Toch lijkt ook hier een flinke stijgende lijn in te zitten. Het zou dus niet gek zijn als LUNA in bitcoin waarde ook een nieuwe ATH maakt. Op de RSI is hier ook nog genoeg ruimte voor na een maand waarin deze heeft kunnen afkoelen.

Verwachting Terra (LUNA) en bitcoin (BTC) koers toekomst
Wil jij up-to-date blijven, meer technische analyse voor LUNA en BTC ontvangen of hier vragen over stellen? In de Crypto-insiders premium omgeving voor leden bediscussiëren we het crypto nieuws en blijven we verdere updates met jullie delen. Hier worden ook additionele technische analyses gedeeld over andere coins die in deze rubriek worden behandeld. Overweeg jij een positie te nemen in LUNA of BTC? Neem via de premium omgeving voor leden contact op met een van onze analisten en crypto coaches, zij helpen je graag een weloverwogen beslissing te maken.