Terra (LUNA) is druk bezig met bitcoin (BTC) kopen! De afgelopen dagen kocht het project systemisch BTC om de reserves van zijn UST stablecoin aan te vullen. Inmiddels zouden de reserves al een waarde hebben van meer dan $1 miljard. Dat blijkt uit data van Bitinfocharts.
Terra voegt daad bij woord en koopt bitcoins
Dat Terra bitcoin zou gaan kopen was geen geheim. De oprichter, Do Kwon, van het project heeft zich vaker uitgesproken over zijn wens om bitcoin reserves ter waarde van $10 miljard aan te leggen. Het doel hiervan is om de waarde van UST, een cryptocurrency die een stabiele waarde van $1 moet handhaven, stabiel te houden. Eerder stelde hij dat dit "een nieuw monetair tijdperk" in zal luiden.
En dat bitcoin kopen gebeurt nu ook daadwerkelijk. Sinds 22 maart worden elke dag systematisch bitcoins toegevoegd aan het wallet adres dat door analisten en deskundigen aan de Luna Foundation wordt gelinkt. Dat begon op 22 maart met de aankoop van bijna 3.000 bitcoins.
The Bitcoin address (bc1q9d4ywgfnd8h43da5tpcxcn6ajv590cg6d3tg6axemvljvt2k76zs50tv4q) has deposited nearly 24,955 BTC worth more than $1.1 billion. Market suspects it is the address of Luna Foundation, which has raised $2.2 billion for its bitcoin reserves. https://t.co/ex7yM1CWx0

— Wu Blockchain (@WuBlockchain) March 27, 2022
Sinds 22 maart stroomden er al 13.900 bitcoins binnen bij de wallet. De wallet zou daarmee nu $1,1 miljard aan bitcoin in bezit hebben. De bitcoin aankopen zijn volgens analisten een van de redenen dat de BTC koers de afgelopen dagen in een versnelling terecht is gekomen.
UST stablecoin komt in stroomversnelling
De terraUSD (UST) stablecoin lijkt te kunnen profiteren van de ontwikkelingen. De marktkapitalisatie kwam begin vorige maand in een stroomversnelling terecht en houdt tot nu toe vast aan het momentum, zoals te zien op de onderstaande grafiek.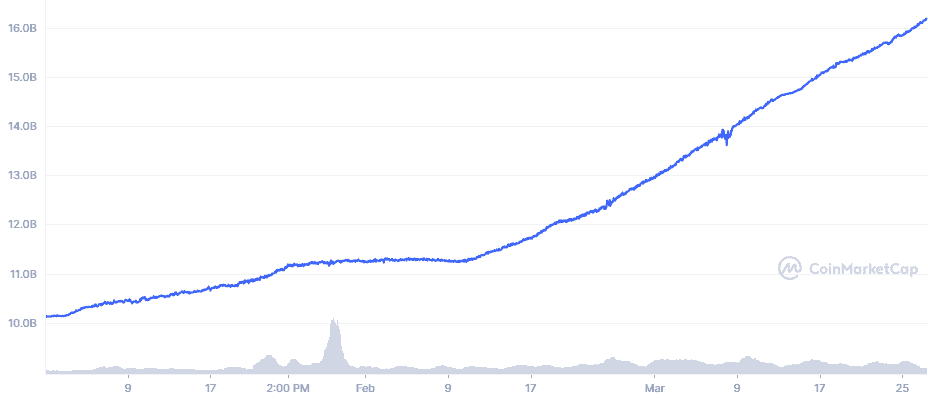 In eerder nieuws was te lezen dat Kwon een weddenschap ter waarde van miljoenen dollars is aangegaan. De weddenschap draait om de waarde van LUNA, waarvan sommigen denken dat die in kan storten door de manier waarop de algoritmische stablecoin werkt. Kwon is het hier natuurlijk niet mee eens en ging de weddenschap op 14 maart aan.