Vandaag zal de king of cryptocurrencies worden behandeld in deze editie van de Insiders-analyse. Deze cryptocurrency is natuurlijk bitcoin (BTC). Bitcoin wist de meeste stemmen te krijgen in de premium omgeving voor leden van Crypto-Insiders en zal daarom in deze rubriek behandeld worden. Hieronder kijken we eerst naar de recente ontwikkelingen rondom BTC en wat we nog in de toekomst van het nummer 1 project op basis van marktwaarde kunnen verwachten. Vervolgens wordt het sentiment op de markt gemeten en analyseren we op basis van technische analyse de grafiek van de cryptocurrency. 
Wil jij ook stemmen op jouw favoriete coin? Neem dan een kijkje in onze premium omgeving en laat je stem achter. Je kan dit nu de eerste 30 dagen gratis uitproberen!
Recente ontwikkelingen
Een van de belangrijkste ontwikkelingen die bitcoin is doorgaan is niet zo lang geleden doorgevoerd. Waar de SegWit update in 2017 in eerste instantie de meest belangrijke update was is dit nu de Taproot update. Het heeft even mogen duren voordat deze update eindelijk live ging. De update was voorgesteld in 2017. In 2020 was Taproot opgenomen in Bitcoin Core, in juni 2021 was deze vastgezet en pas in november 2021 ging de update live. Taproot was live vanaf bloknummer 709.632. 
Ik hoor je denken: Maar wat doet Taproot nou precies? Taproot verbetert smart contract functionaliteiten op Bitcoin en zorgt er ook voor dat het type transactie verborgen wordt. Dit is bevorderlijk voor de veiligheid van het netwerk maar natuurlijk ook voor de privacy. Voorheen was het te onderscheiden wat voor soort transactie het was. Dit kan bijvoorbeeld een Lightning Network transacties zijn, of complexe smart contracts zijn of een normale transactie. Nu is elke transactie gelijk aan elkaar. Dit wordt in de twee nogmaals uitgelegd middels een afbeelding:
We are in the midst of big update to #Bitcoin, Taproot!
Short thread.

What is #Taproot: pic.twitter.com/wHTCXNXDIW

— Root ???? (@therationalroot) May 3, 2021
Verder zijn er met deze update nog een aantal verschillende extra updates uitgevoerd om de Taproot te ondersteunen. Deze update was dus een grote stap in de goede richting om het Bitcoin netwerk weer een beetje beter te maken!
Wat kunnen we nog van Bitcoin verwachten?
Hoewel bitcoin de nummer 1 cryptocurrency ter wereld is als we kijken naar de marktwaarde wil dit nog niet zeggen dat het project perfect is. Talloze ontwikkelaars zijn constant bezig het netwerk te proberen te verbeteren. Zo is er een hele lijst aan verschillende voorgestelde updates. Deze voorstellen worden ook wel BIPs genoemd, ofwel Bitcoin Improvement Proposals. In deze lijst staan ook aangenomen en afgewezen verbeteringen maar ook verbeteringen waar nog op gestemd moet worden. Dit zijn dus allemaal verbeteringen die we mogelijk in de toekomst nog kunnen zien. 
Marktsentiment en adoptie
Er zijn een aantal metrics die laten zien hoe snel bitcoin groeit. Zo kunnen we eerst een kijkje nemen naar het aantal bitcoin wallets die er in totaal zijn. Aan de lijn te zien, die begint in 2018, weet bitcoin elk jaar een stabiele groei te laten zien. Op het moment zijn er dus ongeveer 940 miljoen bitcoin wallets aangemaakt.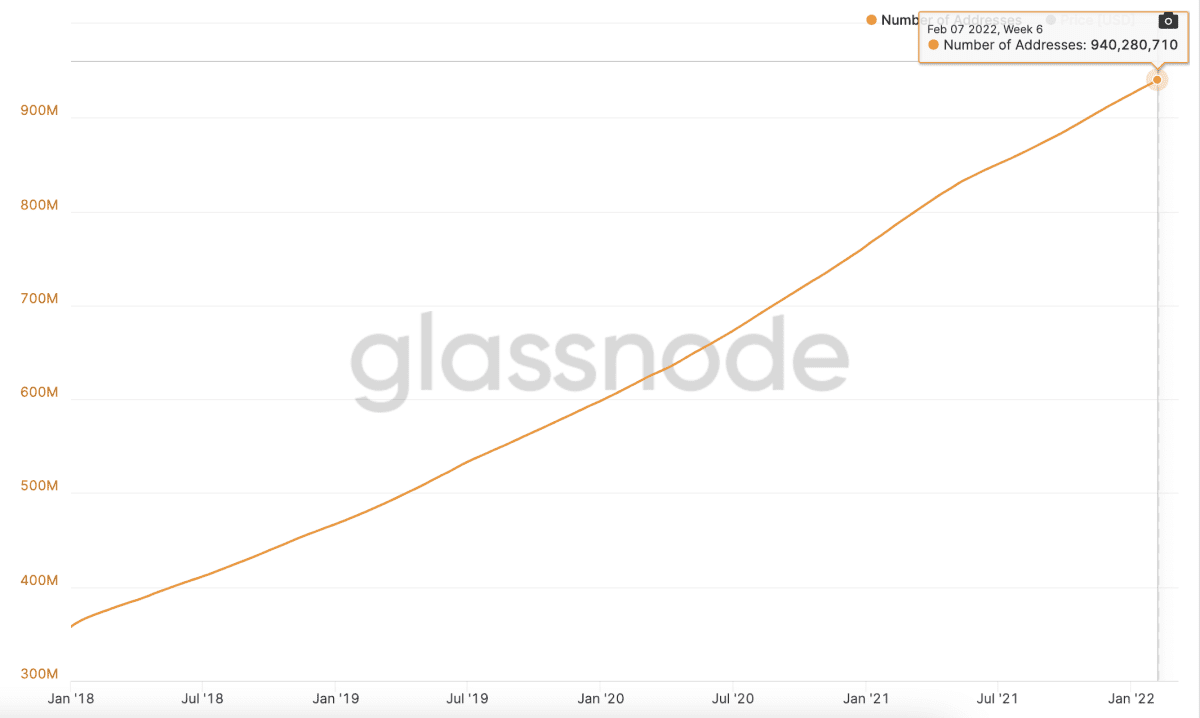 In 2022 zijn er al ongeveer 900.000 nieuwe wallets bijgekomen zoals te zien is in de onderstaande tweet. Dus zelfs in een neerwaartse markt wordt bitcoin door meer mensen gebruikt dan ooit tevoren.
Record Holders — The number of addresses holding $BTC continues setting new records.

Bitcoin addresses with a balance reached a record of nearly 40 million.

Even as BTC has remained on a downwards trend in 2022, the network added a total of 888,000 new addresses with a balance. pic.twitter.com/QN4hL13sWH

— IntoTheBlock (@intotheblock) March 14, 2022
Technische analyse
Bitcoin is in de afgelopen 24 uur met ongeveer 1,5% gedaald. Over de afgelopen zeven dagen zagen we de koers ook dalen, echter viel de daling nog mee. In deze periode daalde BTC met ongeveer 1%. Bitcoin staat natuurlijk nog op de eerste plaats op basis van marktwaarde. Als we naar de grafiek van BTC kijken zien we dat bitcoin op het moment schommelt tussen de $36.000 en $45.000. Door deze prijsactie lijkt er een symmetrische driehoek te vormen. Dit is een neutraal patroon, en de theorie schrijft voor dat we in dat geval nog niet weten welke kant we op kunnen breken. 
Onze technische analyse AppY-Crypto lijkt echter wel te weten welke kant we op zullen uitbreken en heeft dit in de premium omgeving voor leden van Crypto Insiders duidelijk uitgelegd. Probeer nu de eerste 30 dagen gratis om te zien welke kant AppY-Crypto denkt dat we op zullen gaan!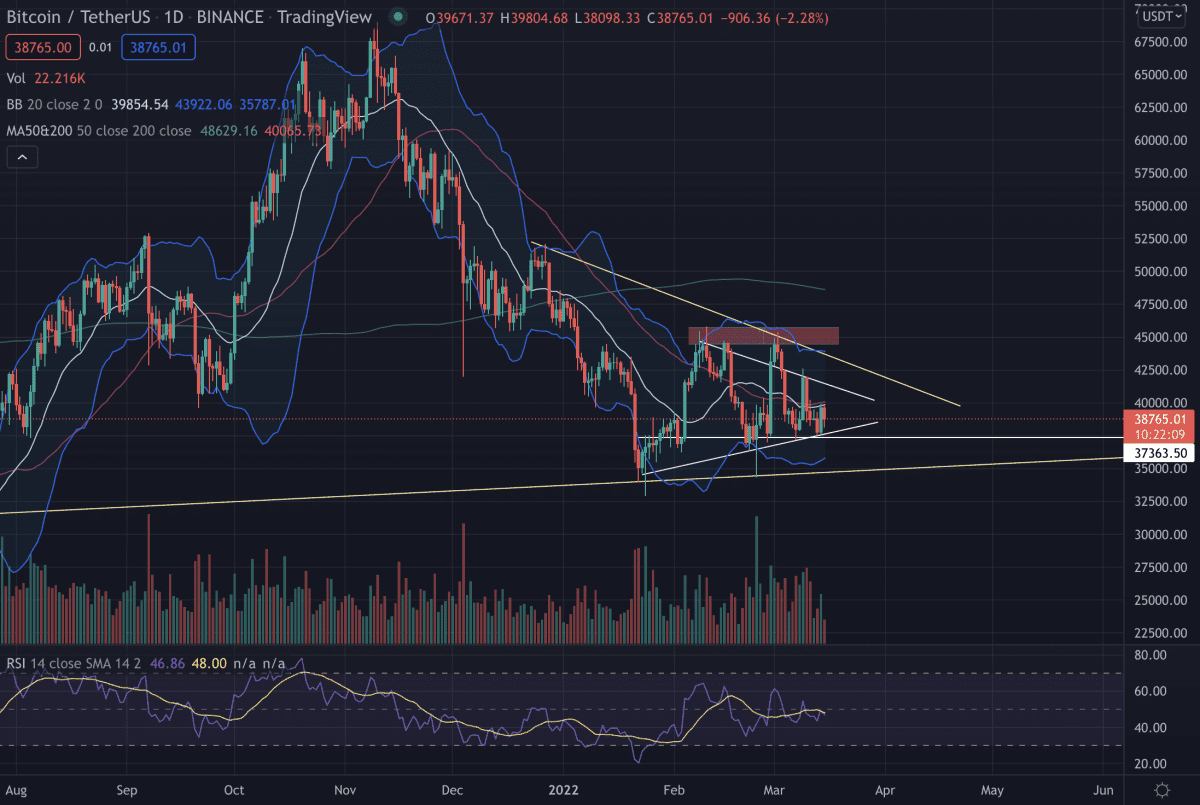 Hoe bepaal ik het juiste moment om te kopen?
Overweeg je een positie te nemen in BTC maar weet je niet zo goed wanneer je het best kunt instappen? Vraag het aan een ervaren analist in onze premium omgeving voor leden! Hier worden dagelijks additionele technische analyses gedeeld door verschillende analisten die dieper op de koers ingaan. Je komt hier vrij eenvoudig in contact met verschillende analisten en ervaren crypto coaches, zij helpen je graag een weloverwogen beslissing te maken. Je kan dit nu de eerste 30 dagen gratis en vrijblijvend uitproberen!