Vandaag in de Insider-analyse nemen we Moonriver (MOVR) onder de loep. Deze cryptocurrency werd uitgekozen door leden in de premium omgeving van Crypto Insiders en wordt daarom behandeld in deze editie. 
Moonriver is een op Kusama (KSM) gebaseerde smart contract blockchain die ook volledig werkt met Ethereum (ETH). Moonriver is opgezet naast Moonbeam en wordt gebruikt om code te testen die later op Moonbeam (GLMR) gebruikt wordt. Op deze manier wordt de code al getest binnen een echte economische situatie. Ontwikkelaars kunnen hierop middels smart contracts hun Ethereum gedecentraliseerde applicaties (dApps) opnieuw kunnen implementeren. 
Hieronder kijken we eerst naar de meest recente ontwikkelingen omtrent het project van MOVR en wat we in de toekomst kunnen verwachten. Daarna wordt het sentiment op de markt gemeten en analyseren we op basis van een technische analyse de koersgrafiek van de crypto.
Recente ontwikkelingen Moonriver
De Moonbeam Foundation heeft onlangs bekend gemaakt dat zij een plek in de parachain op Kusama (KSM) hebben kunnen bemachtigen middels een veiling. Moonriver is pro-actief achter deze veiling aangegaan en heeft de plek zelf gefinancierd.
Moonriver heeft van tevoren, zoals te zien is op de grafiek hieronder, 40% van haar tokens gereserveerd voor het betalen van de plek in de parachain. Doordat zij nu zelf deze plek hebben gefinancierd kan deze reserve voor andere doeleinden worden gebruikt. Deze tokens gaan zij uitgeven aan initiatieven om de activiteit op en adoptie van Moonriver te stimuleren.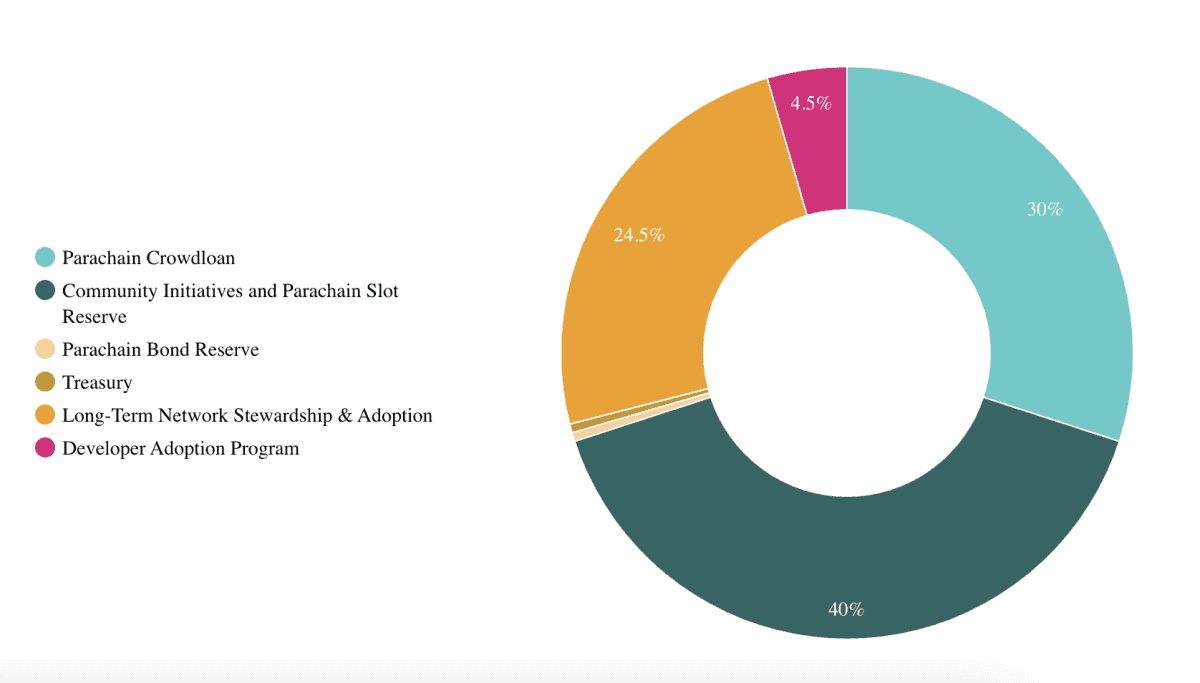 Het feit dat Moonriver nu een plekje heeft kunnen bemachtigen is goed nieuws voor het project aangezien een parachain slot een erg schaars middel is. Het doel van Kusama is om uiteindelijk 100 verschillende parachain plekken te vergeven, echter zijn er hier nog maar een paar van over. Een plek wordt vrijgegeven eens in de paar maanden in sommige gevallen. Het feit dat Moonriver dus een plekje heeft kunnen krijgen is erg goed voor het project. 
Wat kunnen we nog van Moonriver verwachten?
Moonbeam en Moonriver zijn nog niet zo oud en zijn beide nog in ontwikkeling. Als we naar de roadmap van beide projecten kijken, kunnen we zien waar nog aan gewerkt wordt. Zo is te zien dat Moonriver 2022 gebruikt om een aantal specifieke dingen te verwezenlijken. Als eerst zijn ze al sinds Q3 van 2021 bezig om het ecosysteem van Moonriver uit te breiden. 
Ook is te zien dat Moonriver zich in het eerste kwartaal van dit jaar deels wilt focussen op het ontwikkelen en uitgeven van nieuwe platformen waarop gebruikers cryptocurrencies kunnen (uit)lenen. Dit proces zal in ieder geval tot en met het tweede kwartaal van dit jaar duren. De ontwikkelingen van deze nieuwe platformen vallen samen met verdere ontwikkelingen. 
Op de roadmap is ook te zien dat Moonriver zich meer wilt gaan focussen op de non-fungible token (NFT), gaming en Decentralized Finance (DeFi) sector. Hier zijn zij al deels mee begonnen. Het Moonriver ecosysteem bestaat hierdoor ook uit een aantal NFT marktplaatsen, NFT collecties en gaming platformen. In de nabije toekomst kunnen we dus verwachten dat Moonriver deze aspecten verder zal uitbreiden zoals aangegeven wordt in hun roadmap. In de Crypto-Insiders premium omgeving voor leden zullen wij dit project scherp in de gaten houden!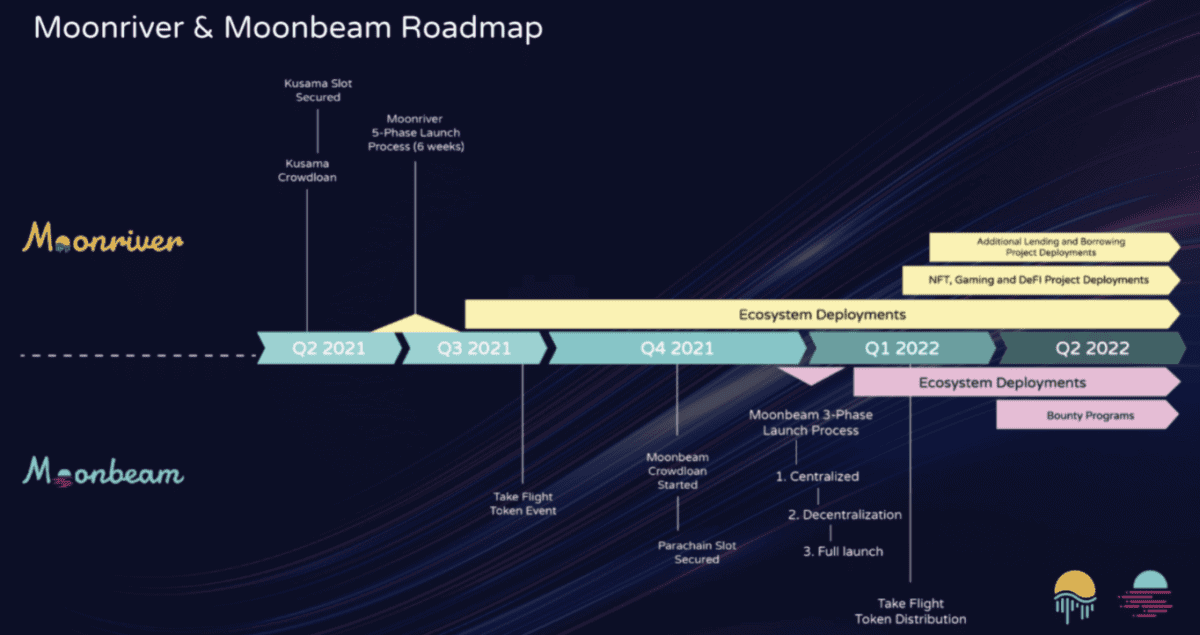 Marktsentiment en adoptie
Op de onderstaande grafiek is te zien dat de populariteit van Moonriver op sociaal gebied helaas wel aan het afnemen is. De lijn van Twitter-volgers blijft wel gestaag omhoog gaan, echter zien we dat het sociale volume sinds november vorig jaar aan het afnemen is. Ook de actieve gebruikers in het telegram kanaal van MOVR neemt sterk af sinds december 2021.

Daarnaast is te zien dat Moonriver een total value locked (TVL) heeft van $373,33 miljoen. Dit is in de afgelopen maanden flink toegenomen. In februari stond dit getal namelijk op ongeveer $192 miljoen. Toch staan we flink lager dan de piek op 1 december 2021 van $611 miljoen. 

Het grootste gedeelte van de TVL bestaat uit Moonwell (MFAM). Moonwell is een open leen, uitleen en gedecentraliseerd financieringsprotocol gebouwd op Moonbeam en Moonriver en is goed voor zo'n $250 miljoen. Daarnaast zien we Houses of Rome (ROME) en SushiSwap (SUSHI).

Als we kijken naar de Github-pagina van Moonbeam, het overkoepelende project, dan zien we dat het project voor ontwikkelaars steeds populairder aan het worden is. De groene kant op de grafiek laat verschillende toevoegingen zien die worden gedaan op het project. Deze neemt in een stijgende lijn toe met recent nog een flinke uitschieter.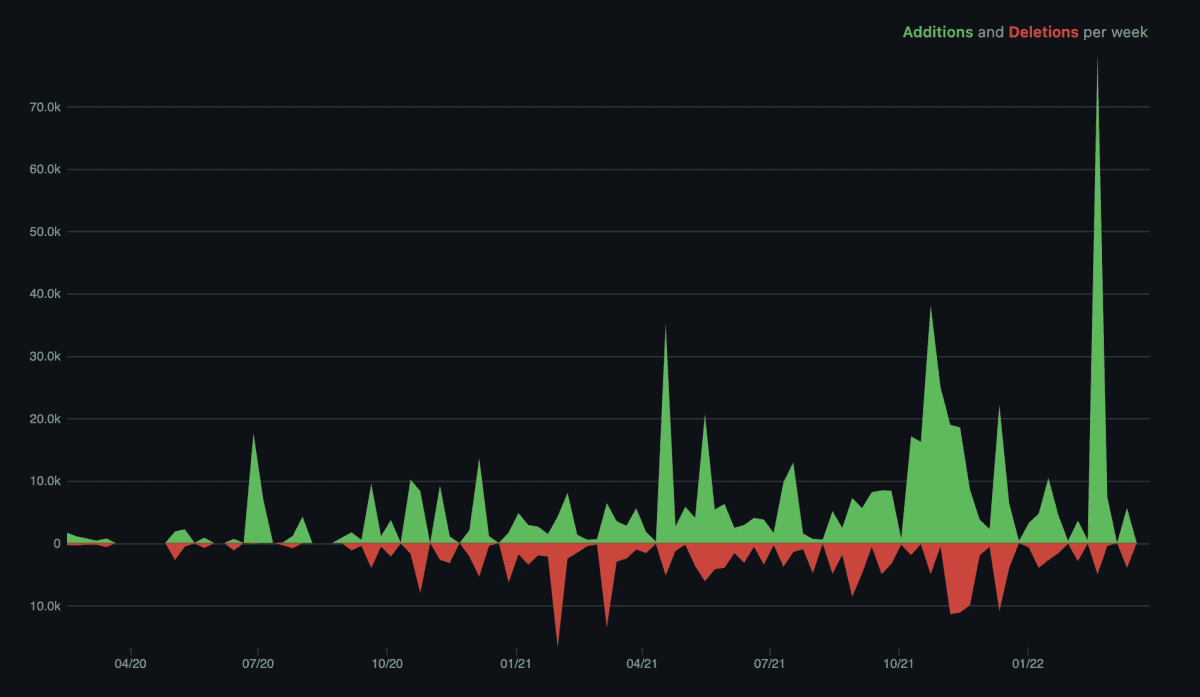 Technische analyse MOVR
MOVR is in de afgelopen 24 uur met ongeveer 1% gedaald. Over de afgelopen zeven dagen ging het erg goed, wat ook terug te zien is aan het flink toenemende volume op de onderstaande grafiek. In deze periode nam ook de koers flink toe, namelijk met 31%. Door deze stijging staat Moonriver op de 244e plaats op basis van marktwaarde. Als we naar de grafiek kijken, zien we over de lange termijn helaas toch een flinke neerwaartse trend. We hebben hierdoor nog geen duidelijke indicator wanneer we weer naar boven kunnen krullen. Hierbij moeten we wachten tot er een duidelijk bodem is gemaakt of dat we over de vorige pieken heen zijn gebroken. MOVR is vooralsnog bearish. Het toenemende volume over de afgelopen dagen is al wel een erg mooi begin!

Hoe bepaal ik het juiste moment om te kopen?
Overweeg je een positie te nemen in MOVR, maar weet je niet zo goed wanneer je het best kunt instappen? Vraag het aan een ervaren analist in onze premium omgeving voor leden! Hier worden dagelijks additionele technische analyses gedeeld door verschillende analisten die dieper op de koers ingaan. Je komt hier vrij eenvoudig in contact met verschillende analisten en ervaren crypto coaches, zij helpen je graag een weloverwogen beslissing te maken. Je kan dit nu de eerste 30 dagen gratis en vrijblijvend uitproberen!