Vandaag behandelen we waves (WAVES) in deze Insider-analyse. Deze cryptocurrency kreeg namelijk de meeste stemmen in de premium omgeving van Crypto Insiders en wordt daarom behandeld in deze editie. Waves is een blockchain platform met meerdere use cases en ondersteunt smart contracts voor decentralized applications (dApps).
Hieronder kijken we eerst naar de meest recente ontwikkelingen omtrent het project van WAVES en wat we in de toekomst kunnen verwachten. Daarna wordt het sentiment op de markt gemeten en analyseren we op basis van een technische analyse de koersgrafiek van de crypto.
Wil jij ook stemmen op jouw favoriete coin? Neem dan een kijkje in onze premium omgeving voor leden en laat je stem achter. Je kan dit de eerste 30 dagen gratis uitproberen!
Recente ontwikkelingen van Waves
De oorlog tussen Oekraïne en Rusland zal niemand ontgaan zijn. Deze oorlog is voor het Waves platform een erg ingrijpende gebeurtenis. Waves is namelijk opgezet door Alexander Ivanov die van origine uit Oekraïne komt, maar voor zijn studie en werk naar Rusland was verhuisd. Het team van Waves bestaat daarnaast ook grotendeels uit Russische ontwikkelaars en dat had dus een sterk impact op het project kunnen hebben. 
Gelukkig meldt Ivanov dat dit niet voor problemen moeten zorgen. Hij geeft namelijk aan dat het team al een tijd geleden uit Rusland is vertrokken en nu een hoofdkantoor heeft in Miami. Daarnaast is een deel van het team ook naar Dubai en Nederland vetrokken. Dit is goed nieuws voor het project en had wellicht anders uitgepakt als een deel van het team nog in Rusland zat.
In ander nieuws is Waves onlangs gaan samenwerken met Allbridge. Daar koos het team van Waves voor om een van hun tekortkomingen op te lossen. Waves wil sinds het begin af aan op zichzelf staan en profileren als een eigen blockchain en ecosysteem. Dat kan goed werken als je een grote community hebt en daar kan Allbridge bij helpen. Allbridge zorgt voor een brug tussen projecten die compatibel met Ethereum en projecten die dat niet zijn, zoals Waves. Allbridge moet ervoor zorgen dat Waves alsnog compatibel wordt en dan kunnen gebruikers gemakkelijk met wallets als Metamask hun crypto overzetten.
Tot slot heeft Waves Labs $150 miljoen en een incubatieprogramma beschikbaar gesteld voor Amerikaanse ontwikkelingsteams om projecten te bouwen op Waves. Op deze manier wil het team het Waves ecosysteem een boost geven en dat moet leiden tot de massaadoptie van Waves in 2022. Het zal interessant zijn om te zien met wat voor projecten deze ontwikkelaars komen!
💼 Waves Labs, now headquartered in Miami, are coming back to support rapid growth across the ecosystem.

$150m fund and an incubation program will soon be started for the US teams, building products on Waves. The US is a key market to drive mass adoption in 2022. 🔥

— Waves 🌊 (1 ➝ 2) (@wavesprotocol) February 10, 2022
Wat kunnen we nog verwachten van Waves?
Een van de meest belangrijke toekomstige updates rondom Waves is het Waves 2.0 platform. Onlangs heeft het team van Waves een nieuwe routekaart uitgebracht waarop te zien is wat het Waves project met Waves 2.0 wil bereiken. Een van de eerste doelen van Waves 2.0 was het toevoegen van ondersteuning voor een Ethereum Virtual Machine (EVM). Dit wil zeggen dat ze een brug willen slaan tussen projecten op Ethereum met Waves. Het team heeft hiervoor al een stap in de juiste richting gezet door samen te werken met Allbridge. 
Ook is het team van Waves met Waves 2.0 van plan dieper de metaverse in te gaan. Het bedrijf is niet van plan een eigen metaverse te bouwen, maar wil verschillende metaverses met elkaar verbinden via het Waves ecosysteem. Door gebruik te maken van een Level 0 inter-Metaverse Protocol kunnen gebruikers al hun non-fungible tokens (NFT) in een centrale plek bewaren. Op deze manier krijgen gebruikers een meer gestroomlijnde ervaring in de metaverse. Daar heeft het project ook een aantal deadlines voorgesteld in de routekaart, zoals hieronder is te zien.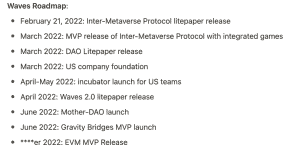 Marktsentiment en adoptie
Als we kijken naar de total value locked (TVL) op Waves, zien we dat er een aantal grote projecten tussen staan die in totaal goed zijn voor $3,45 miljard aan TVL. De TVL geeft aan hoeveel crypto is gestort in een decentralized finance (DeFi) protocol. Deze informatie wordt vaak gebruikt om de interesse te meten van DeFi op een bepaald blockchain-platform. 

Er staan volgens gegevens van DefiLlama vier projecten op Waves. Dit zijn: Neutrino (NSBT), Vires Finance (VIRES), Waves Exchange en Swop (SWOP). Allemaal crypto met een eigen use case. Zo exploiteert Neutrino een eigen stablecoin, en biedt Vires Finance een liquiditeitsprotocol aan waarop gebruikers geld kunnen lenen en uitlenen. Waves Exchange is een gedecentraliseerde exchange (DEX) en een gebruiker kan bij Swop direct zijn of haar tokens omwisselen en 'farmen.'

Dat is nog niet alles, er zijn nog meer projecten op Waves. Deze projecten zijn gedecentraliseerde applicaties (dApps) en hebben ook verschillende use cases. Zo is de ene dApp een NFT-marktplaats en biedt een ander een handelsplatform aan waarmee je in hefboomproducten kunt handelen. Hieronder staan de grootste projecten op Waves alsmede de bovestaande vier en Puzzle Swap en Waves Duck EGG.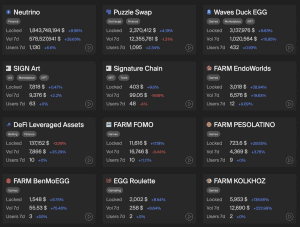 Technische analyse
Waves heeft een prachtige periode achter de rug. De coin wist in de afgelopen 24 uur met 11% te stijgen. In de afgelopen zeven dagen zagen we zelfs een stijging van ongeveer 26%. De koers begon kwam al vanaf ongeveer 23 februari in een opwaartse trend terecht. Sindsdien is WAVES met ongeveer 280% de lucht in geschoten. Deze stijging heeft wellicht te maken met een Twitterbericht, die we al eerder aankaartte. De WAVES koers zat in een flinke neerwaartse trend, maar is daar hard uitgebroken. De koers zit op het moment van schrijven net tegen een weerstandslijn aan die uitkomt op $34,91. Deze weerstand komt van de piek die is gemaakt in september vorig jaar. Zodra de koers hier doorheen breekt, dan ligt de weg naar de all-time high vrijwel open. Een zwak weerstandsniveau op $38,89 ligt er nog tussen. In de Crypto-Insiders premium omgeving voor leden zullen wij deze coin goed in de gaten houden 
Op de korte termijn wordt echter in eerste geval nog een daling verwacht. Als we kijken naar de relative-strength index (RSI), zien we dat deze op het maximale niveau staat. Dit wil zeggen dat de crypto momenteel in het overbought gebied zit. De RSI en de koers zullen dus eerst even moeten afkoelen voordat de stijging door kan zetten.

Hoe bepaal ik het juiste moment om te kopen?
Overweeg je een positie te nemen in WAVES, maar weet je niet zo goed wanneer je het best kunt instappen? Vraag het aan een ervaren analist in onze premium omgeving voor leden! Hier worden dagelijks additionele technische analyses gedeeld door verschillende analisten die dieper op de koers ingaan. Je komt hier vrij eenvoudig in contact met verschillende analisten en ervaren crypto coaches, zij helpen je graag een weloverwogen beslissing te maken. Je kan dit nu de eerste 30 dagen gratis en vrijblijvend uitproberen!