In onze Premium omgeving voor Crypto Insiders leden ontvingen we deze week meerdere verzoeken voor een fundamentele analyse van algorand (ALGO). Om deze reden analyseren we vandaag de meest recente ontwikkelingen omtrent dit project en kijken we naar de on-chain data. Lijkt het je nou leuk om mee te discussiëren over dergelijke projecten of overweeg je een positie in te nemen? In onze discord community worden dagelijks verschillende technische analyses gedeeld door ervaren analisten en handelaren. Ook ALGO komt hier regelmatig aan bod. Zo proberen we samen met andere leden de markt voor te blijven.
Recente ontwikkelingen met Algorand
Algorand en Hivemind hebben de muziekstreamingdienst Napster overgenomen. Algorand en Hivemind hebben Napster van de beurs gehaald en weer een privaat bedrijf van gemaakt. Hun plan is namelijk om Napster in een nieuw jasje te stoppen. Algorand is een prominente blockchain op het gebied van web3. Daarom zal napster hier ook op gaan draaien als muziek-, video- en wellicht zelfs VR-platform. Exacte inhoudelijke en uitgebreide plannen zijn tot dusver nog niet gedeeld. Het plan is om weer beursgang met Napster te maken zodra het platform is omgetoverd.
Bedrijven willen op Algorand bouwen
Het nieuws over Napster komt niet geheel onverwachts, aangezien enkele weken LimeWire met een dergelijke aankondiging kwam. LimeWire was een soortgelijk platform als Napster waarbij gebruikers gratis (lees: illegaal) muziek en videobestanden konden downloaden. In de aankondiging stond dat het platform opnieuw wordt gelanceerd in de vorm van een marktplaats voor digitale verzamelobjecten voor zowel kunst als entertainment, echter in eerste instantie gericht op muziek. Het nieuwe LimeWire zal een one-stop marktplaats worden voor zowel artiesten als fans om digitale verzamelobjecten te maken, te kopen en te verhandelen zonder de technische hindernissen van het huidige non-fungible token (NFT) landschap.
Ook wil Lottery.com hun blockchain project NEXUS laten draaien op de Algorand blockchain. Lottery.com is een toonaangevend technologiebedrijf dat legaal in de VS en de rest van de wereld loterij spellen verkoopt en verschillende apps heeft waarop spelers terecht kunnen. Dit soort projecten zijn goed voor een blockchain omdat ze al enorme hoeveelheden leden hebben.
Social & on-chain data
Ook blijft het aantal wallets dat ALGO bezit aardig toenemen. Zo valt te zien in onderstaande afbeelding dat er vanaf 5 mei ruim 1 miljoen nieuwe ALGO bezitters bij zijn gekomen, een stijging van 7,88% in de afgelopen zeven dagen. Vanaf begin dit jaar zijn er meer dan 7,5 miljoen nieuwe houders bijgekomen. Dit houdt in dat er een groei in het aantal houders van ALGO is van meer dan 100% in 2022.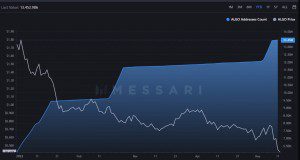 De return of investment (ROI) voor ALGO laat echter nog wel even te wensen over. De ALGO koers staat namelijk -67.26% ten opzichte van een jaar geleden.

Op social data scoort Algorand echter een stuk minder goed. Ep verschillende platforms zien we wel een groei plaatsvinden, zoals het aantal gebruikers op Telegram en op Twitter, maar dat is niet explosief zoals het toenemende aantal wallets.

Het Twitteraccount van Algorand heeft nu 272.000 volgers. Het social volume is daarnaast ook niet exceptioneel hoog. De activiteiten omtrent onwikkelingen op het netwerk nemen wel toe, maar ook dat zijn geen enorme stijgingen zoals te zien is op de onderstaande grafiek:

Conclusie
Algorand is een jong blockchain-netwerk dat zich richt op een wat onzekere toekomst met Web3. Mocht Web3 de nieuwe internetstandaard worden en de vraag naar dit soort producten toenemen, dan zal Algorand hier hoogstwaarschijnlijk van profiteren door als een van de eerste hierop in te zetten.
Ook geïnteresseerd in ALGO of andere dergelijke crypto? In onze Premium omgeving voor leden delen ervaren handelaren en analisten regelmatig hun eigen strategieën en koersanalyses. Door dagelijks kennis met elkaar te delen proberen we samen de markt voor te blijven. Probeer nu de eerste 30 dagen gratis!