Crypto Insiders leden ontvangen in onze Discord omgeving dagelijks actuele technische analyses voor cryptocurrencies. In dit artikel delen we een recente analyse van Terra Luna Classic (LUNC). Ben je nog geen lid of mocht je na het lezen van dit artikel nog vragen hebben, neem dan eens een kijkje op onze Premium informatie pagina.
Gaat LUNC toch een nieuwe low maken?
Terra (LUNA) stortte in dit jaar compleet in en LUNC is wat daarvan over is gebleven. De koers crashtte in mei met 100% in naar slechts een fractie van zijn prijs. De afgelopen weken zagen we echter een sterke prijsontwikkeling waar LUNC in slechts 30 dagen met 235% steeg. Daarna corrigeerde de koers echter weer fors.
Ook onze analisten waren de laatste tijd zeer positief over de LUNC koers. Het zag er namelijk naar uit dat LUNC weer zou stijgen, maar langzamerhand vrezen zij toch voor een nieuwe low. Zo melden de Crypto Insiders analisten het volgende over de koers:
"LUNC heeft vanaf zijn huidige bodem een 3 wave structuur gevormd. Binnen de regels van de Elliott Wave theorie betekent dit een corrective wave. Corrigerende waves geven aan dat de markt verder zal continueren in zijn oorspronkelijke trend, en in dit geval is dat bearish."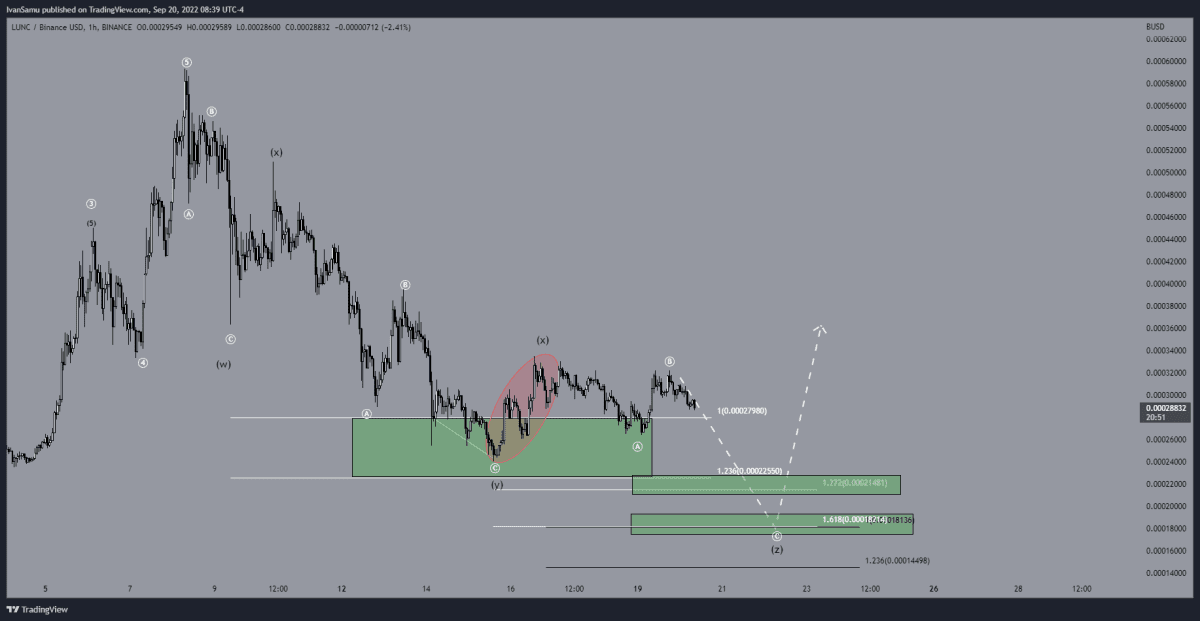 Zoals op de grafiek te zien is, verwachten de analisten dat de prijs kan dalen naar $0,00021, en wellicht zelfs naar $0,00018. Desondanks kan de token burn nog een positief effect hebben op de koers.
LUNC token burn vandaag
De recente sterke prijsstijging lijkt een gevolg te zijn van de aankondiging van een burn mechanisme. Zo wordt 1,2% van elke LUNC transactie vernietigd. Het nieuwe burn-mechanisme gaat nog vandaag live!
Door te kijken naar de hoeveelheid LUNC transacties die recent plaatsvonden en het nieuwe burn mechanisme daarin meenemen, krijgen we inzage in hoeveel LUNC wellicht wordt vernietigd. Op de onderstaande grafiek zien we dat in augustus 22,5 miljard LUNC werd verzonden en in september is dit al 46,3 miljard.
Verondersteld dat 1,2% van elke transactie wordt vernietigd, zou dat betekenen dat in september 555 miljoen LUNC permanent wordt verwijderd. Dit is bijna 0,008% van het totale aanbod en laat zien dat het burning mechanisme een klein effect kan hebben op het totale aanbod. Het zou dan ruim 10 jaar duren voordat de gehele aanbod verbrand is en daarbij is nog niet eens meegenomen dat er ook nieuwe tokens deels het burning-mechanisme opheffen.  Dit is opvallend omdat de 1,2% initiële burn geeft de suggestie dat een stuk meer zal verbranden per maand. De markt lijkt hierdoor te sterk te reageren en het burning-mechanisme deels te overwaarderen.

Netwerkgebruik Luna Classic groeit sterk
Verder kunnen we uit de grafiek opmaken dat het aantal transacties significant begint te stijgen op het Luna Classic netwerk. Deze kwam namelijk in augustus nog op 4.930 transacties uit en staat in september al op 14.000 transacties terwijl nog 10 dagen te gaan is. Daarnaast stijgt ook het handelsvolume sterk. Dertig dagen geleden bedroeg het dagelijks handelsvolume nog ongeveer $170 miljoen, momenteel is dit gestegen naar ruim $1,54 miljard, wat neerkomt op een stijging van 800%. Hieruit kunnen we concluderen dat er veel LUNC verhandeld wordt. Het zijn beide positieve signalen voor het LUNC netwerk die bijdragen aan het eventuele effect van de token burn.
LUNC kopen of verkopen?
Overweeg jij LUNC te kopen of verkopen? Volg de in- en verkoop momenten van andere ervaren handelaren en analisten. Word lid en probeer een Premium-lidmaatschap 30 dagen gratis uit. Naast analyses krijg je als lid ook de mogelijkheid vragen te stellen aan onze analisten en coaches. Ook vind je een breed scala aan interessante discussiekanalen over allerlei aan crypto-gerelateerde onderwerpen!
Disclaimer: Beleggen brengt risico's met zich mee. Onze analisten zijn geen financieel adviseurs. Raadpleeg altijd een adviseur bij het maken van financiële beslissingen. De informatie en tips die op deze website zijn verstrekt is gebaseerd op eigen inzichten en ervaringen van onze analisten en dienen alleen voor educatieve doeleinden.