Crypto Insiders leden ontvangen in onze Discord omgeving dagelijks nieuwe technische analyses voor cryptocurrencies. In dit artikel delen we een recente analyse van ripple (XRP) uit onze Premium groep. Ben je nog geen lid of mocht je na het lezen van dit artikel nog vragen hebben, probeer dan een Premium lidmaatschap 30 dagen volledig gratis.
Laatste Ripple nieuws
Technische analyse XRP koers
In een nieuwe analyse van de XRP koers uit de Premium omgeving, kunnen we zien dat de koers vooralsnog verloopt zoals verwacht. De analisten van Crypto Insiders verwachten eerst nog een kleine stijging, maar XRP kan daarna een forse daling maken. Dat legden de analisten onlangs als volgt uit:
"Nu we zien dat de koers van bitcoin over de afgelopen dagen een kleine stijging laat zien, verwachten wij dat andere cryptocurrencies eerst zullen meebewegen. Op de middellange termijn staat er echter nog steeds een daling op de planning volgens onze analyse.

Het moment dat deze daling begint, zal ook het moment zijn dat XRP zijn vierde wave af heeft gemaakt in de rode zone. Deze daling zal niet in een rechte streep richting de groene koopzone gaan. Hier verwachten wij namelijk eerst ook nog een correctieve grotere vierde wave (aangegeven met iv op de grafiek).

De eerste verwachte tussenstop voor XRP is daarom aangegeven met een zwarte zone op de grafiek, ook wel de bounce box genoemd. In deze zone wordt het innerwave 12345 Elliot Wave patroon afgerond met een grotere derde wave. Dit is ook waarom we een correctieve swing omhoog krijgen voordat de koers verder weg zal zakken."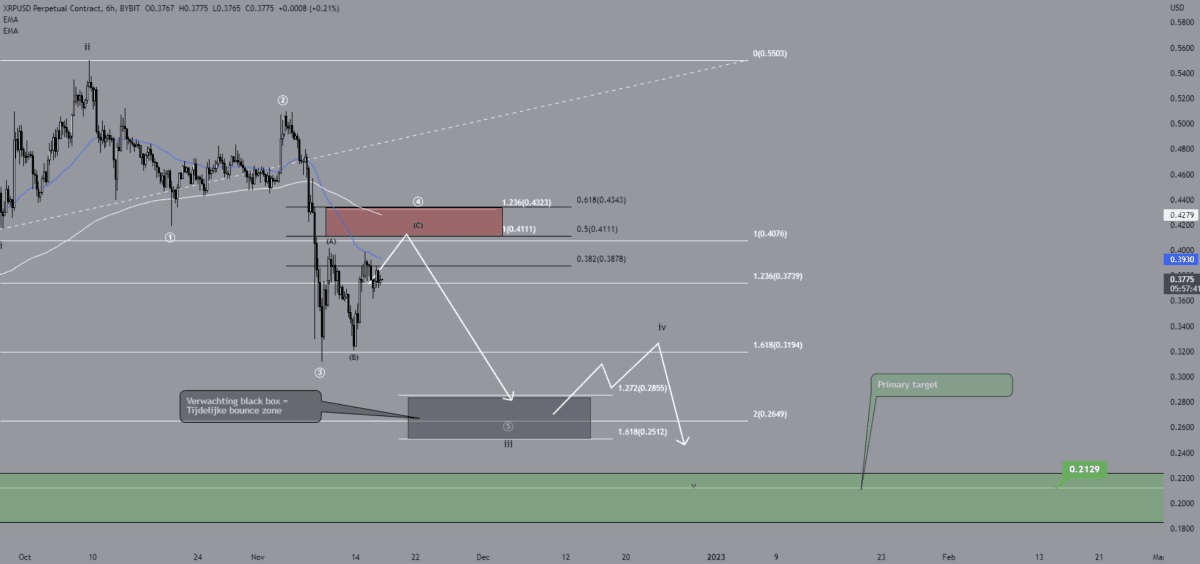 Mogelijk ook een interessante analyse
Gisteren publiceerde we een artikel met twee recente analyses van cryptocurrencies die mogelijk binnenkort juist kunnen stijgen. Het gaat dan om analyses van the sandbox (SAND) en ethereum classic (ETC). Beide koersen lijken namelijk in de buurt te komen van hun bodem.
Ripple kopen of verkopen?
Overweeg jij XRP te kopen of verkopen? Zoek jij hulp met handelen in crypto? Dan verwijzen we je graag door naar onze Premium membersgroep. Hier ontvangen leden als eerst de nieuwste technische analyses van een groot aanbod aan crypto.
Ook krijg je toegang tot exclusieve crypto-projecten, koersvideo's, handelsplannen en ask me anything (AMA) sessies met onze analisten. In onze Discord kunnen we 24/7 kennis met elkaar delen en proberen we samen met onze leden de markt voor te blijven. Voor meer informatie, neem een kijkje op onze Premium informatiepagina.
Disclaimer: Beleggen brengt risico's met zich mee. Onze analisten zijn geen financieel adviseurs. Raadpleeg altijd een adviseur bij het maken van financiële beslissingen. De informatie en tips die op deze website zijn verstrekt is gebaseerd op eigen inzichten en ervaringen van onze analisten. Deze dienen daarom alleen voor educatieve doeleinden.