Crypto Insiders leden ontvangen in onze Discord omgeving dagelijks nieuwe technische analyses voor cryptocurrencies. In dit artikel delen we een recente analyse van ripple (XRP) uit onze Premium groep. Ben je nog geen lid of mocht je na het lezen van dit artikel nog vragen hebben, neem dan eens een kijkje op onze Premium informatiepagina.
Hoe ver kan XRP stijgen voordat koers corrigeert?
De XRP koers maakt de laatste dagen behoorlijke sprongen. De cryptomunt staat vandaag weer meerdere procenten in het groen terwijl de rest van de markt rood kleurt. De token steeg de afgelopen 14 dagen van $0,32 tot $0,40, een stijging van maar liefst 25%. Hierdoor lijkt het alsof XRP nog veel hoger kan stijgen, echter ziet het technische plaatje er net wat anders uit. De analisten uit onze Discord omgeving leggen dit als volgt uit: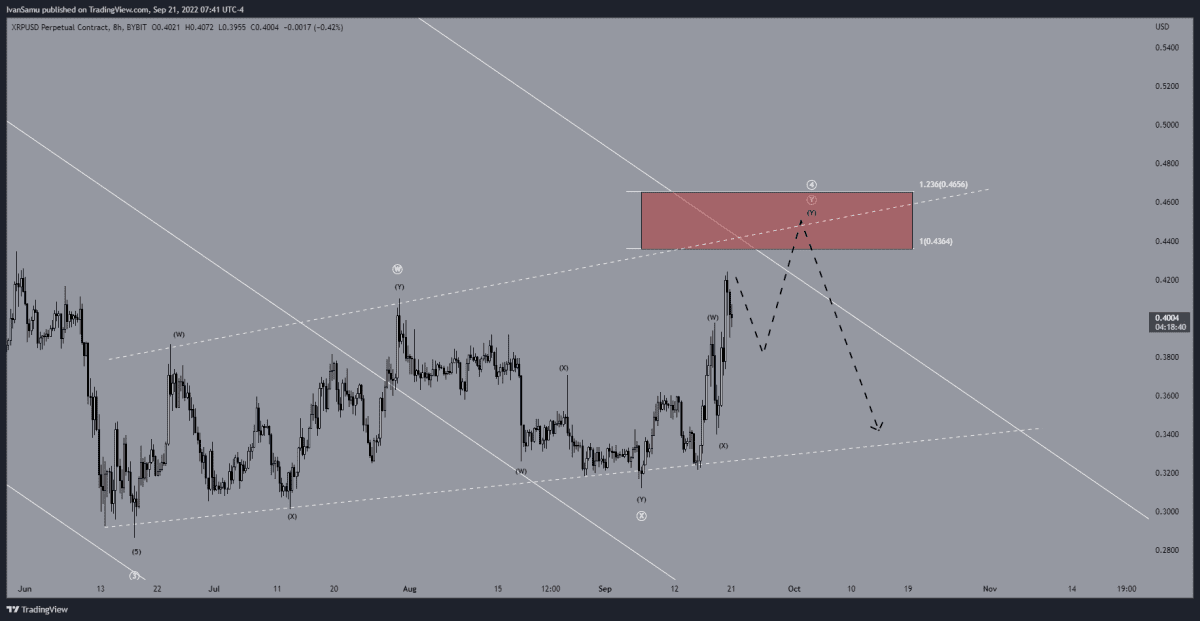 "Momenteel verwachten wij nog een stijging richting de rode verkoopzone. Deze ligt momenteel tussen de $0,43 en $0,46. Vanaf hier verwachten wij een continuatie van de bearish trend. Dit komt omdat de koers een einde maakt aan een dubbele 3 wave structuur in de rode zone. Volgens de regels van de Elliott Wave theorie zal de prijs daarna voortzetten in zijn oorspronkelijk trend en die is bearish."
XRP netwerkadoptie remt af
Onze analisten keken ook naar on-chain data over de netwerkadoptie van XRP. Ook dat kan een impact hebben op het koersverloop. Echter ziet het ernaar uit dat dit het afgelopen jaar sterk is afgeremd.

Op de bovenstaande grafiek zien we hoeveel nieuwe accounts het afgelopen jaar dagelijks werden aangemaakt. Wat opvalt is dat eind 2021 er nog erg sterke pieken waren in het aantal nieuwe XRP adressen. In november 2021 was er zelfs een piek van meer dan 21.000 nieuwe accounts op een dag. Momenteel bedraagt het aantal nieuwe dagelijkse accounts slechts 502. Dit is een vermindering van bijna 98%! In dit opzicht lijkt de huidige koers nog relatief hoog te liggen gezien de huidige netwerkadoptie, melden de analisten.
XRP kopen of verkopen?
Overweeg jij XRP te kopen of verkopen? Volg dan de handelsplannen van andere ervaren handelaren en analisten. Word lid en probeer een Premium-lidmaatschap 30 dagen gratis. Naast analyses krijg je als lid ook de mogelijkheid om vragen te stellen aan onze analisten en coaches. Ook vind je een breed scala aan interessante discussiekanalen over allerlei aan crypto-gerelateerde onderwerpen!
Disclaimer: Beleggen brengt risico's met zich mee. Onze analisten zijn geen financieel adviseurs. Raadpleeg altijd een adviseur bij het maken van financiële beslissingen. De informatie en tips die op deze website zijn verstrekt is gebaseerd op eigen inzichten en ervaringen van onze analisten en dienen alleen voor educatieve doeleinden.