Veel crypto investeerders zullen er ongetwijfeld ooit van gehoord hebben; crypto staking. Maar wat houdt dit nou precies in? Het klinkt wellicht wat ingewikkeld, maar al snel zal blijken dat beginnen met staken van je cryptocurrencies een fluitje van een cent kan zijn en in veel gevallen een leuk zakcentje kan opleveren.
Staken houdt in principe in dat investeerders cryptocurrencies, waarvan het staking proces wordt ondersteund, vastzetten in een bepaald contract, of simpelweg op een exchange en als beloning hiervoor periodiek worden uitbetaald. Niet elke cryptocurrency kan gebruikt worden om te staken. Alleen cryptocurrency projecten die draaien op een proof-of-stake consensus model kunnen worden vastgezet in ruil voor rendement. Gelukkig zijn dit vandaag de dag een heleboel cryptomunten.
Het staken van cryptocurrencies is een passieve bezigheid. Men hoeft hier niet actief moeite in te steken. Een crypto investeerder zet simpelweg zijn crypto bezittingen vast en in sommige gevallen hoeven de cryptomunten hiervoor niet eens de wallet van de investeerder te verlaten. Crypto staking is in de basis behoorlijk vergelijkbaar met het storten van fiat valuta op een spaarrekening. De eigenaar van de spaarrekening krijgt jaarlijks een bepaalde hoeveelheid rente uitgekeerd en in ruil hiervoor gebruikt de bank het geld voor doeleinden zoals lenen.
De meeste grote crypto exchanges bieden aan gebruikers de mogelijkheid om hun cryptocurrencies op het platform te staken, maar er zijn ook externe mogelijkheden. Zo kunnen gebruikers zich bij een zogeheten staking pool voegen en bij de meeste proof-of-stake netwerken is het zelfs mogelijk om validator van het netwerk te worden, al is dit over het algemeen alleen weggelegd voor grote investeerders.
Over het algemeen wordt het staken op exchanges als het meest toegankelijk gezien. Vooral voor nieuwe gebruikers is dit aan te raden aangezien er bij deze methode geen ingewikkelde transacties gedaan hoeven te worden. Voor meer ervaren gebruikers zijn staking pools een uitstekende keuze en voor gebruikers met diepe zakken kan het worden van een validator behoorlijk rendabel zijn.
Wat is het gemiddelde staking reward?
Gelukkig ligt het gemiddelde rendement van crypto staking een stuk hoger dan de rentes die te behalen zijn op een spaarrekening bij een bank. Het is daarom voor veel investeerders die op de lange termijn van plan zijn om hun cryptomunten vast te houden een erg aantrekkelijke optie om passief inkomen te vergaren.Het daadwerkelijke rendement kan erg verschillen van crypto tot crypto. Niet elk crypto project hanteert namelijk dezelfde staking rewards. Over het algemeen lopen de jaarlijkse rendementen uiteen van zo'n 5% tot zeker 13% per jaar. Hier kan natuurlijk geen enkele bank tegenop boksen.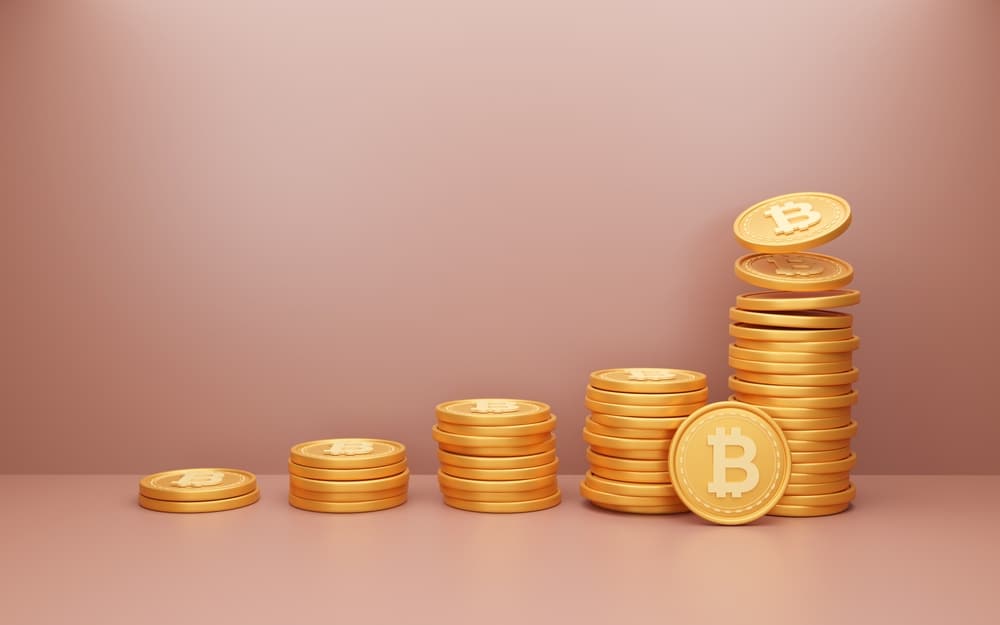 Crypto staken op Bitvavo
Gelukkig zijn er een heleboel exchanges die het staken voor gebruikers ontzettend makkelijk hebben gemaakt. Het is vaak niet eens nodig om cryptocurrencies te verplaatsen naar speciale staking wallets of staking contracten. In veel gevallen regelt de exchange alles voor je. Een voorbeeld van een dergelijke exchange is het Nederlandse Bitvavo. Bitvavo is in Nederland alom bekend en biedt nederlandse crypto investeerders de mogelijkheid om met de crypto's in hun wallet te staken. 
Staken op Bitvavo kan haast niet makkelijker. Gebruikers hoeven simpelweg enkel in hun instellingen het staken in te schakelen en vervolgens zal over de crypto bezittingen waarbij staken mogelijk is een rente worden uitgekeerd. Uniek aan Bitvavo is dat cryptocurrencies ook niet voor een periode vastgezet hoeven te worden. Daarnaast is het op Bitvavo zelfs mogelijk om cryptocurrencies die niet draaien op een proof-of-stake consensus model, zoals bitcoin (BTC), te staken.
Een nadeel hieraan is dat de jaarlijkse rendementen op Bitvavo wel lager liggen dan bij andere mogelijkheden zoals toegewijde staking pools.
Crypto staken bij Binance
Op Binance is het staken van cryptocurrencies eveneens een fluitje van een cent. Het gaat hier wel iets anders in zijn werk dan op Bitvavo. Ook op Binance blijven de cryptocurrencies gewoon binnen het platform, maar deze worden wel in een speciaal staking contract gezet door de exchange. Vervolgens kunnen gebruikers periodiek een leuk rendement tegemoet zien.
Ook moeten cryptocurrencies op Binance een vooraf vastgestelde periode vast blijven staan. Tijdens deze periode kunnen de cryptocurrencies in kwestie niet worden verkocht of weer ontgrendeld worden. Gebruikers kunnen kiezen tussen een periode van 10, 30, 60 of zelfs 90 dagen.
Welke cryptocurrencies staken?
Er bestaan vandaag de dag een enorme hoeveelheid cryptocurrencies die gebruikers kunnen staken. Niet elke cryptomunt is echter even aantrekkelijk om te staken. De rendementen van verschillende crypto's kunnen bijvoorbeeld enorm uit elkaar liggen.
Daarnaast is het staken van cryptocurrencies nooit volledig zonder risico's. Vooral op platformen waar cryptocurrencies voor een bepaalde periode vastgezet moeten worden om te staken, kunnen hier gevaren aan kleven. Het is nadat cryptomunten vastgezet zijn namelijk niet mogelijk om deze crypto activa te verkopen, ook al zou de gebruiker dit graag willen.
Vaak hebben cryptocurrencies met een hoog jaarlijks rendement ook een hogere volatiliteit van de koers. Aan de ene kant klinkt het dus ontzettend aantrekkelijk om jaarlijks misschien wel een rendement van 60% te ontvangen, maar als het achterliggende crypto project ondertussen volledig onderuit gaat eindigen gebruikers alsnog met lege handen.
Veelal bieden de grootste en meest vertrouwde cryptocurrencies daarom ook een aanzienlijk lager rendement. Daartegenover staat natuurlijk een stuk meer veiligheid indien de koersen flink naar beneden duiken.
Welke cryptocurrencies iemand moet gaan staken is daarom volledig afhankelijk van de persoonlijke voorkeur. De een heeft een hogere tolerantie voor risico dan iemand anders. Maak daarom altijd een weloverwogen keuze en kijk ook vooral uit bij het vastzetten van volatiele cryptocurrencies voor een lange periode.
Sorry, this Bitvavo widget is not supported by your browser.