De afgelopen jaren is de non-fungible token (NFT) sector een snel opkomende en erg populaire sector. Dit is terug te zien in de hype rondom de Bored Ape Yacht Club of de CryptoPunk NFT-lijn. Veel grote namen kochten deze NFT's al. Denk hierbij aan Martin Garrix, Memphis Depay en Kwebbelkop. Daarom is het ook niet gek dat er steeds meer nieuwe NFT platformen bijkomen. Authic is hier een voorbeeld van en is erg bijzonder, gezien het hier het eerste NFT-platform in van de Benelux betreft.
Wat is Authic?
Authic is een exclusief NFT-platform van Nederlandse bodem dat is gebouwd op de Ethereum-blockchain. Het platform van Authic maakt het voor artiesten mogelijk om hun werken aan te bieden door middel van NFT's. Gebruikers kunnen hier de kunstwerken kopen, verhandelen of verzamelen. Wat Authic zo uniek maakt is het feit dat het bedrijf er alles aan doet om hun gebruikers van kwalitatief hoogstaande kunstwerken te voorzien. Dit doet Authic door alle nieuwe artiesten een uitgebreid screeningsproces te laten doorlopen. Bij het beoordelen van elke nieuwe aanmelding kijkt Authic naar verschillende aspecten. Als eerst wordt gekeken naar het portfolio van de artiest en de consistentie. Daarnaast heeft Authic een groot netwerk dat bestaat uit verschillende kunstenaars, fotografen en musici. Dit netwerk wordt ook betrokken bij het beoordelingsproces. Op deze manier kan Authic garanderen dat de gebruikers authentieke NFT's kunnen kopen die niet snel hun waarde zullen verliezen.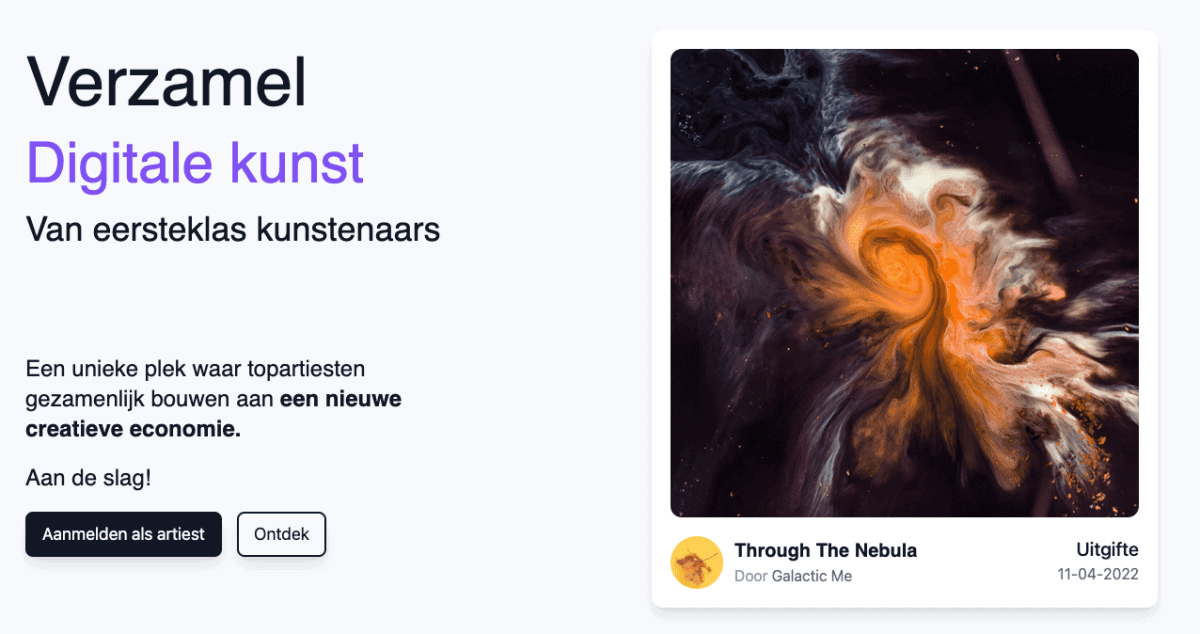 De missie van Authic is naar eigen zeggen het vergroten van het creatief potentieel door een gecureerd, veilig en makkelijk NFT-platform te bieden.
Tevens zorgt Authic ervoor dat de kennisleemte rondom NFT's weggenomen wordt. Authic Learn zal hier een handje bij helpen. Authic Learn is een omgeving waarop een collectie aan verschillende artikelen is gebundeld die je alles vertelt over NFT's. Authic geeft aan dat er ook nog informatieve video's aankomen die gepubliceerd zullen worden op de website. Mocht je dus nieuw zijn binnen deze sector maar lijkt het je wel erg interessant? Dan is het misschien handig om eerst hier te beginnen. 

Op het moment van schrijven is de marktplaats waarop de NFT's zullen worden aangeboden nog niet open voor gebruik. Echter zit dit er wel snel aan te komen. De ontwikkelaars van het platform geven aan dat de marktplaats waarschijnlijk in april geopend zal worden. Op de website kan je je alvast inschrijven om op de hoogte te blijven van verdere ontwikkelingen rondom dit platform. Als je je aanmeldt voor de nieuwsbrief heb je de meeste kans om als eerste een authentieke NFT te bemachtigen. 
Artiesten kunnen zich wel aanmelden op het platform om alvast het aanmeldingsproces te doorlopen. Verschillende bekende artiesten uit de kunst- en muziekwereld hebben dit al gedaan. Via de social media van het platform, zoals op Instagram, zal bekend gemaakt worden welke artiesten dat zijn. 
Voor wie is Authic bedoeld?
Authic heeft niet per se een specifieke doelgroep die het probeert te bereiken voor de verkoop van NFT's. Wel richt het bedrijf zich vooralsnog op de Benelux aangezien de meeste content op de website Nederlands is. Op het platform wilt Authic zoveel mogelijk mensen benaderen die affectie hebben met kunst of NFT's. Met het platform, dat gebruiksvriendelijk is ingericht, is Authic voornemens ook nieuw doelgroepen aan te trekken.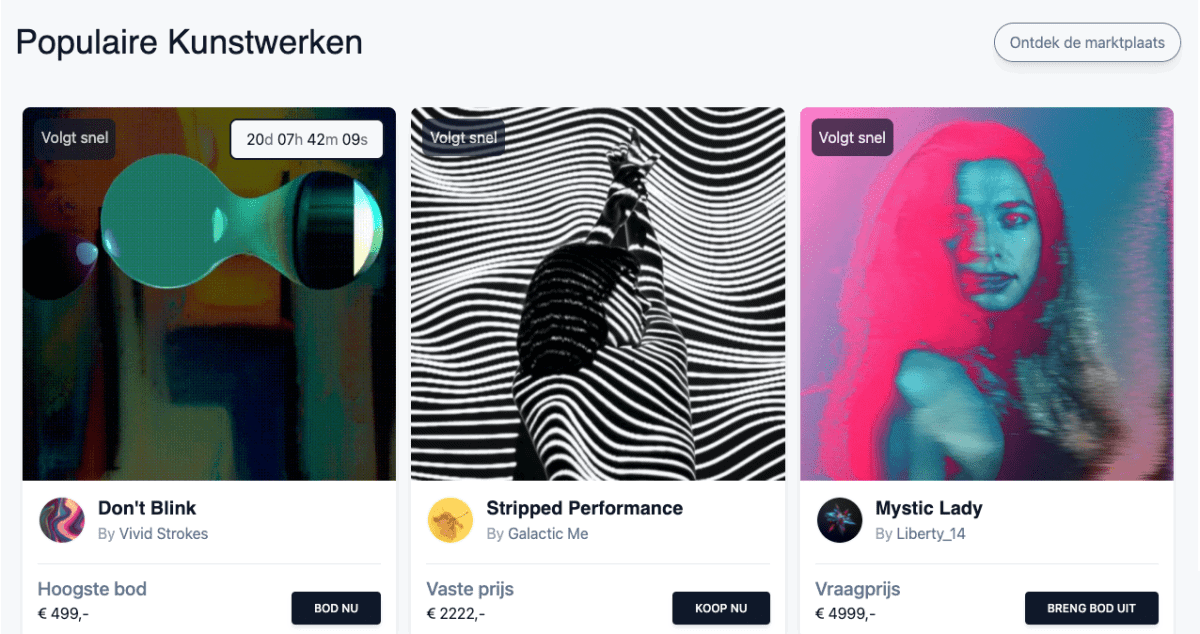 Toekomstplannen Authic
Het langetermijndoel van Authic is om hét exclusieve NFT-platform aan te bieden waar de beste artiesten ter wereld samenkomen om hun creaties aan te bieden aan de wereld. In de toekomst zijn er ook plannen om een app te ontwikkelen en een eigen Authic token aan te bieden. Tot slot gaat fysieke exposities organiseren in musea maar ook in de metaverse door middel van virtual reality (VR).
Lees meer op de website van Authic!