Afgelopen donderdag werd de markt opgeschud door een verontrustend bericht over Bitfinex waarbij de rechtbank van New York stelt dat de cryptocurrency exchange $850 miljoen zou hebben verloren en dit probeert op te lossen via een lening binnen dezelfde groep van iFinex met Tether. De markt maakte binnen korte tijd een scherpe duikvlucht naar beneden waar de koers even $5.055 aantikte op Bitfinex. Echter, wist de koers zich weer snel te herstellen rond de $5.400 en schommelt de koers op dit moment zelfs rondom de $5.500 op Bitfinex. De markt 'lijkt' niet tot nauwelijks te reageren op de ontwikkelingen van afgelopen week terwijl in mijn optiek de basis is gelegd voor een gevaarlijk scenario waarbij de koers een enorme dip kan maken. Laten we eens kijken!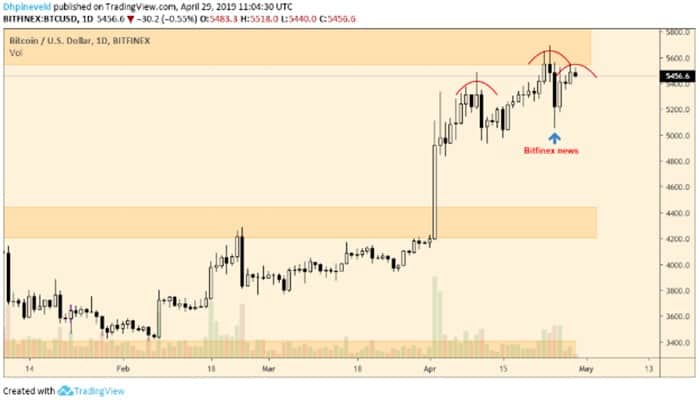 Afbeelding 1: dagelijkse grafiek bitcoin (BTC) op Bitfinex
In bovenstaande afbeelding is goed te zien hoe de koers zich snel herstelde nadat het slechte nieuws in de markt kwam. Na de initiële drop tot $5.055 klom de koers snel omhoog tot een niveau van $5.525 en sindsdien schommelt de koers rond dit niveau. Aangezien de drop zich niet heeft doorgezet en de koers weer snel terug klom lijkt de markt te denken dat het nieuws van afgelopen week de zoveelste FUD (Fear, Uncertainty, and Doubt) is omtrent Bitfinex en Tether en de eerste nieuwsberichten dat de koers stabiliseert doen al de ronde. Niets is in mijn optiek minder waar, want hoewel er in het verleden een hoop FUD is geweest omtrent Bitfinex en Tether hebben we op dit moment met een andere situatie te maken: namelijk de rechtbank van New York en die maken echt niet zomaar een aantal claims hoe graag andere dit ook willen geloven. Of zoals Bitfinex schrijft: "The New York Attorney General's court filings were written in bad faith and are riddled with false assertions". Het houdt een keer op en dat denkt de markt ook als je goed kijkt naar de koers, want de koers op Bitfinex handelt met een premium van bijna $350! In mijn optiek is de enige reden hiervoor dat de gebruikers van Bitfinex er alles aan doen om hun funds van Bitfinex af te halen en zelfs bereid zijn hiervoor een premium te betalen van 6,5%! Er zijn namelijk signalen in de markt dat fiat withdrawals vertraging hebben bij Bitfinex en dan zie je dat men uitwijkt naar Tether. Als je kijkt naar de koers op andere exchanges dan wordt pijnlijk zichtbaar hoe gevaarlijk de situatie is.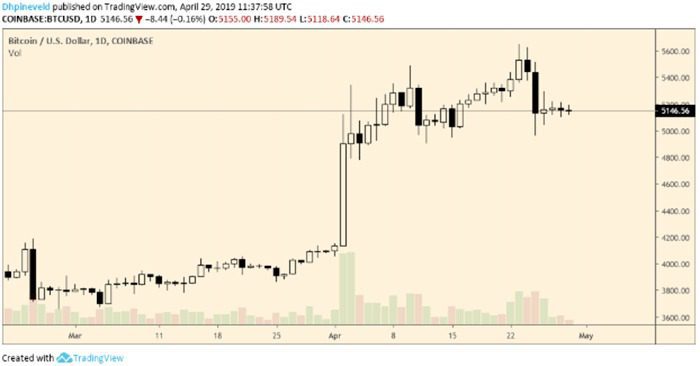 Afbeelding 2: dagelijkse grafiek bitcoin (BTC) op Coinbase
In afbeelding 2 is de dagelijkse grafiek van Bitcoin op Coinbase weergegeven en hierop is geen enkele significante rebound te zien. Sterker nog. De koers lijkt een bear flag te vormen die ieder moment naar beneden kan uitbreken. Dit is ook kenmerkend voor alle andere exchanges. Alleen Bitfinex laat een ander patroon zien. Tegelijkertijd lijkt zich op Bitfinex (afbeelding 1) tevens een head and shoulders patroon te vormen. Als we hier nog eens aan toevoegen dat de koers zich in de buurt van een sterke weerstand bevindt dan mag duidelijk worden dat de upside in dit geval bijzonder beperkt is.
Desalniettemin moet men zeer voorzichtig zijn met het innemen van shorts. De hoeveelheid shorts is op Bitfinex namelijk enorm snel gestegen en dat kan uiteraard leiden tot een flinke short squeeze en de koers korte tijd flink omhoog stuwen. De slimme traders zullen echter op strategische niveaus rond de $5.600-5.900 verkooporders hebben staan om van deze squeeze gebruik te maken en hun short vanaf dit niveau te positioneren. Volatility is incoming. Big time. Dus pas op dat je niet wordt opgezogen hierin en dat slecht geplaatste stops je duur komen te staan. De afgelopen weken beschreef ik al meerdere malen dat ik niet verwacht dat de koers van bitcoin zomaar de $6.000-grens breekt en met de ontwikkelingen van afgelopen week is in mijn optiek het weer nog slechter geworden en kan de huidige lage volatiliteit wellicht worden beschouwd als stilte voor de storm. De enige uitweg die ik zie voor de bulls is als we een short squeeze meemaken tezamen met goed nieuws inzake Bitfinex, maar dit is een uiterst risicovolle trade. Deze situatie is niet lang meer houdbaar en we zullen binnen een aantal uur of dagen het antwoord hebben. Zodra we door de $5.000 breken verwacht ik overigens een snelle reactie want hier zijn mogelijk veel stops geplaatst.
Succes want het wordt een heel spannende week!
Wil je op de hoogte blijven van het laatste nieuws? Abonneer je dan op onze push-berichten, Facebook– of Twitter. Meediscussiëren? Meld je dan aan voor ons Telegram kanaal.