De volatiliteit kwam afgelopen week inderdaad terug en zoals verwacht ontstond er een flinke short squeeze die de koers van bitcoin op Bitfinex een moment tot een hoogte van $6.190 stuwde! De koers moest zich uiteraard even terugtrekken maar vindt op dit moment support op de $6.000 op Bitfinex. De bulls claimen een overwinning en de markt is over het algemeen euforisch maar de vraag is of dit terecht is en of dit stand houdt. Persoonlijk verwacht ik niet dat deze break duurzaam is en ik blijf dan ook bij mijn analyse van vorige week dat we ons nog steeds in zeer gevaarlijk terrein bevinden en een sterke pull back nog steeds een zeer aannemelijk scenario is.
Op dit moment begeeft de koers zich exact tegen de sterke weerstand rond de $5.800 en $6.000. Ik gebruik de koers van Coinbase omdat dit in mijn optiek een betere weergave van de huidige markt is dan de inflated koersen op Bitfinex. De afgelopen rally heeft de bulls al flink wat energie gekost en het is maar de vraag of zij nog genoeg energie hebben dit door te zetten. Daarnaast was de rally vooral het effect van verschillende short squeezes en is deze brandstof op dit moment een stuk minder beschikbaar. De bulls zullen dus op eigen kracht de $6.000 moeten breken en dat is geen makkelijk werk.
Op de 4-uur grafiek is goed te zien hoe sterk de weerstand is op dit niveau en hoe de koers zich tot drie keer toe moest terugtrekken.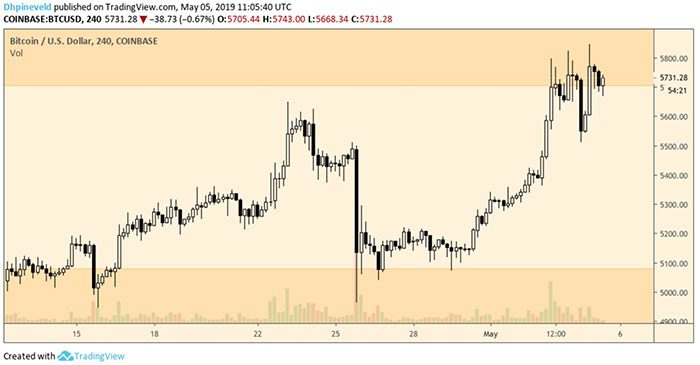 Afbeelding 1: 4-uur grafiek bitcoin op Coinbase
Wat wel gezegd moet worden is dat de bulls tot op heden nog weinig terrein hebben ingeleverd en dit is uiteraard ook een van de redenen dat veel analisten zeer bullish zijn. Daarnaast hebben we recentelijk ook de 50-weken Moving Average gebroken (afbeelding 2) en tevens een bullish cross gemaakt (afbeelding 3).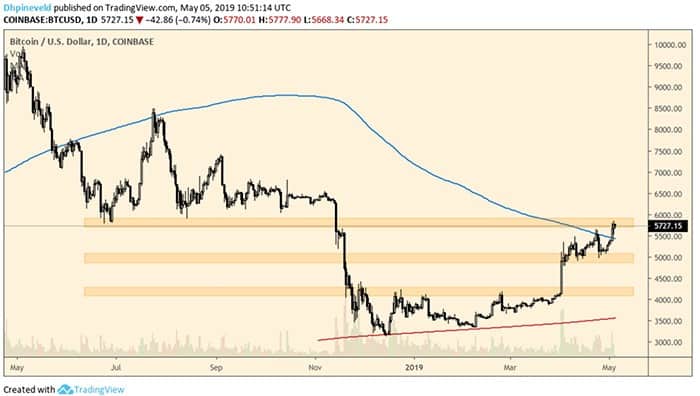 Afbeelding 2: dagelijkse grafiek bitcoin op Coinbase met 50- en 200- weken Moving Average (MA)
Dit zijn uiteraard allemaal goede ontwikkelingen op technisch niveau maar ondertussen zijn een aantal belangrijke fundamenten enorm aan het wankelen en ik word niet bullish voordat de scheuren in dit fundament zijn opgelost.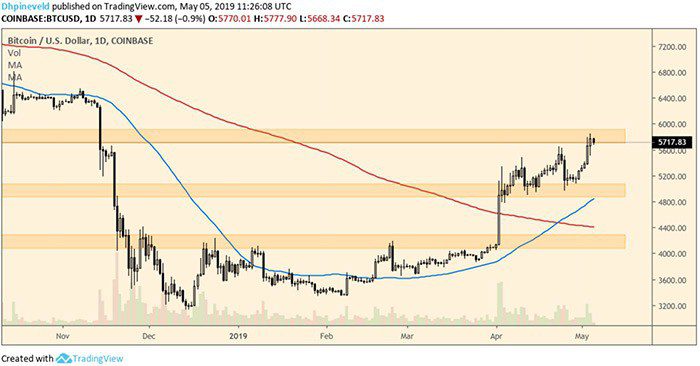 Afbeelding 3: dagelijkse grafiek bitcoin op Coinbase met 50- en 200-dagen Moving Average (golden cross)
Ik heb het dan over de olifant in de kamer waar niemand het over wil hebben en die de potentie heeft de waarde van bitcoin terug te schieten naar niveaus van 2015. Bitfinex en Tether. Dit is een gigantisch probleem wat in mijn optiek door veel traders en analisten onterecht wordt genegeerd. "Het is FUD" (Fear, uncertainty, and doubt), "het valt wel mee want Bitfinex is niet meer zo groot" of – en deze is ook mooi – "als het echt zo erg was dan had de markt al gereageerd". Het feit dat analisten nu al bullish claims maken omdat de markt nog niet sterk heeft gereageerd op dit probleem is naïef en onprofessioneel. Er is een hoop aan de gang bij Bitfinex en Tether waar wij nog niets van weten maar we kunnen haast met zekerheid stellen dat welk nieuws ook naar buiten gaat komen de komende weken het vast en zeker niet positief zal zijn. Bitfinex en Tether kampen al jaren met verschillende (imago)problemen maar het lijkt erop dat de problemen nu niet meer te ontwijken zijn want de rechtbank van New York schud je niet zomaar van je af. Zeker niet als het gaat om crypto en fraude. Je komt in de Verenigde Staten nog beter weg met moord dan met crypto-fraude en de rechtbank zal dit niet zomaar los laten want indirect is dit voor de Verenigde Staten ook een kans meer controle naar zich toe te trekken. Dit kan misschien een niet plezierige ontwikkeling zijn maar het is wel de realiteit. Het is overduidelijk dat Bitfinex met haar huidige IEO het liquiditeitsgat probeert te dichten (die er toch eerst niet was?!) maar ook al zal Bitfinex het gat dichten met deze oplossing dan zijn nog steeds niet de beschuldigingen van fraude vanuit de rechtbank van New York van tafel en daarnaast is het ook nog onduidelijk of de IEO wel echt een succes gaat worden. Er wordt uiteraard gesteld van wel, maar dit zal nog moeten blijken. Indien Bitfinex niet haar benodigde liquiditeit zal ophalen met haar IEO dan heeft zij in mijn optiek geen enkele mogelijkheid meer tot het aantrekken van voldoende kapitaal om het liquiditeitsprobleem op te lossen (dit staat los van de beschuldigingen van fraude) en zou de exchange en eventueel ook Tether alsnog kunnen omvallen. Het vertrouwen uit Bitcoin zal verdwijnen en altcoins zullen enorm bloeden. Toch zou ik het aanmoedigen, want in mijn optiek zullen deze 'bad actors' vroeg of laat het toneel moeten ruimen en dan heb ik dat liever nu dan dat we halverwege een prachtige bull run zitten.
Desalniettemin hoeft dat inderdaad niet te betekenen dat we nu direct naar beneden gaan. Dit kan nog even duren en de praktijk leert dat dit vaak ook het geval is. Echter, gezien de technische situatie (koers bevindt zich tegen weerstand en is overbought op de momentum indicatoren) en de fundamenten die flinke barsten laten zien is dit niet een markt waar ik long in wil zijn. Op geen enkele manier. Ik blijf uit deze markt totdat het stof is gedaald en er meer duidelijkheid is. Mocht het namelijk allemaal meevallen dan heb ik mogelijk een paar procent rendement misgelopen maar ik heb wel mijn portfolio beschermd tegen een potentieel desastreus event. Mocht de koers overigens naar beneden breken dan zal ik eerst kijken naar hoe de $5.000-grens stand houdt. Mocht dit niet stand houden dan kijk ik naar de $4.200. Eerlijk is eerlijk, bitcoin heeft ons al vaak verrast en het kan zomaar zijn dat we alsnog de $6.000 breken deze week. Ik hoop het voor de bulls maar ik ben vooralsnog bearish. Het zijn spannende tijden!
Tot volgende week!
Wil je op de hoogte blijven van het laatste nieuws? Abonneer je dan op onze push-berichten, Facebook– of Twitter. Meediscussiëren? Meld je dan aan voor ons Telegram kanaal.