De falling wedge die we afgelopen week bespraken brak eerder uit dan verwacht. Het geeft maar weer eens aan dat de koers nog steeds erg bullish is en dat tot op heden de kans om goede dips te kopen gering blijft. De buy orders rond de $10.000 en $9.500 zijn gehit maar vooralsnog lijkt het dat lagere entries er niet in zitten. Mijn buy orders op niveaus zoals beschreven in de columns van de afgelopen weken blijven staan, want je weet het uiteraard nooit maar op dit moment zit de markt er erg bullish uit. 
Afgelopen zondag bereikte de koers van bitcoin op de korte termijn haar laagste punt en dat was hoger dan het vorige dieptepunt welke zich bevond op $9.051 op Coinbase. We zagen dus een hogere low werkelijkheid worden en sindsdien is de koers gestaag naar boven geklommen. Het moment dat de koers de falling wedge (afbeelding 1) uitbrak zagen we even een flinke rally en in de dagen daarna waren de winsten weliswaar wat kleiner maar verovert de koers van bitcoin toch steeds weer een beetje terrein. Zaterdag brak de koers weer door de 50 dagen moving average (MA) en de koers vond gisteren zelfs haar support op deze trendlijn. De koers van bitcoin houdt zich enorm sterk terwijl het consolideert en dat is bullish. Heel bullish.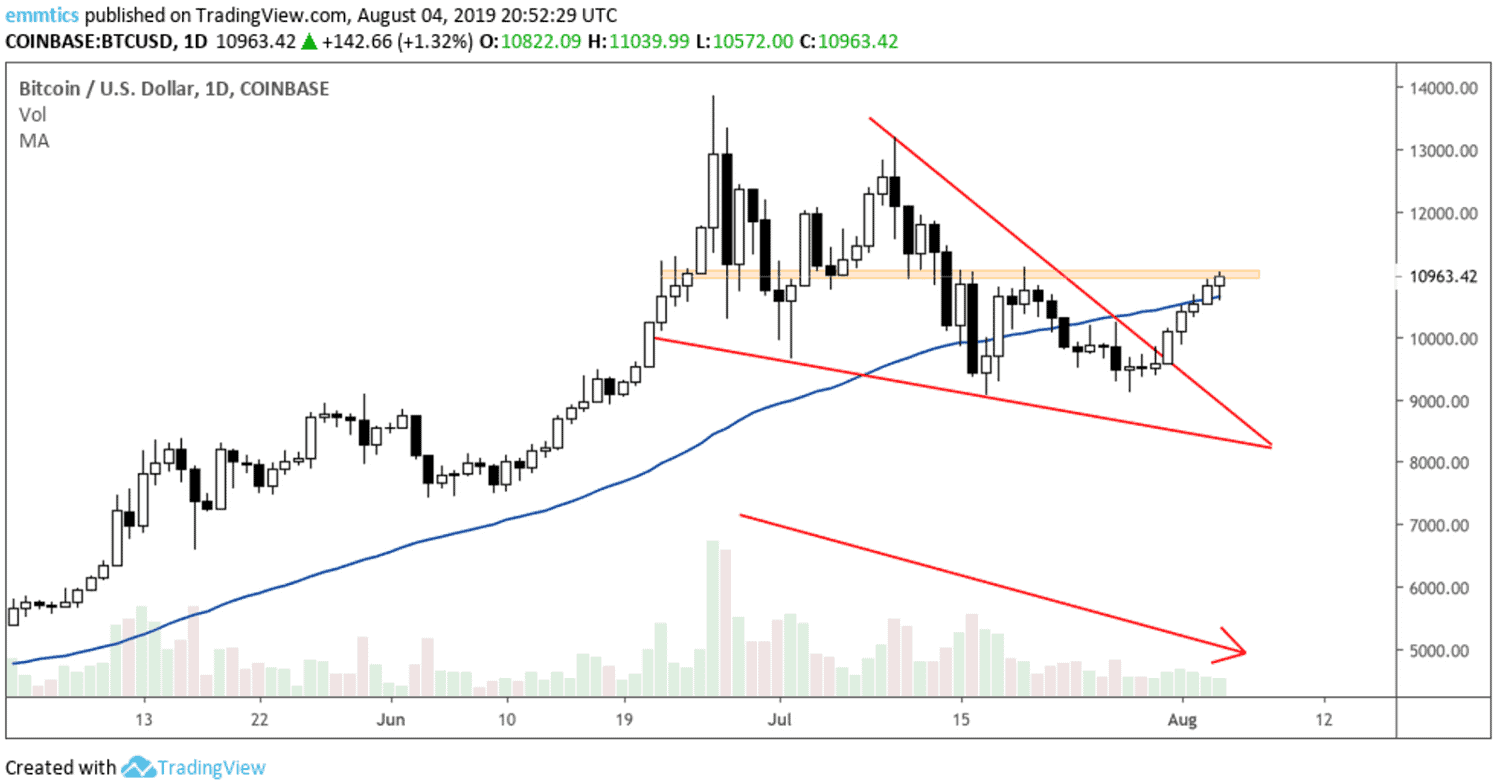 Afbeelding 1: Dagelijkse bitcoin (BTC) grafiek met 50 dagen moving average en falling wegde
Breekt BTC de $11k?
De wekelijkse momentum indicatoren zijn net weer op adem gekomen of zij vinden hun weg weer naar boven. Sinds de top van bijna $14.000 in juni is het volume van bitcoin gestaag afgenomen en op de grafieken is ook goed te zien hoe de rally van bitcoin de afgelopen dagen op flinterdun volume heeft plaatsgevonden. Op dit moment, het is nu laat op de zondagavond, ligt een belangrijke weerstand rondom de $11.000 in mijn optiek. Mocht de koers van bitcoin dit niveau breken en hier tevens support op vinden dan geloof ik dat het volume ook zal terug komen. De $11.000 heeft de afgelopen maanden meerdere malen als belangrijk support gefungeerd en toen dit niveau werd gebroken op 14 juli werd het een weerstand op 20 juli. Een break door dit niveau zou het bullish momentum nog meer vergroten en een signaal geven aan de markt dat de weg van de minste weerstand op dit moment naar boven is en niet andersom! Nu, maandagochtend 08:30 uur, staat bitcoin 8,34% in de plus met een koers van $11.578. De koers heeft dus boven de $11.000 goed doorgezet. 
De bulls zijn sterk
Keer op keer zijn het de short sellers die de afgelopen maanden het meeste pijn hebben geleden. Het is mede hierom dat de bears steeds zwakker worden en veel traders wel twee keer nadenken om short te gaan op bitcoin. Nadat de koers van bitcoin even piekte tot bijna $14.000 hebben we te maken gehad met fundamenteel nieuws omtrent onzekerheid en regulering vanuit overheden. Desalniettemin heeft de koers stand gehouden boven de $9.000 en klimt zij zelfs steeds weer terug tot boven de $10.000. Tot op heden lijkt iedere break naar beneden door de $10.000 een fake-out te zijn ongeacht de FUD (Fear, Uncertainty, and Doubt). Zoals de bekende filosofie luidt: als de trend bearish is dan reageert de markt overmatig op slecht nieuws en onderkent het goed nieuws, en als de trend bullish is dan reageert zij overmatig sterk op positief nieuws en niet tot nauwelijks op slecht nieuws. Dit is duidelijk aan de hand bij de koers van bitcoin op het moment en dit is voor mij op het moment het meest fundamentele bewijs dat de trend van bitcoin bullish is. Dit soort trends draaien niet snel en het is mede hierdoor dat een sterke dip tot $8.000, $7.000 of misschien zelfs $6.000 steeds onwaarschijnlijker wordt. Hoeveel slecht nieuws hebben we nodig om daar te komen?
Bitcoin blijft dominant (vooralsnog)
Terwijl de koers van bitcoin maar blijft stijgen doen de meeste alts niets tot weinig. Sterker nog, terwijl bitcoin stijgt zien we sommige altcoins zelfs All-Time-Lows (ATL) maken. De Bitcoin dominantie index (een index die aangeeft hoeveel % van de totale crypto market cap van bitcoin is) blijft maar stijgen en bevindt zich nu op een niveau van 68%.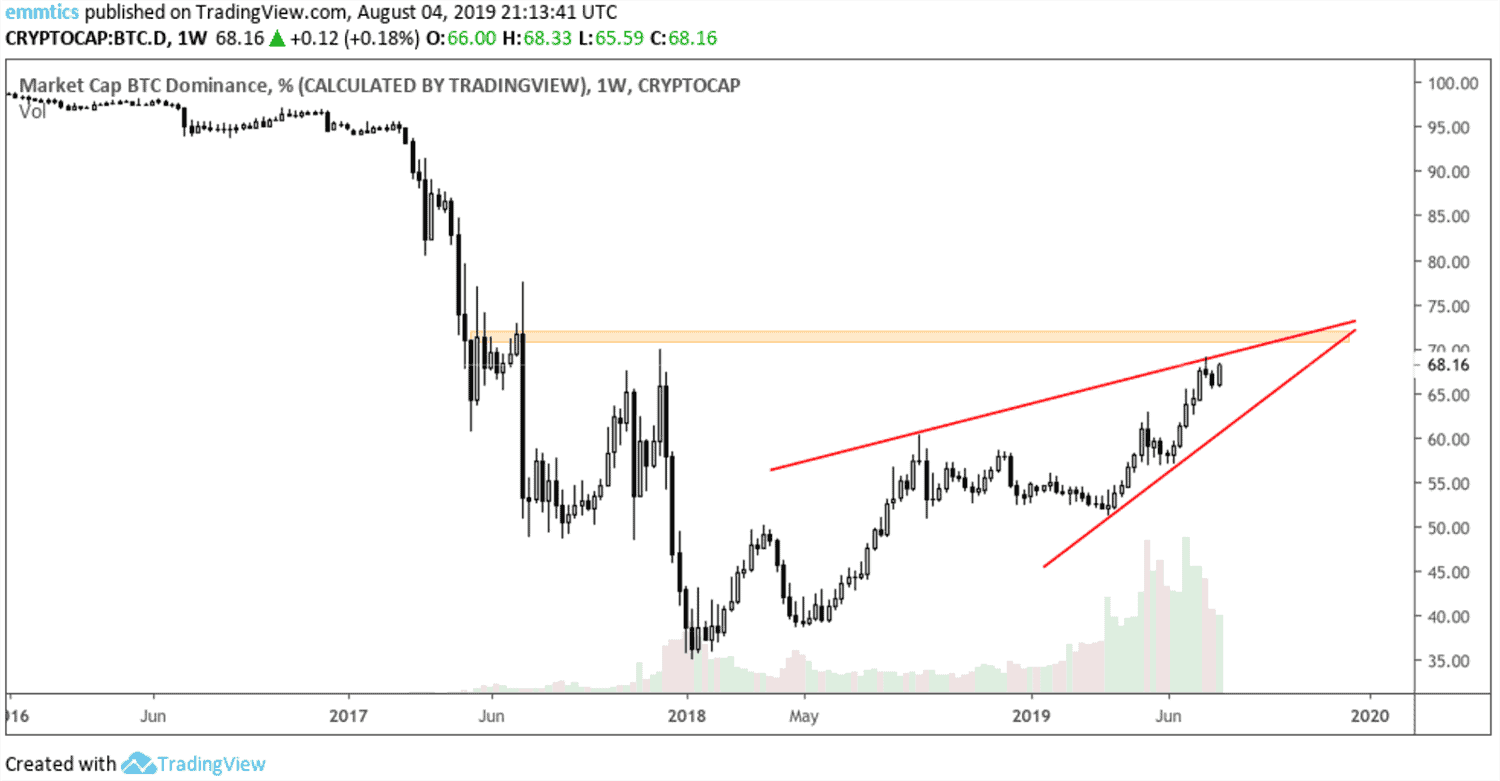 Afbeelding 2: Dagelijkse grafiek bitcoin dominantie
Dat de bitcoin dominantie stijgt is in mijn optiek niet heel gek na een dergelijke bearish periode zoals we die afgelopen jaar hebben gehad. Wanneer het vertrouwen in crypto-land is gebroken en dit weer voorzichtig moet worden opgebouwd is het in mijns inziens niet meer dan logisch dat het kapitaal eerst stroomt naar de meest bekende en tevens ook meest veilige cryptocurrency in termen van techniek, volatiliteit en liquiditeit. Bitcoin blijft de koning onder de cryptocurrencies en terwijl de markt haar wonden likt en weer bezig is aan herstel zien we dat de bitcoin dominantie index stijgt. Nee, alts zijn niet dood. Dit is een gezonde cyclus en niet meer dan normaal. Sterker nog, op de dagelijkse grafiek zien we een aantal signalen dat de dominantie binnenkort mogelijk gaat afnemen (iets dat goed zou zijn voor veel altcoins) en dat zou prima passen in de theorie dat zodra er voldoende vertrouwen terug is in de markt de alts het ook weer beter gaan doen. 
Op de dagelijkse grafiek zie ik een aantal zaken die dit aangeven. Allereerst lijkt zich een ascending wedge te vormen. Waar we op de BTC-USD grafiek van afbeelding 1 een descending wedge zagen (bullish patroon), zien we op de BTC-dominantie grafiek een ascending wedge (bearish patroon). Een ascending wedge breekt vaak naar beneden uit en is een teken dat – in dit geval de dominantie – oververmoeid aan het raken is. Tegelijkertijd zien we ook dat de dominantie index zich tegen een weerstand niveau begeeft van 68-70%. Als kers op de taart zien we tevens dat de momentum indicatoren voor deze grafiek overbought zijn en dit is tevens een signaal dat een reversal mogelijk spoedig op komst is. Een aantal jaar geleden was de bitcoin dominantie index altijd ver boven de 90% maar met de opkomst van Ethereum en de daaropvolgende ICO's en vele alts, is er medio 2017 fundamenteel iets veranderd in de markt. In de periode daarna zagen we de bitcoin dominantie zakken tot een niveau van 35% in januari 2018 waarna dit niveau weer langzaam opklom tot de 68% waar we ons nu op bevinden. De dominantie index kan dus in theorie nog een flink stuk doorstijgen maar gezien de fundamentele wijziging die plaatsvond in 2017 met betrekking tot altcoins, het vertrouwen dat weer ontstaat in crypto's als gevolg van de goede performance van bitcoin en fundamentele ontwikkeling in het algemeen alsmede een aantal patronen en signalen op de bitcoin dominantie grafiek, doen mij denken dat dit binnenkort weer zal omrollen. Een break van de koers van bitcoin door de $11.000 zou hiervoor in mijn optiek een belangrijk onderdeel zijn want dit is de eerste belangrijke weerstand voor de koers van bitcoin op het moment, en een break hier doorheen heen zou nog wel eens de start van een mooie rally voor de komende weken kunnen inluiden. Nu, op moment van plaatsing is die break door de $11.000 dan ook werkelijkheid geworden.
Hoe goed het er allemaal ook uitziet op het moment, mijn kooporders zoals ik die heb beschreven in mijn vorige columns blijven staan want hoewel ik bullish ben op de middellange, lange en zelfs korte termijn kan de koers van bitcoin af en toe rare sprongen maken. Ik verkoop in ieder geval niets want dit feestje is pas net begonnen.
Tot volgende week!
Wil je op de hoogte blijven van het laatste nieuws? Abonneer je dan op onze push-berichten, Facebook– of Twitter. Meediscussiëren? Meld je dan aan voor ons Telegram kanaal.