Mijn inschatting van afgelopen week bleek correct. De koers dipte tot de $3.869 en brak vervolgens rechtstreeks door de $4.000 tot een niveau van $4.166 op Bitfinex. Nadat de bitcoin-koers weer even tot bedaren kwam vond het support op de $4.000-grens. De afgelopen vier weken is de koers iedere keer hoger gesloten en met de recente break door de $4.000 vragen veel mensen zich af of het ergste is geweest en de koers van Bitcoin weer is begonnen aan een langdurige rally. In het nieuws wordt her en der al gesuggereerd dat 2019 het jaar van de bulls wordt en het is de laatste weken zeer stil rondom bearish nieuws. Toch dienen we niet te vergeten waar we nu staan en hoe we hier zijn gekomen en daarom dient het optimisme gepast te zijn en moeten wij ons niet laten meevoeren in wishful thinking. Vooralsnog is de koers van bitcoin bezig met haar opmars en is de grote vraag of de huidige rally voortzet. Laten we eens kijken naar de wekelijkse grafiek.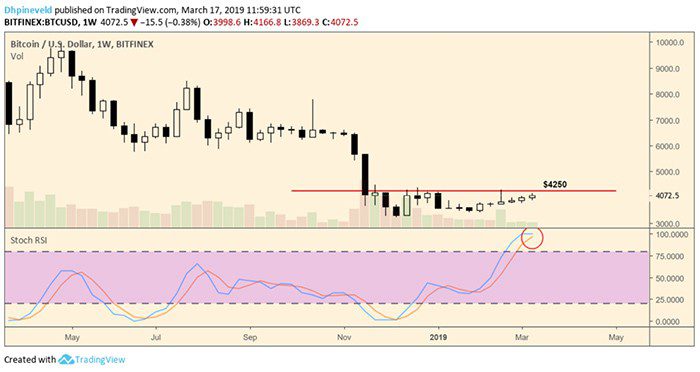 Afbeelding 1: wekelijkse bitcoin grafiek
Zoals ik afgelopen week al aangaf is de $4.000 een belangrijke grens maar in mijn optiek niet de weerstand waar het om gaat. Het echte gevecht gaat om het niveau van $4.250 en indien de koers dat niveau goed weet te breken dan heeft er naar mijn mening een echte game changer plaatsgevonden voor de korte en middellange termijn en zie ik een test van het niveau op de $6.000 als zeer waarschijnlijk. Echter, daar zijn we nog niet en ik verwacht dat het terrein rond de $4.250 niet zomaar zal worden veroverd. Hoewel de koers de afgelopen weken iedere keer hoger sloot is het een moeizame weg geweest en laat de Stoch-RSI tevens een overbought scenario zien welke op het punt staat om te rollen naar beneden. Desalniettemin is het niet gek (en zelfs normaal) dat na het slagveld van het afgelopen jaar het herstel langzaam en twijfelend op gang komt. Dat gaat met ups en downs maar vooralsnog gemiddeld meer ups dan downs :-).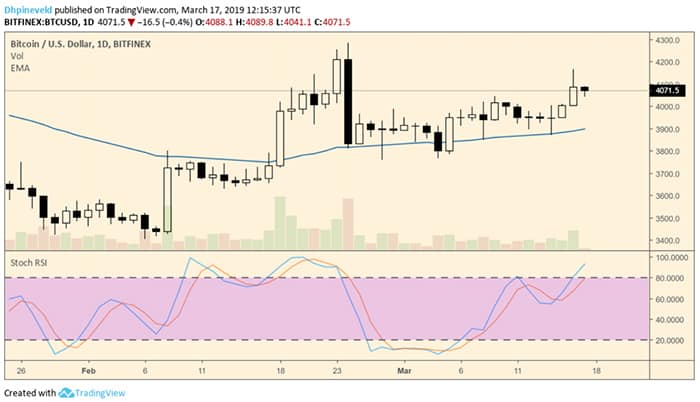 Afbeelding 2: dagelijkse bitcoin grafiek
Hoewel ik al enige tijd geleden long-posities heb geopend bouw ik deze nu langzaam af naarmate de koers de sterke weerstand van $4.250 'inloopt'. Gezien de huidige situatie: Sterke weerstand en momentum-indicatoren die overbought zijn ben ik op dit moment zeer op mijn hoede en is de kans op een sterke dip in mijn optiek vrij groot. De grote overwinning van de afgelopen weken was uiteraard het breken van de 50-EMA en het feit dat op dit niveau meerdere malen support is gevonden (zoals goed te zien is in afbeelding 2). Mede om dit feit zou ik bij een eventuele dip goed kijken of de 50-EMA stand houdt en op dit niveau mogelijk weer posities openen. Voordat we een mogelijke dip maken verwacht ik echter op z'n minst nog een echte poging om de $4.250 te breken. Mocht de koers wonderbaarlijk door dit niveau heen schieten en vervolgens haar support hierop vinden dan kan dat uiteraard ook een mooi moment zijn om long te gaan, maar dit scenario geef ik minder dan 50% kans, daar ik geloof dat voor het breken van de $4.250 echt wat meer nodig is dan het langzame gesudder van afgelopen weken. De koers van bitcoin zit weer in de lift en de komende week zullen we zien of deze rally nog een tijdje zal voortzetten of dat het even een adempauze voor de bears is geweest. De $4.250 is waar het nu om gaat. Mijn ogen zijn gericht op dat niveau en indien we zakken op de 50-EMA. Wellicht wordt het weer een weekje van weinig volume en actie maar de test van $4.250 zit eraan te komen. Het wordt weer spannend!
Tot volgende week!