Wanneer je de prijs van bitcoin (BTC), ethereum (ETH) of een andere cryptocurrencies vergelijkt met die van een paar jaar geleden, dan zal je misschien denken dat je veel te laat bent en de trein gemist hebt. Deze week liet de grote Amerikaanse bank Wells Fargo echter zien dat dit helemaal niet zo hoeft te zijn. In Timo's take van deze week duiken we wat dieper in op het rapport dat Wells Fargo deze week publiceerde.
We zijn niet te vroeg of te laat met crypto
In het rapport legt Wells Fargo een aantal redenen voor waarom de analisten van de bank denken dat investeerders niet te laat zijn als het om crypto gaat. Ten eerste geven de crypto prijsprestaties in het verleden een vertekend beeld omdat vrijwel alle cryptocurrencies vanaf $0 zijn begonnen. Hierdoor zien we enorme stijgingspercentages ten opzichte van enkele jaren geleden.
Bovendien zijn de meeste cryptocurrencies helemaal nog niet zo oud. "Zelfs de oudste crypto's moeten nog rijpen," met bitcoin bijvoorbeeld nog steeds vier keer volatieler dan goud. Maar, zijn we dan misschien juist te vroeg? Ook dat is niet het geval, zo stelt Wells Fargo.
De bank vergelijkt de huidige stand van zaken binnen crypto met het internet in 1990, een argument dat we vaker horen. Nieuwe technologieën volgden in de geschiedenis veelal dezelfde ontwikkeling, ook wel de S-curve genoemd. Zie de grafiek hieronder. Daarin vergelijkt Wells Fargo hoe technologieën als elektriciteit, mobiele telefoons en het internet zich ontwikkelden.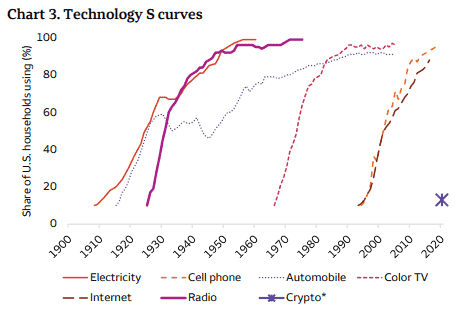 Crypto op een kantelpunt, hyperadoptie aanstaande?
De bank merkt op hoe snel het aantal crypto-gebruikers groeit. Waar er in juni 2021 nog 200 miljoen gebruikers waren, waren dat er slechts vier maanden eerder 100 miljoen. Het zijn dergelijke groeipercentages waardoor de bank denkt dat crypto zich op een belangrijk kantelpunt bevindt.
Zoals je kan zien op de bovenstaande grafiek maken de meeste technologieën in hun begindagen in mindere mate groei door. Maar de groei versnelt op een gegeven moment hard om na een aantal jaren af te vlakken. Zodoende vormt de grafiek een letter S. Wells Fargo stelt op basis van deze vergelijking met eerdere nieuwe technologieën dat "cryptocurrencies binnenkort de vroege adoptiefase kunnen verlaten en een buigpunt van hyperadoptie betreden."
Het is belangrijk om je te realiseren dat uiteindelijk niemand weet hoe de toekomst er voor crypto uit zal zien. Zo is het geen gegeven dat bitcoin altijd de grootste zal blijven, of dat Ethereum het grootste smart contract–platform blijft. Doe altijd je eigen onderzoek en trekt daaruit je eigen conclusies.