Coinbase is een Amerikaans crypto handelsplatform en investeringsplatform. Het is een van de grootste exchanges ter wereld met vele miljoenen gebruikers en een behoorlijk aanbod aan cryptocurrencies. Het bedrijf Coinbase staat ook genoteerd op de Amerikaanse beurs.
De exchange werd in 2012 opgericht als een plek waar men bitcoin (BTC) kon sturen of ontvangen. Sindsdien is de exchange enorm gegroeid en biedt het een enorm scala aan functies. Zo heeft het twee versies van de Coinbase exchange en zelfs een eigen wallet.
Gratis crypto met Coinbase Earn
Een van de unieke aspecten van Coinbase is het feit dat gebruikers gratis crypto kunnen verdienen door mee te doen aan een bepaald programma. Hier kunnen gebruikers leren over verschillende cryptocurrencies door middel van het lezen en kijken van informatieve content.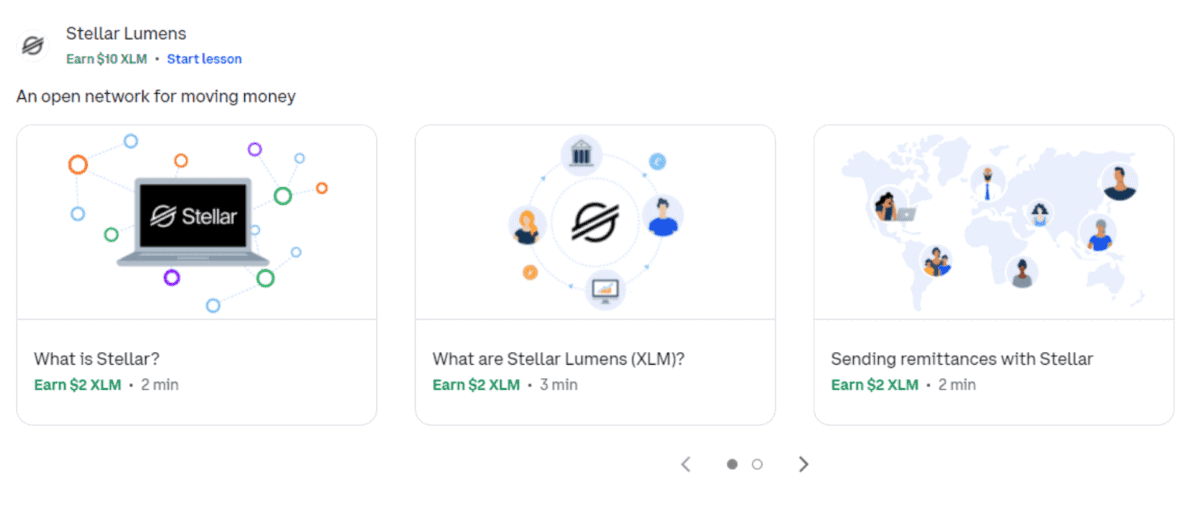 Door het kijken van deze content krijgen gebruikers een beter begrip van de wereld van cryptocurrencies. Aan het einde van deze video's moeten gebruikers een relatief simpele toets maken en bij het succesvol voltooien van deze quiz krijgen zij gratis cryptocurrencies in hun wallet!
Coinbase wallet
De Coinbase wallet zorgt ervoor dat gebruikers zelf hun cryptocurrencies in bewaring kunnen nemen. Coins die men bewaard op exchanges zijn eigenlijk helemaal niet daadwerkelijk in het bezit van de gebruiker. De private key van de wallet, hetgeen het bezit van de coins in de wallet vertegenwoordigt, blijft hier namelijk in het bezit van de exchange.
Bij de Coinbase wallet krijgen gebruikers wel hun eigen private key tot hun beschikking. Dat betekent simpelweg dat het bewaren van cryptocurrencies op deze wallet een stuk veiliger is dan het bewaren van je investering op een exchange wallet.

Belangrijk om te realiseren is dat de Coinbase wallet dus feitelijk iets anders is dan de Coinbase of Coinbase Pro exchange. De Coinbase wallet staat hier volledig los van. 
Coinbase coins
Het aanbod van Coinbase is behoorlijk extensief. Investeerders kunnen kiezen uit meer dan 100 verschillende cryptocurrencies. Het doet daarmee niet onder voor de meeste grote exchanges. Daarnaast worden er bijna wekelijks nieuwe cryptocurrencies aan het aanbod van de Amerikaanse crypto exchange toegevoegd.
Coinbase listing
Elke keer als een nieuwe cryptocurrency op het punt staat om toegevoegd te worden aan het assortiment van Coinbase is dat groot nieuws. In het verleden zijn noteringen op Coinbase enorm positief geweest voor een grote hoeveelheid crypto projecten.
Dit komt uiteraard doordat Coinbase een bijzonder groot bereik heeft. Bij een nieuwe listing krijgen miljoenen investeerders voor het eerst de mogelijkheid om te investeren in een nieuwe cryptocurrency.
De prijs-impuls die een cryptocurrency doormaakt nadat het nieuws van een notering op een gevestigde exchange bekend is wordt ook wel het 'Coinbase effect' genoemd.
Coinbase vs. Coinbase Pro
Gebruikers kunnen kiezen tussen het standaard Coinbase platform of Coinbase Pro. Coinbase is meer bedoeld voor beginners en investeerders die genoeg hebben aan simpele koop- en verkooporders. Coinbase Pro biedt meer functionaliteiten en is daarom meer bedoeld voor de wat meer ervaren handelaar of investeerder.
Beide exchanges stellen de gebruiker in staat om te investeren met fiat valuta zoals de Amerikaanse dollar, maar ook de euro. 
De interface van Coinbase is een stuk simpeler dan die van Coinbase Pro. Dat komt omdat Coinbase Pro gebruik maakt van geavanceerde grafiek-functies en het biedt ook crypto-to-crypto trading pairs. Je kan hier dus ook bijvoorbeeld bitcoin kopen met ethereum.
Op Coinbase is het ook alleen mogelijk om te kopen, verkopen, sturen en ontvangen. Ervaren handelaren zullen hier niet genoeg aan hebben. Op Coinbase Pro kunnen gebruikers daarom niet alleen het bovenstaande, maar kunnen zij ook bijvoorbeeld gebruik maken van limit orders, stop losses en time in force orders.
De mogelijkheden zijn op Coinbase Pro simpelweg een stuk groter. De naam kan enigszins verwarrend zijn, maar het is absoluut niet nodig om een professionele handelaar te zijn om Coinbase Pro te gebruiken. Wel zullen beginners het moeilijker vinden om hun weg te vinden binnen Coinbase Pro. Degenen die enkel willen investeren in cryptocurrencies en zich niet druk willen maken om patronen op grafieken en ingewikkelde indicatoren is Coinbase prima geschikt.
Voor sommige gebruikers zal het ook van belang zijn dat Coinbase Pro geen mobiele app heeft. Voor investeerders die enkel gebruik maken van een mobiele telefoon om te investeren in de wereld van crypto is de keuze voor Coinbase dan ook makkelijk gemaakt.
Handelskosten op Coinbase & Coinbase Pro
Een belangrijk verschil bestaat tussen Coinbase en Coinbase Pro zijn de handelskosten. Coinbase staat er wereldwijd om bekend dat zij vrij hoge handelskosten hanteren. Dit geldt echter wel voornamelijk voor de standaard Coinbase.
Coinbase Pro heeft namelijk een stuk lagere handelskosten dan Coinbase. Voor Coinbase geldt een vaste 0,50% transactie fee voor elke transactie. Daarnaast wordt er zelfs 4% voor elke betaling met een creditcard gerekend en 1,49% voor Coinbase wallet of bankbetalingen. De handelskosten van Coinbase Pro zijn fors lager. Hier wordt een transactie fee tussen de 0% en de 0,5% gerekend. 
Coinbase aandelen
Coinbase werd op 14 april 2021 genoteerd op de Amerikaanse beurs Nasdaq. Sindsdien is het voor investeerders over de hele wereld mogelijk om te investeren in het Coinbase (COIN) aandeel. Op die manier kan er gedeeld worden in het succes van een van de grootste exchanges ter wereld.
Door de hoge correlatie van de koers van het Coinbase aandeel met de crypto-markten, kiezen veel traditionele investeerders ervoor om in COIN te investeren om zo indirecte blootstelling aan de crypto markten te verkrijgen.
Prijs van Coinbase aandelen
Er bestond enorm veel hype omtrent de beursgang, ofwel IPO, van Coinbase. Om die reden was de prijs van het COIN aandeel op de eerste gigantisch hoog. De markt opende met een COIN koers van boven de $400.
Sindsdien is de hype enigszins gaan liggen en is de extreme volatiliteit ook weggeëbd. Feit blijft dat COIN behoorlijk in prijs kan schommelen. Dit komt natuurlijk door de correlatie met de crypto markten welke inherent enorm volatiel zijn.
Coinbase vs. Binance
Vaak wordt de vergelijking gemaakt tussen Coinbase en Binance. Het zijn twee iconische exchanges en beide staan ze aan de top van de markt. Er bestaan echter een aantal belangrijke verschillen tussen de exchanges.
Binance is verreweg de grootste exchange ter wereld qua handelsvolume, maar is lang niet voor iedereen geschikt. Daarom is het belangrijk voor investeerders alvorens zij voor een van de twee exchanges kiezen op de hoogte te zijn van deze verschillen.
Binance is in de basis minder geschikt voor beginnende investeerders. De learning curve is stevig en het aanbod aan functionaliteiten kan erg overweldigend zijn voor iemand die net komt kijken.
Het Binance platform lijkt meer op het Coinbase Pro platform dan het standaard Coinbase. Het is bedoeld voor gelouterde investeerders en handelaren en biedt beginners weinig houvast. 
Binance heeft wel een veel groter aanbod aan cryptocurrencies dan zowel Coinbase als Coinbase Pro. Het biedt zelfs de mogelijkheid tot het handelen in derivaten zoals futures, wat interessant is voor leverage traders.
Ook zijn de handelskosten op Binance een stuk lager. Op Binance betalen gebruikers per transactie slechts 0,015% tot 0,10%. Dat is fors lager dan de handelskosen op zowel Coinbase als Coinbase Pro. Dit is voor investeerders minder belangrijk dan voor handelaren die soms wel meerdere transacties op een dag maken.