Belangrijkste punten
KuCoin

, bekend als de 'People's Exchange,' is één van de vijf grootste crypto-handelsplatformen en is door The Ascent uitgeroepen tot de beste crypto-exchange en app van 2022.

KuCoin is de nummer 1 beurs voor altcoins, met meer dan 700 assets en 1200 handelsparen. Het platform bedient meer dan 18 miljoen gebruikers wereldwijd.

KuCoin Lending

is

één van de beste manieren om een passief inkomen te verdienen.

KuCoin Lending heeft

de voorkeur door gebruikers die investeringen met een laag risico en stabiele rendementen nastreven, waardoor ze een stabiel inkomen kunnen verdienen in een fluctuerende markt.

KuCoin Lending is een

perfecte match voor HODLER's en nieuwe crypto-investeerders.

KuCoin Lending is een

peer-to-peer

platform zonder een derde partij. Hierdoor kan de lening worden uitgegeven tegen marktconforme rentetarieven met een snellere werking, transparantie en is fraude en risicobestendig.

Het KuCoin Lending platform ondersteunt meer dan 100 tokens, waaronder USDT, BTC, ETH, ADA, enz.
1. Wat is KuCoin?
KuCoin, gelanceerd in september 2017, is een wereldwijde cryptocurrency exchange met zijn hoofdkantoor in de Seychellen. Als platform gericht op inclusiviteit en community, biedt het meer dan 700 digitale assets aan. Momenteel biedt KuCoin spothandel, margin trading, P2P fiat-handel, futureshandel, staking en lending aan 18 miljoen gebruikers aan uit 207 landen en regio's.
In 2022 haalde KuCoin meer dan $150 miljoen op in een financieringsronde en een totaal aan $170 miljoen uit een eerdere financieringsronde. Daardoor komt de totale waardering van KuCoin op $10 miljard uit. KuCoin is één van de vijf grootste crypto exchanges, volgens CoinMarketCap. Forbes benoemde KuCoin één van de beste crypto-exchanges van 2021. The Ascent benoemde in 2022 KuCoin de beste crypto-app voor enthousiastelingen.
2. Wat is KuCoin Lending?
KuCoin Crypto Lending is een peer-to-peer leenplatform waar gebruikers hun cryptomunten kunnen uitlenen om een stabiel inkomen te verdienen. Omgekeerd kun je ook assets lenen op het platform om het rendement te vergroten via margin-handel. In wezen bestaat dit systeem uit twee partijen: de geldschieter en de lener.
KuCoin Lending is één van de beste crypto-leenplatforms als het gaat om de diensten die het aan zijn gebruikers biedt. KuCoin Lending biedt functies voor automatisch lenen en uitlenen, en automatisch terugbetalen, voor een gebruiksvriendelijke handelservaring.
KuCoin Lending wordt beschouwd als één van de beste manieren om een passief inkomen te verdienen. Let op: dit is geen lening zonder onderpand. De geldschieter ontvangt rente van de lener in ruil voor de lening, terwijl leners crypto-assetd storten als onderpand om de investering van investeerders veilig te stellen. Dit dient als garantie voor de kredietverstrekker; als er iets misgaat, kunnen ze dit onderpand gebruiken als een vorm van compensatie.
In vergelijking met andere functies, zoals margin-handel en futures-handel, is KuCoin Lending meer geschikt voor gebruikers die de voorkeur geven aan investeringen met een laag risico en stabiele rendementen nastreven. Daarom is Lending een perfecte match voor investeerders die holden om extra winst te maken. Bovendien is het gebruiksvriendelijk voor nieuwe crypto-investeerders, die cryptomunten kunnen uitlenen om met een paar simpele klikken een passief inkomen te verdienen.
3. Het voordeel van KuCoin Lending
3.1 Een hoger passief inkomen
Voor kredietverstrekkers biedt Lending de mogelijkheid om inkomsten te genereren door jouw digitale assets uit te lenen aan de leners. Je kunt de tokens uitlenen die je momenteel niet gebruikt of van plan bent te verkopen. Dit biedt een winstgevende kans omdat deze vorm van leningen een hogere rente kunnen genereren dan traditionele besparingen.
Over het algemeen wordt het jaarlijkse percentage over leningen op KuCoin geassocieerd op marktschommelingen.
Wanneer er een grote pump of dump is, zal een toenemend aantal gebruikers bereid zijn om hun winst te vergroten via margin-handel, wat de vraag naar crypto-leningen kan stimuleren. Gedreven door de hogere vraag stijgt ook de rente. Dit is eigenlijk de reden waarom het jaarlijkse percentage over USDT leningen op KuCoin soms 40% kan bereiken. Dus op basis van die logica, kun je ook verwachten dat wanneer de markt relatief stabiel is, de rente op KuCoin Lending geleidelijk naar een lager niveau kan dalen. Momenteel ligt het jaarlijkse percentage voor het uitlenen van USDT op ongeveer 15%.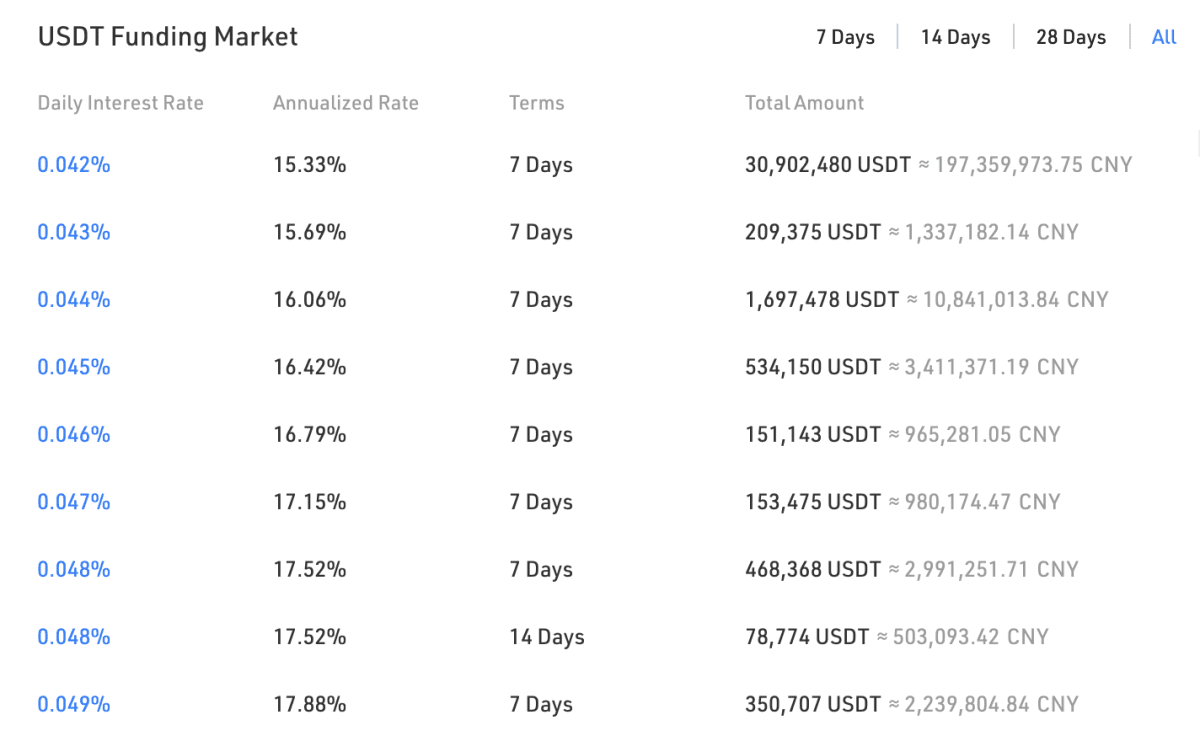 3.2 Een lager risico
We weten allemaal dat alle investeringen risico's met zich meebrengen, maar KuCoin Crypto Lending is een product een relatief laag risico.
Je bent wellicht bezorgd; wat als deze persoon die mijn crypto leent, weigert het terug te betalen? Maar hier is de crux; lenen op het platform vereist onderpand en dat zorgt ervoor dat de geldschieters de hoofdsom en de rente volledig terug kunnen krijgen.
Alice wil bijvoorbeeld 90 USDT lenen voor margin-handel, dus moet ze minstens 10 USDT op haar rekening vastzetten als onderpand. Zodra de lening is verwerkt, staat haar positie op 100 USDT met een schuldgraad van 90%. Als Alice een verkeerde voorspelling heeft gedaan over de markt, zal de schuldgraad stijgen. Wanneer deze 97% bereikt, zal haar positie worden geliquideerd en de resterende assets worden gebruikt om de hoofdsom en de rente aan de geldschieter te betalen. In de meeste gevallen kun je dus nog steeds jouw hoofdsom en rente terugkrijgen.
3.3 Ondersteunt meerdere crypto
Voor HODLER's kan het KuCoin Lending platform aan hun eisen voldoen en tegelijkertijd verschillende soorten munten ondersteunen. Momenteel ondersteunt het KuCoin Lending platform meer dan 70 verschillende crypto, waaronder USDT, BTC, ETH en andere populaire munten als ADA, ATOM, XTZ en meer.
3.4 Hoger kapitaalgebruik
KuCoin Lending heeft twee modi om uit te kiezen: Lend en Auto-Lend. Kies je voor Auto-Lend, dan moet je 'Reserved Amount' instellen. Dit is het bedrag dat je niet wilt uitlenen. Nadat Auto-Lend is ingeschakeld, zal het systeem automatisch de beschikbare fondsen uitlenen tegen de optimale rente.
Als je enig saldo op jouw hoofdrekening hebt staan, zal het systeem binnen enkele seconden automatisch lending orders voor je plaatsen die overeenkomen met het optimale tarief in de markt als deze hoger liggen dan jouw minimumtarief.
Stel dat je bijvoorbeeld de minimale dagrente instelt op 0,05% en dat de huidige optimale rente 0,1% is. Zodra een andere gebruiker jouw geld terugbetaalt, zal het systeem onmiddellijk een order voor jou plaatsen tegen het optimale tarief, namelijk 0,1%. Op deze manier kan jouw geld volledig worden gebruikt. Als jouw minimale dagtarief is ingesteld op 0,2%, dus hoger dan het optimale tarief (0,1%), dan zal het systeem de order plaatsen tegen jouw minimale dagtarief, dus 0,2%. Omdat het hoger ligt dan het optimale tarief, wordt de openstaande orders mogelijk niet snel gevuld.
Kortom, Auto-Lend is een goede manier om het meeste uit jouw geld te halen, aangezien het jouw geld automatisch en snel kan uitlenen tegen de best mogelijke rente. Maar stel de minimale dagelijkse tarief verstandig in, aangezien een hoog minimumrente een negatief effect kan hebben op jouw winst.
3.5 Snellere bediening
Crypto-Lending is ook een sneller proces dan traditionele leningen vanwege de eenvoudige stappen om een account aan te maken. Het KuCoin crypto-leenplatform heeft ook tools om de automatische betaling van geld en rente aan geldschieters te garanderen.
4. Hoe je passief inkomen kunt verdienen via KuCoin Lending
Als je crypto op je account hebt staan, waarom zou je het dan niet voor je laten werken? Klik hier voor een tutorial hoe je KuCoin Lending kunt gebruiken!
---
Bovenstaand artikel is een ingezonden stuk en valt buiten de verantwoordelijkheid van Crypto Insiders. Dit is geen financieel advies en onze analisten zijn geen financieel adviseurs. Beleggen brengt risico's met zich mee. Raadpleeg altijd een adviseur bij het maken van financiële beslissingen. De informatie en tips die op deze website worden verstrekt dienen alleen voor educatieve doeleinden.