The Real Vision Bot is een handelsbot die door middel van zijn voorspellingen de prestaties van de algemene crypto markt probeert te verslaan. De bot baseert de voorspellingen op basis van wekelijkse enquêtes waarin professionele investeerders worden ondervraagd. Het is afkomstig van de door Raoul Pal opgerichte bedrijf Real Vision. Real Vision is een on-demand financiële tv-zender. Raoul Pal is een bekende hedgefondsmanager die op 36-jarige leeftijd met pensioen ging.
Resultaten crypto vragenlijst
Onlangs publiceerde de bot nieuwe resultaten (zie figuur 1). De waardes worden bepaald door de mate waarin investeerders bepaalde cryptoprojecten in hun portfolio bezitten. Hierin staat bitcoin (BTC) aan kop met een overgewicht waarde allocatie van 50%. Overgewicht en ondergewicht heeft te maken met de mate waarin een investering voor een groot, of juist klein deel van het (crypto) portfolio bestaat. Als meer investeerders aangeven dat hun crypto (zoals bitcoin) een groot deel van hun portfolio betreft, zal het overgewicht waarde hoger uitvallen.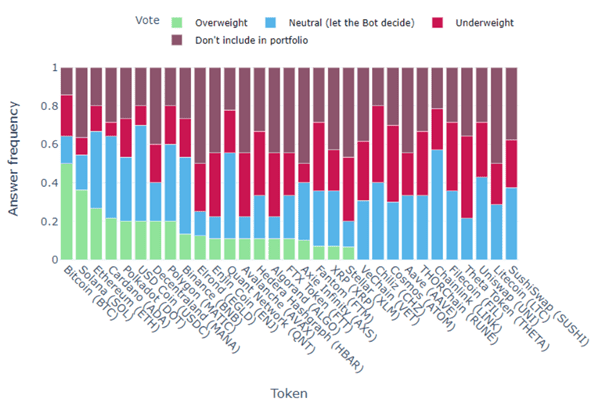 Solana komt opvallend goed uit de verf
Opvallend is dat het solana (SOL) netwerk op nummer twee staat boven concurrent ethereum (ETH) met een overgewicht waarde van 36% tegenover 27%. Dit is opmerkelijk aangezien solana het afgelopen jaar vaak negatief in het crypto nieuws is geweest. Zo was er 3 augustus een hack en berichtte we in mei nog de 7e netwerk crash. Desondanks zien we dat het netwerk zich relatief sterk houdt. Het positieve resultaat van Solana komt mogelijk door de sterke fundamentele metrieken. Deze bespraken we onlangs nog in een premium artikel. 
Overige resultaten
De projecten met hoge marktkapitalisatie waardes blijken hoog in de lijst van de bot voor te komen. Alle projecten die de bot benoemt zitten in de top 100 munten als je kijkt naar de marketcap. Smart contract platformen, zoals Solana, Ethereum, Cardano (ADA) en Avalanche (AVAX) doen het goed. Daarnaast komen play-to-earn en metaverse projecten ook voor in de lijst. Netwerken zoals Decentraland (MANA), Enjin coin (ENJ) en Axi Infinity (AXS) vallen hieronder.
De focus op projecten met een hoge marktkapitalisatie is te verklaren door de negatieve koers waar we ons op het moment bevinden. In een bearish markt hebben investeerders de voorkeur om in stabielere projecten te investeren en hun verliezen te beperken. Wanneer het marktsentiment omdraait krijgen kleinere munten vaak meer aandacht van investeerders omdat ze verwachten meer rendement te kunnen maken.