Het investeren tijdens de cryptocurrency–boom, toen Initial Coin Offerings (ICO's) dé hype waren, was een riskante business. Het was moeilijk in te schatten welke projecten betrouwbaar waren, en het feit dat de crypto-markt toen nog nauwelijks gereguleerd was hielp ook niet mee. Toch zijn er verschillende crypto-projecten waar je flink wat geld mee had kunnen verdienen, zeker als je deze crypto nu nog in je wallet zou hebben staan.
DataLight, een bedrijf dat analytische gegevens biedt over de crypto-markt, heeft een grafiek samengesteld met daarop de ROI (return on investment of rendement op de investering) van verschillende bekende crypto-projecten. Op het lijstje is bijvoorbeeld te zien dat wanneer je $100 zou hebben geïnvesteerd tijdens de Ethereum ICO, je nu $68.305 zou hebben.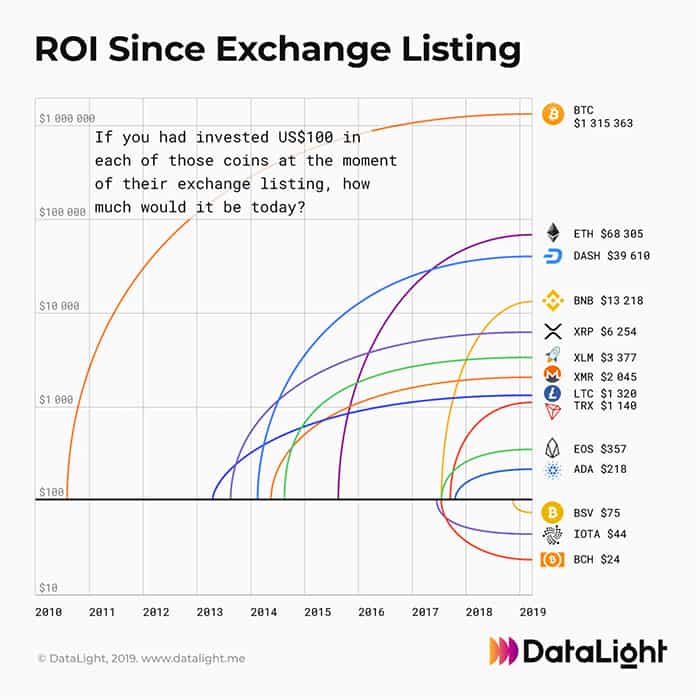 De absolute koning van crypto-investeringen blijft echter bitcoin (BTC). Met $100 aan investeringen in bitcoin in 2010 zou je met $1.315.363 nu namelijk miljonair zijn geweest. Investeren in ICO's is overigens geen garantie voor succes. Een hoop ICO's leden namelijk enorme verliezen.
Zo zou je met een investering van $100 in de ICO van de banking startup Bancor (BNT) nu nog maar $16 over hebben nadat de waarde van de token met maar liefst 84% onderuit ging. Tijdens de ICO verkocht Bancor tokens voor $3.864 per stuk, welke nu nog maar $0,60 waard zijn.
Een volgende kans om potentieel veel rendement te behalen is volgens sommigen de lancering van Facebook Coin. Naast het feit dat dit voor Facebook zelf aardig wat centen op kan leveren, kan de cryptocurrency mogelijk ook voor aardig wat winst zorgen bij investeerders.
Wil je op de hoogte blijven van het laatste nieuws? Abonneer je dan op onze push-berichten, 
Facebook
– of Twitter.
[ci-widget-v2]