Vandaag in de Insider-analyse nemen we een kijkje naar The Sandbox (SAND). Deze coin is in de afgelopen 24 uur met ongeveer 1% gedaald. Over de afgelopen zeven dagen zagen we de koers ook afnemen. In deze periode daalde de koers met ongeveer 5,5%. The Sandbox staat op de 38e plaats op basis van marktwaarde.
Wat is The Sandbox?
The Sandbox is een op blockchain gebaseerd play-to-earn game die actief is in de metaverse sector. In deze metaverse kunnen gamers hun eigen virtuele wereld bouwen. Dit kunnen zij doen door een stuk land te kopen en hier te bouwen. Andere gamers kunnen dit stuk land bezoeken en hier gebruikmaken van de faciliteiten die de eigenaar beschikbaar heeft gesteld of heeft opgezet.
Daarnaast kunnen gamers binnen deze wereld ook eigen voorwerpen maken, verzamelen en verhandelen. Deze voorwerpen worden gemaakt in de vorm van een non-fungible token (NFT). Dit is met andere woorden een eigendomsbewijs die vaststaat op de Ethereum (ETH) blockchain. Gebruikers kunnen deze bewijzen ook weer verkopen voor echt geld. Deze metaverse is eigenlijk vrij gelijk aan de metaverse van Decentraland (MANA), een project die gister in de Insiders-analyse is voorgekomen.
Recente ontwikkelingen
Een van de meest belangrijke gebeurtenissen van de afgelopen tijd voor de metaverse van The Sandbox is de nieuwe alpha die is uitgekomen. Na een succesvolle eerste alpha is het team druk aan de slag geweest voor een tweede ronde. Deze nieuwe ronde is een aantal dagen geleden uitgekomen en is nu speelbaar. Waar de eerste alpha een closed en invite-only alpha was, is de tweede ronde open en voor iedereen speelbaar. Voor de beste ervaring in het spel kan je wel een season 2 alpha pass kopen op Opensea, echter kost deze bijna $1.300 en is het niet nodig om de metaverse te kunnen verkennen. 
Daarnaast organiseert The Sandbox elke dag verschillende nieuwe ervaringen om de lancering van seizoen twee te vieren. Gister werd er bijvoorbeeld een live concert gegeven waarbij er een DJ optrad. Voor dit evenement is er een speciale omgeving ontworpen waarop de spelers met hun vrienden kunnen rondhangen. Zo was er een groot podium en een bijbehorende dansvloer. Dit soort evenementen kunnen makkelijk georganiseerd worden in een metaverse en is ook de kracht hiervan. Zo kunnen mensen deelnemen aan sociale activiteiten zonder hun eigen huis te verlaten. 
De tweede dag dat de alpha live was werden er nog meerdere plekken beschikbaar gesteld voor de spelers. Zo konden zij bijvoorbeeld voor het eerst naar een verborgen dorp die diep in de jungle is. Spelers kunnen hier vechten met verschillende soorten vijanden om zo uiteindelijk het dorp te kunnen ontdekken. Daarnaast konden ze ook een feestje bezoeken in een rooftop bar waar tegelijkertijd een modeshow werd gegeven. Met deze alpha is er dus genoeg te doen en ontdekken!
Wat kunnen we verder van RUNE verwachten?
De ontwikkeling van The Sandbox is in volle gang. De twee alpha's die zijn uitgekomen zijn natuurlijk al grote stappen in de juiste richting echter is het team achter The Sandbox nog veel meer van plan. De aankomende tijd zullen er veel nieuwe ervaringen komen die speelbaar zijn voor de spelers van The Sandbox. Echter wanneer de tweede alpha weer gesloten is zal het team zich achter de schermen weer druk bezighouden met andere ontwikkelingen. In de roadmap staat bijvoorbeeld dat er in Q2 van dit jaar gewerkt zal worden aan een stem mechanisme waarbij SAND en LAND houders door middel van hun tokens kunnen stemmen op verschillende voorstellen die gedaan zullen worden. Op deze manier krijgt iedereen de mogelijkheid mee te beslissen over de toekomst van The Sandbox.
In Q3 van 2022 zal het team zich focussen op het geven van concerten van Deadmau5. Deadmau5 en The Sandbox waren in november 2021 een samenwerking aangegaan. Met deze samenwerking werden er verschillende Deadmau5 NFT's uitgegeven en was het ook de bedoeling dat hij in de metaverse zou gaan optreden. Dit blijkt in Q3 van 2022 een feit te worden!
Het is dus wel duidelijk dat er veel is gebeurd en nog gaat gebeuren rondom de metaverse en The Sandbox an sich. 
Marktsentiment
Het lijkt erop dat de nieuwe alpha erg goed bevalt onder de spelers. Op Twitter wordt er veel over gepraat en gedeeld. Onder de verschillende tweets over de alpha wordt veel gereageerd met in-game screenshots van de gamers. Het oorspronkelijke bericht over de aankondiging van seizoen 2 is ook veel gereageerd. De post heeft bijna 4 duizend likes. De reacties onder die post lijken ook enkel positief. Een erg goed teken dus voor het spel.
Technische analyse
De grafiek van SAND ziet er op het moment helaas iets minder positief uit. Op de dagelijkse grafiek zien we dat de pieken steeds lager worden maar de bodem vrijwel gelijk blijft. Dit zorgt er dus voor dat er een neerwaarts driehoekspatroon gevormd wordt. Dit patroon is in de theorie een bearish patroon. De koers wist echter de onderkant van het patroon nog niet te breken. De onderkant van het patroon is meerdere keren getest alleen een harde uitbraak blijft vooralsnog uit. 
De RSI begint wel de lagere regionen op te zoeken en hangt op het moment van schrijven rond de 38. Het scheelt dus niet veel of de RSI geeft aan dat SAND oversold is. Dit zou juist weer een positief teken kunnen zijn. De vorige keer dat dat gebeurde was begin dit jaar. De koers wist hierna direct met ongeveer 80% omhoog te springen. Dit zou mogelijk dus weer kunnen gebeuren.  
Een minder goed teken is het feit dat de koers in de afgelopen dagen de 200 dagen moving average heeft gebroken en we daaronder aan het handelen zijn. De death cross blijft vooralsnog wel uit echter zien we dat de 50 dagen MA wel langzaamaan naar de 200 MA toe begint te bewegen. Dit is dus nog een indicator die we in de gaten moeten houden.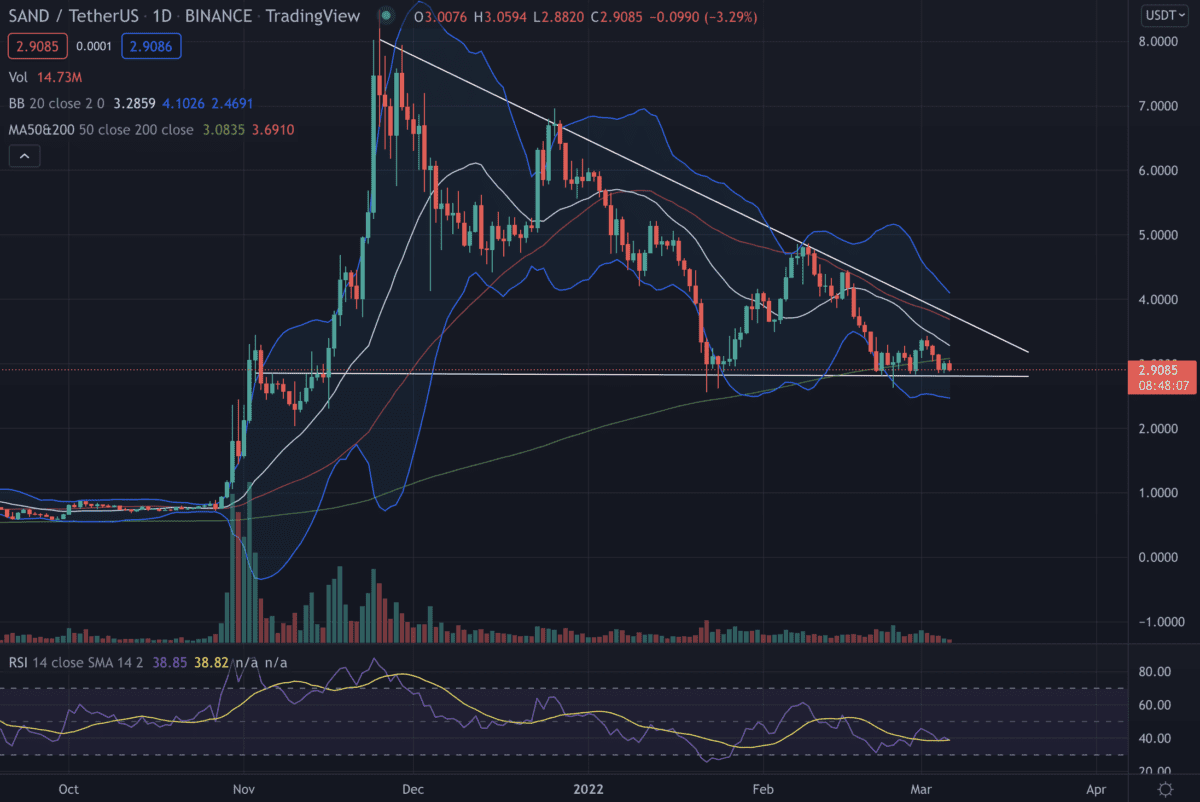 Is het nu tijd om SAND te kopen?
De crypto markt is volatiel en continu in beweging, om deze redenen is het belangrijk dat je volledig op de hoogte bent van de laatste ontwikkelingen voordat je een beslissing maakt om in SAND te stappen. Om je hiermee te helpen nodigen we je graag uit om een kijkje te nemen in onze premium-kanalen voor leden. Hier delen ervaren analisten dagelijks updates en nieuwe technische analyses, zo kunnen we samen bepalen wanneer het tijd is om SAND te kopen of verkopen.