Afgelopen weekend ging het nieuwe Terra (LUNA) netwerk live. Onder andere LUNA classic (LUNC) holders, dat zijn de tokens van het vorige netwerk, kregen toen ook hun eerste deel van de airdrop met nieuwe LUNA tokens. Een groot deel van hen deed deze tokens echter direct van de hand, zoals te zien is op de koersgrafiek van de cryptocurrency.
LUNA crasht direct na lancering
Op de grafiek van CoinMarketCap is te zien dat LUNA bijna de $20 wist aan te tikken. Maar de stijging hield niet lang stand. De koers zakte namelijk vervolgens weer helemaal in met een huidige LUNA prijs van $6,13. Daarmee staat de pasgeboren altcoin dus alweer bijna 70% in het rood.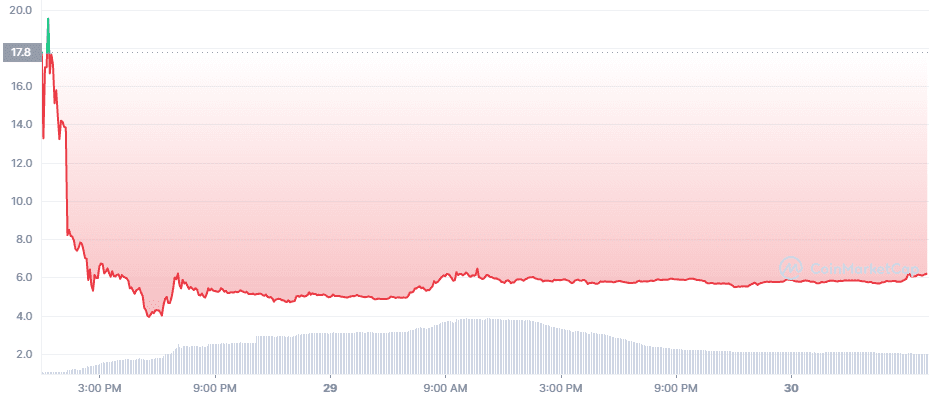 Het is niet geheel onverwacht dat veel van de ontvangers van de airdrop hun LUNA meteen verkopen. Mochten zij grote verliezen hebben geleden tijdens de ineenstorting van het vorige netwerk dan is het natuurlijk logisch dat zij nu wat van hun verliezen goed proberen te maken. De tijd zal moeten uitwijzen of het de ontwikkelaars en community lukt Terra weer van de grond te krijgen door nieuwe applicaties te blijven ontwikkelen.
Veroorzaakt Binance nog meer pijn?
Het is goed mogelijk dat deze dalingen nog niet alles zijn. Morgen zal 's werelds grootste crypto exchange Binance namelijk de airdrop pas verwerken. Pas dan zullen Binance-gebruikers hun gratis LUNA ontvangen. En dat kan wel eens een behoorlijke schokgolf veroorzaken.
2/8 Yes, Binance LUNA unlock on Tuesday will move the market.

Binance address has 15.7MM liquid LUNA, which will be available to users on Tuesday. Binance address:

terra18vnrzlzm2c4xfsx382pj2xndqtt00rvhu24sqe

— Terra Watcher (@lurkaroundfind) May 29, 2022
Hier voegt hij vervolgens aan toe:
"Veel gebruikers hadden UST op Anchor via Binance tijdens de pre-attack snapshot. Veel van deze gebruikers hebben nooit de oude LUNA gehad en geven niet om de nieuwe LUNA. Ja, ze gaan dumpen."
Een direct succesverhaal is het dus niet geworden voor Terra 2.0. Zetten we de positieve bril op dan kan wel gesteld worden dat sinds de enorme dump, de koers vrij stabiel is gebleven en zelfs weer iets is gestegen! Voorzichtigheid is echter gezien de situatie zeker aan te raden met mogelijke verdere dumps in het verschiet.
The only reason to buy $LUNA 2.0 is to qualify for the next airdrop of $LUNA 3.0 after it goes to zero like $LUNA 1.0

— Luke Martin (@VentureCoinist) May 29, 2022