Eerder deze week verscheen het nieuws dat het moederbedrijf van Tether, Bitfinex, mogelijk tegen een faillissement aan zou lopen. Het had namelijk voor de zoveelste keer haar banking partner verloren en moest haar fiat stortingen stopzetten.
Nu laat Larry Cermak van The Block weten dat Tether, met een bedrijfswaarde die in de miljarden dollars oploopt, haar fiat reserves bij Deltec Bank bewaart – een bank op het Bahama eiland Nassau. De reserves zijn volgens het bedrijf aanzienlijk; op het moment van schrijven zijn er zo'n 2.25 miljard USDT tokens in omloop met een totale marktwaarde van zo'n $2.2 miljard.
Distributed banking
Toen eerder in de week Bitfinex haar banking partner, Noble Bank, verloor had het al gauw haar heil gevonden bij HSBC. Het bedrijf zou hier namelijk een rekening hebben geopend onder een 'shell account'. Toen HSBC hier achter kwam werd het bedrijf echter weer geforceerd haar fiat stortingen stop te zetten. Nu laat het bedrijf weten dat het met een nieuw "verbeterd en robust systeem komt", een zogenaamd distributed banking oplossing.
Bitfinex laat echter weinig los over haar nieuw banking partner. In een screenshot van crypto investeerder WhalePanda laat het bedrijf weten dat de informatie zeer gevoelig is en dat investeerders geacht worden zorgvuldig met de informatie om te gaan. Bitfinex voegde hieraan toe dat er, mocht deze informatie openbaar worden gemaakt, serieuze negatieve gevolgen zullen zijn.
Eerder in de week daalde de prijs van USDT al ver beneden de $1,00 toen investeerders zich zorgen begonnen te maken over de dekking van de stablecoin. Nadat de koerswaarde daalde tot zo'n $0,87 op maandag, staat USDT op dit moment weer rond $0,97.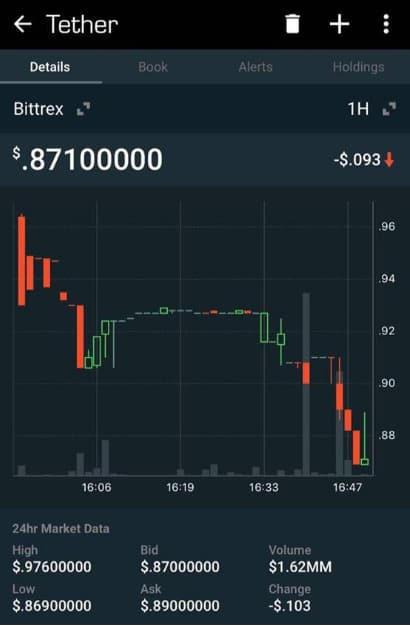 Wil je op de hoogte blijven van het laatste nieuws? Abonneer je dan op onze push-berichten, 
Facebook
– of 
Twitter
 pagina.
[ci-widget-v2]