In de aanloop naar de jaarlijkse Swell conferentie van Ripple die afgelopen zondag en maandag in San Francisco gehouden werd en waarbij notabele gastsprekers waaronder Bill Clinton ten tonele verschenen, steeg de prijs van Ripple (XRP) tot $0,60 op zondagavond. Nadien is deze echter weer gedaald en op het moment van schrijven is XRP $0,52 waard. Met de daling van bijna 8% is Ripple een van de grootste verliezers in de afgelopen 24 uur.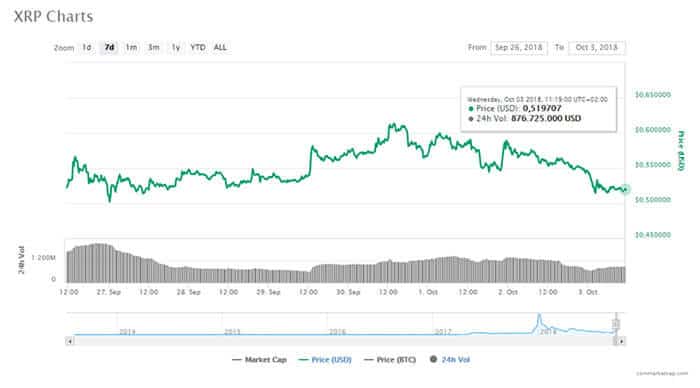 Waar XRP enkele dagen geleden met een totale marktwaarde van meer dan $24 miljard Ethereum (ETH) kortstondig van haar positie stootte als de op één na grootste cryptocurrency, is de marktwaarde van XRP inmiddels weer gedaald tot onder de $21 miljard, wat valt te wijten aan het lage handelsvolume. Met XRP zijn ook ook Bitcoin (BTC) en ETH met respectievelijk 1,77% en 5,15% gedaald. De totale markt voor cryptocurrency daalde in de afgelopen 24 uur met $9 miljard tot onder de $215 miljard. De plotse prijsdaling van XRP na de Swell conferentie kan van invloed zijn geweest op de dalende trend van andere grote cryptocurrencies.
In de cryptomarkt hebben de meeste coins de neiging een prijsstijging te ervaren voorafgaand aan de aankondiging van een product release of een mainnet-lancering, maar bewegen de prijzen kort daarna met grote marges naar beneden. Daarom zal de daling van XRP bij sommige beleggers na de grote aankondiging van Ripple Labs niet als een verrassing zijn gekomen. Echter, gezien het belang van de integratie van het RippleNet door Banco Santander en de OnePay FX app, zouden meerdere beleggers wellicht verwacht hebben dat het momentum van XRP aan zou houden.
De afname van het momentum van XRP en de meeste grote cryptocurrencies zal de markt waarschijnlijk in de komende 24 tot 48 uur beletten aan een grote rally op de korte termijn te beginnen. In deze fase van de markt is het belangrijk voor cryptocurrencies om een geleidelijke toename van het volume te laten zien om in de komende dagen een corrigerende rally te initiëren.
Wil je op de hoogte blijven van het laatste nieuws? Abonneer je dan op onze push-berichten, 
Facebook
– of 
Twitter
 pagina.
[ci-widget-v2]