Volgens data van Blockchain.com is 85% van de bitcoin (BTC) voorraad nu in omloop. Omdat er vooralsnog een maximale hoeveelheid bitcoin zal zijn van 21 miljoen, betekent dit dat er nog 3,15 miljoen bitcoins zijn om te minen.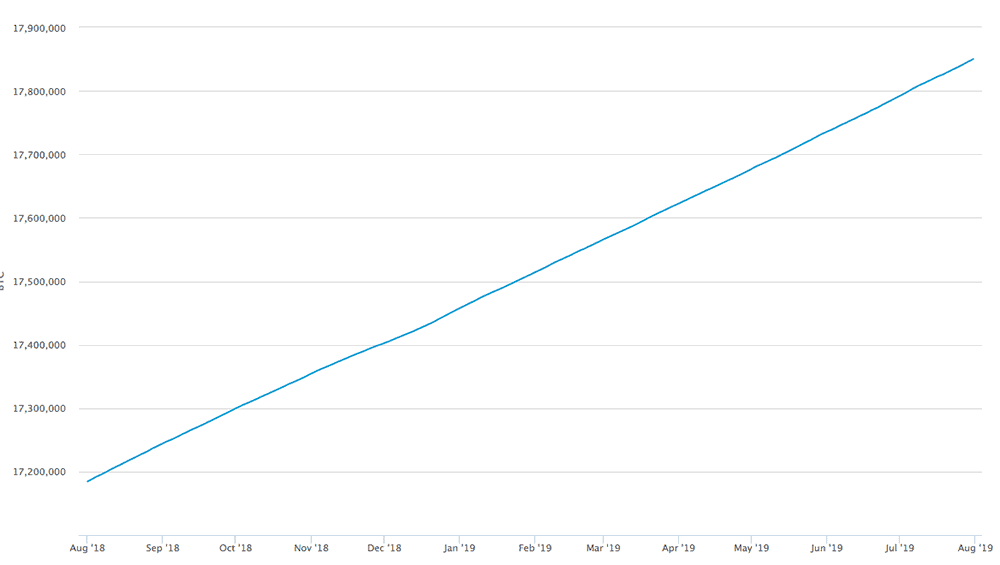 Afbeelding 1: hoeveelheid bitcoin (BTC) in omloop. Bron: Blockchain.com
Bovenstaand gegeven inmiddels opgepakt op Twitter. Zo geeft Twitter-gebruiker Rhythm aan dat bitcoin schaars wordt:

By the end of the day today, 17,850,000 bitcoin will have been mined!

Total bitcoin that's been mined:

▓▓▓▓▓▓▓▓▓▓▓▓▓░░ 85%

Scarcity is about to kick in.

— Rhythm (@Rhythmtrader) July 31, 2019

Toch gaat het nog wel even duren voordat de volledige voorraad aan bitcoin in omloop is. Zo zou het, rekening houdend met het feit dat de beloning voor miners (block reward) met de tijd zal dalen en het aantal transacties in een block zal stijgen, tot ongeveer het jaar 2140 duren voordat de gehele voorraad van de meest dominante cryptocurrency in omloop is.
Interessant om op te merken is dat een deel van de bitcoins in omloop verloren zijn gegaan. Zo kunnen traders die hun private key of zelfs complete hardware wallet kwijt zijn, niet meer bij hun bitcoin. Volgens een onderzoek van Chainalysis, dat werd gedaan in 2017, is meer dan 20% van de totale BTC-voorraad kwijt.
Bitcoin (BTC) koers
Een prangende vraag is natuurlijk wat dit betekent voor de bitcoin (BTC) koers. Het feit dat dat bitcoin een maximale oplage heeft is een positief gegeven voor de koers. Het betekent namelijk dat bitcoin schaars wordt en daardoor meer waard zou worden.
Daarnaast zal in mei 2020 de halving van bitcoin plaatsvinden, waarna de beloning voor miners zal worden gehalveerd van 12,5 bitcoin naar 6,25 bitcoin. Volgens analisten zal dit ook de prijs van bitcoin opdrijven.
Wat gaat de bitcoin (BTC) koers toch doen? Maandag verscheen de laatste bitcoin-koersanalyse van Crypto Insider David. Heb je die gemist? Klik dan hier om zijn analyse alsnog te lezen.
Wil je op de hoogte blijven van het laatste nieuws? Abonneer je dan op onze push-berichten, Facebook– of Twitter. Meediscussiëren? Meld je dan aan voor ons Telegram kanaal.