Gisteren was wederom geen spannende dag voor bitcoin (BTC). Toch zijn er wel een aantal interessante berichten uitgekomen omtrent de nummer 1 cryptocurrency ter wereld. Het meest interessante nieuwtje was dat Goldman Sachs, een prestigieuze Amerikaanse investeringsbank, voor het eerst een bitcoin futures transactie heeft uitgevoerd in Azië. Het toont aan dat dit soort grote banken toch steeds meer openstaan voor crypto en inmiddels er zelfs in handelen.
Dit gebeurde er met de bitcoin koers terwijl jij lag te slapen
Bitcoin is in de afgelopen 24 uur met 1,7% gestegen, maar sinds middennacht met 0,6% gedaald. De BTC prijs is op het moment van schrijven $20.400 op crypto exchange FTX. De euro prijs van bitcoin is €19.880 op de Nederlandse exchange Bitvavo. Het handelsvolume daalde in de afgelopen 24 uur echter met 20%.
De totale marktkapitalisatie van bitcoin bedraagt op het moment van schrijven $389 miljard. De bitcoin dominantie komt momenteel uit op 42,4%.
Wanneer bereikt bitcoin nieuwe ATH?
Kaleo, een bekende analist op Twitter, heeft zijn visie gedeeld voor de bitcoin koers in de komende jaren. De analist verwacht dat bitcoin een bodem vindt rond de $16.000 en vervolgens de rest van het jaar tussen deze prijs en de $30.000 zal schommelen. Daarna kan de bitcoin koers eindelijk uitbreken.
#Bitcoin / $BTC roadmap to new ATH. pic.twitter.com/cx8iS39euk

— K A L E O (@CryptoKaleo) July 6, 2022
Deze uitbraak zal volgens de analist veel hype de markt inbrengen en als gevolg hiervan zal de koers een grote opwaartse beweging maken. Dat zal echter nog niet tot een nieuwe all-time high leiden, zegt de analist, die verwacht dat de koers rond $50.000 dan aftopt. 
Over de daaropvolgende 18 maanden zal de koers voornamelijk zijwaarts bewegen en krijgen ook verschillende altcoins en sectoren, zoals de non-fungible token (NFT) sector, weer meer aandacht.
Kaleo benadrukt hier hoe belangrijk de bitcoin halving is voor de koers. Hij verwacht dat bitcoin na de volgende halving in 2024 pas echt hard zal stijgen. Bitcoin kan dan een nieuwe ATH bereiken en zelfs boven de $100.000 uitkomen tegen eind 2024 of begin 2025. Bitcoins schoot enkele maanden na elke vorige halving ook de lucht in.
Kaleo verwacht dat tegen 2025 en 2026 de NFT-sector overigens ook zal stijgen op een manier die we nog niet eerder hebben gezien. Of Kaleo bij het juiste eind heeft, zullen we dus echter nog een paar jaar moeten wachten om achter te komen. Wij zullen de ontwikkelingen in ieder geval strak in de gaten houden.  
Premium crypto analyse van de dag: XRP
De analisten van Crypto Insiders hebben onlangs in de Discord omgeving een nieuwe analyse van ripple (XRP) gedeeld. Hierop is te zien dat XRP mogelijk voorlopig riskant kan zijn voor de bulls. De koers lijkt een Elliott Wave 12345 patroon te maken, waarbij we op het moment bezig zijn met het afronden van de neerwaartse vijfde wave. Dit zou uiteindelijk voor een neerwaartse uitbraak kunnen zorgen.
De volledige analyse van de XRP koers zijn te lezen in onze Discord omgeving. Ook kan je hier direct in contact komen met ervaren handelaren die klaar staan om al je vragen te beantwoorden.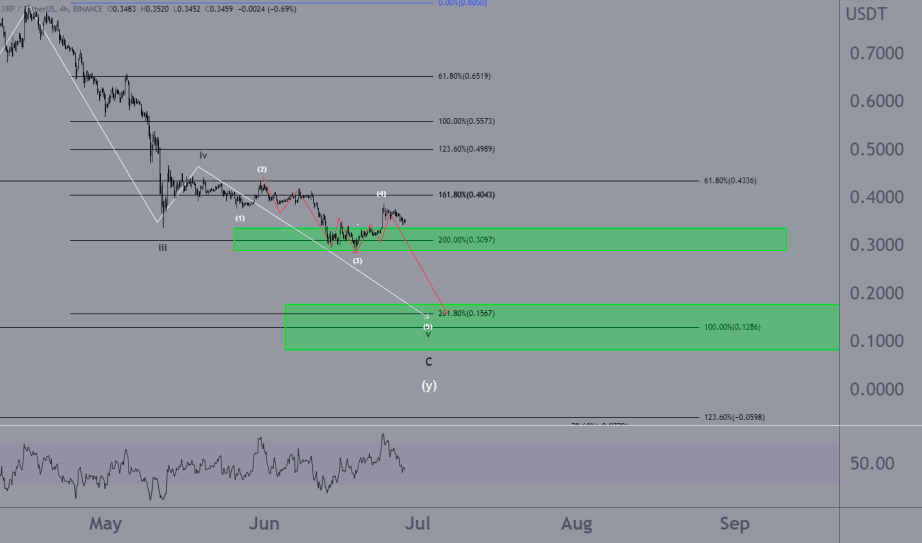 Handel samen met Crypto Insiders op Discord
Zoek jij hulp met handelen in crypto? Dan verwijzen we je graag door naar onze Discord groep voor leden. Hier bediscussiëren ervaren analisten en handelaren dagelijks hun analyses en handelsplannen. Ook delen we hier als eerst onze technische en fundamentele analyses. In onze Discord community kunnen we 24/7 kennis met elkaar delen en proberen we samen met onze premium leden de markt voor te blijven.
Ook hield onze hoofdanalist, bekend als AppY, onlangs een ask me anything (AMA) sessie voor onze premium leden. Deze is nu voor iedereen terug te zien en staat vol met zeer interessante technische analyses!
Disclaimer: Beleggen brengt risico's met zich mee. Onze analisten zijn geen financieel adviseurs. Raadpleeg altijd een adviseur bij het maken van financiële beslissingen. De informatie en tips die op deze website worden verstrekt zijn gebaseerd op eigen inzichten en ervaringen van onze analisten en dienen alleen voor educatieve doeleinden.