Disclaimer: Beleggen brengt risico's met zich mee. Onze analisten zijn geen financieel adviseurs. Raadpleeg altijd een adviseur bij het maken van financiële beslissingen. De informatie en tips die op deze website zijn verstrekt is gebaseerd op eigen inzichten en ervaringen van onze analisten en dienen alleen voor educatieve doeleinden.
Zoals in de Crypto Insiders Premium omgeving is besproken, is bitcoin (BTC) in de afgelopen 24 uur met 1,8% gedaald en sinds middennacht met 0,8% gedaald. De actuele prijs is op het moment van schrijven $20.000 op crypto exchange FTX en €19.975 op de Nederlandse exchange Bitvavo. Het handelsvolume daalde in de afgelopen 24 uur met 9,8%. De totale marktkapitalisatie van bitcoin bedraagt op het moment van schrijven $383,5 miljard en de bitcoin dominantie komt uit op 39,3%.
Bitcoin nieuws van gisteren
Technische analyse: Begin bullmarkt nabij
Gisteren deelde cryptocurrency analist Mags.eth zijn kijk op de huidige situatie van de bitcoin koers. In zijn analyse gaf hij een mogelijk punt aan waar deze bearmarkt voor bitcoin kan eindigen. Dit lijkt niet lang meer te duren. In zijn grafiek laat hij namelijk zien dat tijdens elke bearmarkt van die bitcoin een neerwaartse trendlijn vormt. De koers zal deze trendlijn eerst minimaal drie keer testen voordat deze uitbreekt.
Op dit moment kunnen we concluderen dat bitcoin wederom eenzelfde neerwaartse trendlijn maakt. Vooralsnog heeft de koers deze lijn twee keer getest en het lijkt erop dat de koers nu verder naar beneden gaat om de lijn ook nog een derde keer te testen. Als de geschiedenis zich herhaalt, dan zou bitcoin hierna uit kunnen breken. Dit zou mogelijk het begin kunnen zijn van een nieuwe bullmarkt voor bitcoin.
Retail Investors sell the Bottom?? x #BTC ✍️

RT APPRECIATED !! 🔃#Bitcoin #Crypto pic.twitter.com/PdeMEe3sVG

— Mags.eth (@thescalpingpro) August 31, 2022
Fundamentele analyse: Gedrag 10.000+ bitcoin wallets
Het aantal wallets dat 10.000 bitcoin of meer bezit is toebedeeld aan een select aantal investeerders. Het gedrag van deze whales geeft een beeld van wat het grote geld (vaak institutioneel geld) doet. In samenloop met de recente koersdaling van bitcoin en de algehele cryptomarkt is het interessant om te kijken wat bitcoin whales uitspoken.
In de onderstaande grafiek is te zien dat het aantal wallets met 10.000+ BTC over de jaren een constante groei heeft gehad. Alleen na de correctie van 2018 en tijdens de all-time high (ATH) van 2021 vond een grote daling plaats. Daarnaast is het opvallend dat het aantal 10.000+ BTC wallets zich gedurende de pieken van 2021 en 2022 zich op relatief erg lage waardes lag doordat de whales tijdens de bull-run veel bitcoin verkochten. Pas in 2013 werden deze waardes, van rond de 85, eerder behaalt. Daarnaast zien we in de afgelopen periode een stabiele stijging.
Hoewel we op de korte termijn een kleine daling zien, is er over de afgelopen maanden een stabiele stijging te zien in het aantal wallets van 10.000 BTC. Dit duid erop dat de grote whales een positief lange termijn uitkijk hebben op bitcoin.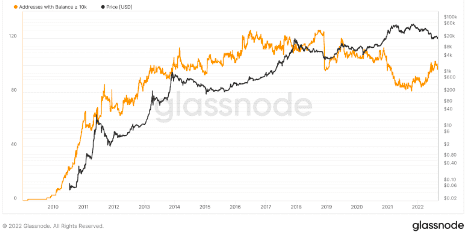 Premium crypto analyse van de dag: Tezos (XTZ)
Premium leden ontvingen onlangs een tezos (XTZ) analyse. De koers maakte mooi opwaarts beweging waar we zeven waves kunnen zien. Dit wil zeggen dat de koers corrigerend is. Hier verwachten de analisten uit de Discord community van Crypto Insiders dus een minimale daling richting het 50% fibonacci niveau. Voor XTZ verwachten zij dus een daling richting de $1,5255. Na enkele dagen wist de koers van XTZ het verwachte patroon te volgen waardoor het target behaald werd. De koers is sinds de aangekondigde verkoopzone met ongeveer 15% gedaald.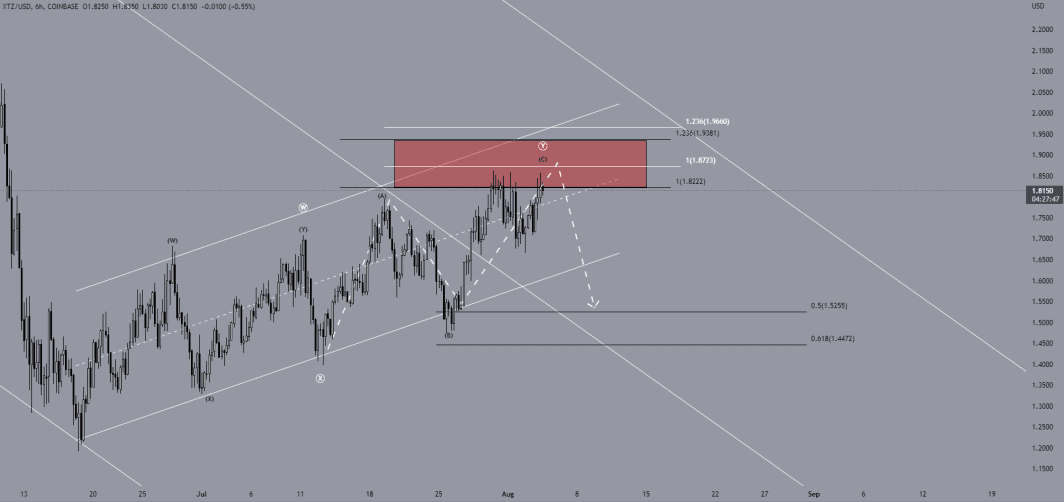 Handel samen met Crypto Insiders op Discord
Wil jij meer leren over crypto en handelen? Neem dan een kijkje in onze gratis Discord groep voor leden. Hier sparren ervaren analisten en handelaren dagelijks over hun analyses en handelsplannen. Daarnaast delen we hier als eerst onze technische en fundamentele analyses. In onze Discord community kunnen we 24/7 kennis met elkaar delen en proberen we onze Premium leden op de hoogte te houden. Wil jij dit soort analyses eerder lezen? Neem dan ook een kijkje in de Discord omgeving. Hier kan je ook direct in contact komen met verschillende analisten en crypto enthousiastelingen die klaar staan om jou te helpen!