Goedemorgen Insiders! Het was voor bitcoin (BTC) een vrij rustig weekend. Er is zowel weinig met de koers gebeurd als dat er bitcoin nieuws is uitgekomen. Toch zagen we een aantal interessante berichten voorbij komen. We zagen namelijk dat door de dalende koers de moeilijkheidsgraad waarmee er bitcoins gemined kunnen worden afneemt. Dit heeft een aantal gevolgen voor de nummer 1 cryptocurrency ter wereld.
Een verder interessant bericht is dat de oud-kanselier uit het Verenigd Koninkrijk aangegeven heeft dat hij denkt dat er weinig vooruitgang wordt geboekt rondom het reguleren van crypto. Het risico hierbij is dat andere landen ze hierbij kunnen inhalen, terwijl het V.K. hier juist het voortouw in zou kunnen nemen. Dit zou natuurlijk ook weer goed zijn voor de adoptie van bitcoin.
Dit gebeurde er met de bitcoin koers terwijl jij lag te slapen
Bitcoin handelt op vrijwel hetzelfde niveau als toen het om 00:00 de nieuwe dag begon, een stabiele nacht dus. De actuele prijs is op het moment van schrijven $20.760 op crypto exchange Coinbase. De euro prijs van bitcoin is €19.630 op de Nederlandse exchange Bitvavo.
Het handelsvolume steeg in hetzelfde tijdsbestek met 8,4%. Over de afgelopen zeven dagen daalde bitcoin met 0,8% in waarde. In de afgelopen 24 uur daalde de koers met ongeveer 2%. De totale marktwaarde van Bitcoin bedraagt op het moment van schrijven $396 miljard. Vergeleken met de totale crypto marktkapitalisatie komt de bitcoin dominantie hiermee uit op 42,5%.
Bitcoin's zijwaartse prijsactie misschien toch interessant?
De afgelopen zeven dagen van bitcoin waren verreweg van interessant. Hier was de prijsactie voornamelijk zijwaarts. Waar we eerst een piek wisten te maken rond de $21.700 schoten we daarna direct hard omlaag. Hier wisten we een perfecte bounce te maken op het niveau van $19.800, een niveau waar we eerder al steun hebben gemaakt.
Hierna leek de koers er toch weer zin in te hebben en gingen we langzamerhand rustig omhoog om wederom de weerstand op $21.700 te testen. Deze test faalde waardoor we naar beneden gingen. Dit heeft ervoor gezorgd dat de weerstand op dit niveau weer een beetje sterker werd.
Deze retest heeft het zijwaartse patroon ook extra benadrukt. Doordat we hier niet uit wisten te breken zakte de koers weer verder terug. Het zou hierdoor niet gek zijn als we als volgende niveau weer de $19.800 zullen testen. Dit zal dan een erg belangrijk niveau worden.
Mochten we hier geen steun vinden dan zullen waarschijnlijk de niveaus worden uitgetest waar we het al vaker over hebben gehad in de Discord omgeving van Crypto Insiders. Echter kunnen we het plan aanhouden die in deze omgeving is gedeeld.
Mochten we uiteindelijk toch weer de $21.700 testen en er dit keer wel doorheen breken dan ligt de weg naar de $23.000 wagenwijd open. Vooralsnog is er dus geen reden tot paniek. Het is voor deze zijwaartse markten noodzakelijk om een duidelijk plan te hebben om niet in paniek te raken. In de Discord omgeving proberen wij daarom altijd een duidelijk plan op te stellen voor elke soort markt.
Premium crypto analyse van de dag: ETH
In de Premium omgeving van Crypto Insiders komt natuurlijk niet alleen bitcoin aan bod, ook kijken we naar andere spelers op de markt. Zo onlangs ook de nummer 2 cryptocurrency ter wereld, ethereum (ETH).
Hier wisten we een prachtig instapmoment aan te kondigen rond de $895. Dit niveau werd sneller behaald dan verwacht. Op basis van een Elliott Wave analyse konden onze analisten een ABC patroon identificeren. Dit patroon lijkt nu de B wave te maken. Hierbij wordt een koersdoel van tussen de $1.500 en $1.900 verwacht. Vooralsnog zijn we hier bezig met een mooie trade!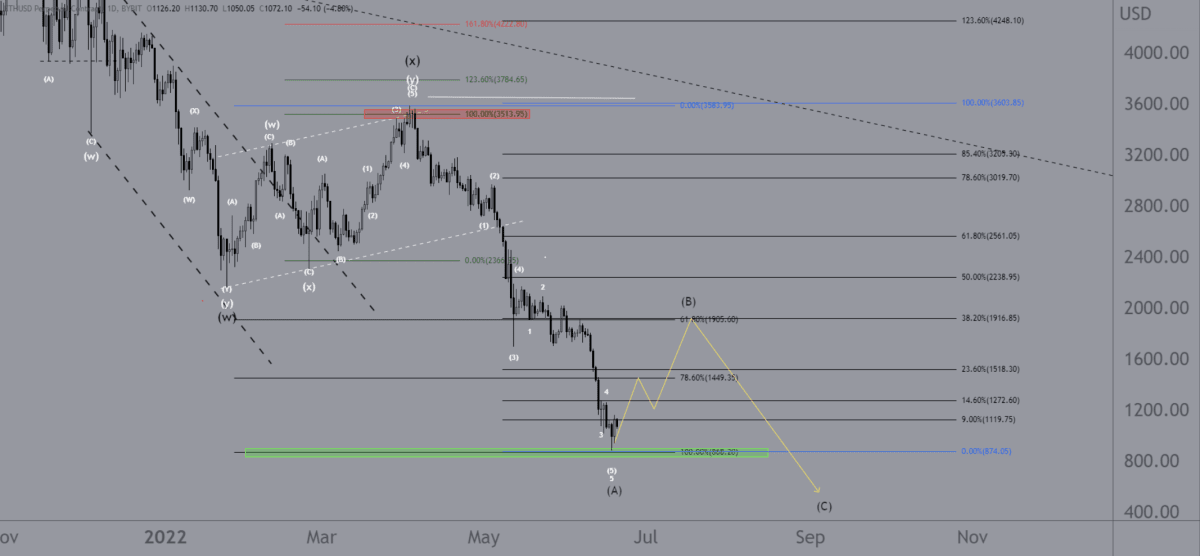 Handel samen met Crypto Insiders op Discord
Om antwoord te krijgen op de vraag of dit het juiste moment is om te kopen of verkopen verwijzen we je graag door naar onze Discord groep voor leden. Hier bediscussiëren ervaren analisten en handelaren dagelijks hun eigen in- of uitstapmomenten. Ook delen we hier als eerst onze technische en fundamentele analyses. In onze Discord community kunnen we 24/7 kennis met elkaar delen en proberen we samen met premium leden de markt voor te blijven.