Er is weer veel rondom bitcoin (BTC) gebeurd gister. Zo zagen we dat de grote cryptocurrency exchange Crypto.com Apple Pay gaat accepteren als betaalmiddel voor het kopen van crypto. Dit wil dus zeggen dat bitcoin gemakkelijk ook via Apple apparaten gekocht kunnen worden. Voor nu is deze functie nog niet beschikbaar voor Nederlanders. Dit nieuws is natuurlijk alsnog erg goed voor de adoptie van bitcoin.
Daarnaast zagen we nog interessant nieuws rondom de regulering van cryptocurrencies. Gary Gensler, voorzitter van de SEC, heeft aangegeven klaar te zijn met de oorlog tegen crypto en wil een duidelijk beleid vormen. Dit zou natuurlijk erg gunstig kunnen zijn voor crypto en bitcoin!
Dit gebeurde er met de bitcoin koers terwijl jij lag te slapen
Bitcoin is met 1,4% gedaald sinds 00:00. De actuele prijs is op het moment van schrijven $20.073 op crypto exchange Coinbase en dus komt de belangrijke support bij $20.000 weer zeer dichtbij. De euro prijs van bitcoin is €19.140 op de Nederlandse exchange Bitvavo.
Het handelsvolume daalde in hetzelfde tijdsbestek met 6,5%. Over de afgelopen zeven dagen daalde bitcoin met 1,5% in waarde. In de afgelopen 24 uur versnelde de koers iets en daalde BTC met ongeveer 3,5%. De totale marktwaarde van Bitcoin bedraagt op het moment van schrijven $383,8 miljard. Vergeleken met de totale crypto marktkapitalisatie komt de bitcoin dominantie hiermee uit op 42,6%, vrijwel hetzelfde niveau als 24 uur geleden.
Het bitcoin 200 dagen dilemma
Voor bitcoin staat er iets vrij unieks te gebeuren op het moment van schrijven. Will Clement, analist bij Blockware met bijna 650.000 Twitter-volgers, heeft data gedeeld waarin te zien is dat de koers van bitcoin onder de 200 dagen moving average (MA) is gedoken. Dit is iets dat bijna nooit voorkomt. Uit de data blijkt namelijk dat de koers slechts in 3% van haar totale leven zo ver onder dit niveau is geweest.
Bitcoin is incredibly cheap right now.

It has only traded this far below its 200-day trend and its aggregated cost basis for 3% of its entire existence. pic.twitter.com/kW6BysdkQ0

— Will Clemente (@WClementeIII) June 27, 2022
Of dit nou per direct bullish of bearish nieuws is is nu nog moeilijk te zeggen. Het zou natuurlijk bullish kunnen zijn omdat de keren dat we dit eerder zagen, de koers alleen maar wist te stijgen. Dit zou dus als een ideaal inkoopmoment gezien kunnen worden.
Natuurlijk zou het mogelijk ook bearish nieuws kunnen zijn aangezien de 200 dagen MA normaliter als sterke steun fungeert. Het feit dat we hier nu doorheen breken zou daarom ook een teken kunnen zijn dat we mogelijk nog verder wegzakken. Leden van de Discord omgeving van Crypto Insiders hebben een niveau waar onze analisten denken dat de koers zal belanden mocht dit gebeuren.
Premium crypto analyse van de dag: MANA
In mei werd er door de analisten van de Premium omgeving van Crypto Insiders een analyse gedeeld van MANA. Hier werd tussen de $0,90 en $0,99 een mogelijk instapmoment gezien. Nadat de gehele cryptocurrency markt harde klappen kreeg, wist MANA het nog verbazingwekkend goed te doen. De koers daalde minder hard dan de andere en lijkt nu weer omhoog te willen.
In de afgelopen dagen is er door onze analisten een nieuwe update rondom de MANA positie geplaatst waarbij het ernaar uitziet dat MANA nog goede papieren heeft om ons koersdoel nog te halen. De volledige analyse en de updates zijn te lezen in de Discord omgeving.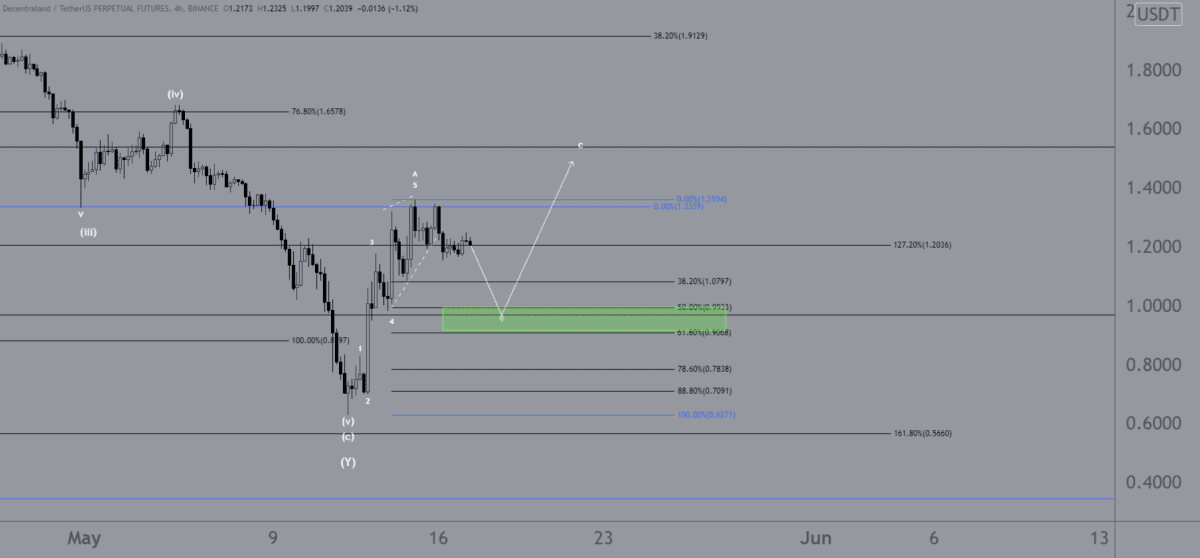 Handel samen met Crypto Insiders op Discord
Om antwoord te krijgen op de vraag of dit het juiste moment is om te kopen of verkopen verwijzen we je graag door naar onze Discord groep voor leden. Hier bediscussiëren ervaren analisten en handelaren dagelijks hun eigen in- of uitstapmomenten. Ook delen we hier als eerst onze technische en fundamentele analyses. In onze Discord community kunnen we 24/7 kennis met elkaar delen en proberen we samen met premium leden de markt voor te blijven.