In de afgelopen maand werd door menigeen gesteld dat Bitcoin (BTC) inmiddels toch echt wel een bodem bereikt heeft, maar toch kelderde de BTC-prijs afgelopen week met $400. Met een nieuw jaarlijks dieptepunt van minder dan $5.850 lijkt ondanks de aanhoudende bear markt niemand rekening te houden, maar hoe zeker kunnen we zijn dat die bodem nou écht bereikt is? Full-time Bitcoin-Twitteraar dave the wave zei het volgende zaterdag 13 oktober:
Bears kunnen niet verklaren waarom BTC deze prijs al zo lang vasthoudt… alsof het een vloer vormt. Zij die bullish zijn kunnen dat wel verklaren – BTC is volledig gecorrigeerd… en gelijk aan de eerdere correcties van 0,236 [23% in reële waarde].
Bears have no explanation as to why BTC has been holding this price for so long… as if it were forming a floor.

Those bullish can explain this – BTC has fully corrected… and equal to the previous corrections of 0.236 [23% in real value]. pic.twitter.com/8brzXRxBsJ

— dave the wave🌊 (@davthewave) October 13, 2018

Toen de BTC-prijs afgelopen week daalde tot $6.200, nadat het in de weken daarvoor toch een geleidelijke stijging had laten zien waren er enkele voorspellingen van een verlengde periode van sell-offs te midden van een bearish cryptomarkt, waarbij Bitcoin tot zo laag als $6.000 zou zakken. Afgelopen zomer deelde Arthur Hayes, CEO van crypto-exchange BitMEX een dergelijk sentiment toen hij zei dat hij graag zou zien dat Bitcoin eerst een bodem van $5.000 zou moeten testen om van daaruit een bull run te kunnen beginnen. Als we kunnen vertrouwen op onderstaande grafiek is de BTC-downtrend echter al afgebogen.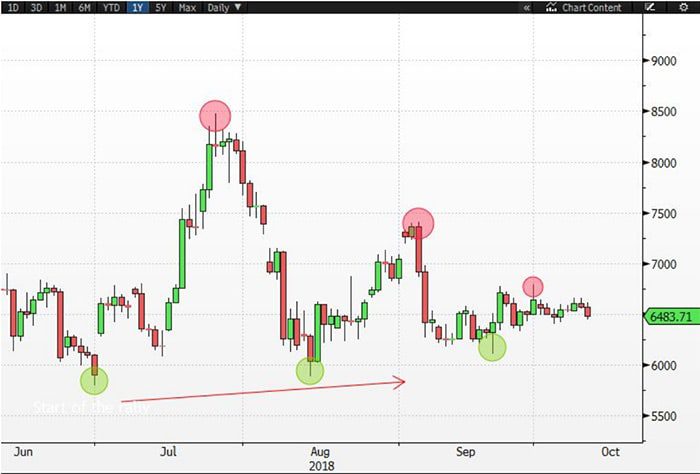 Naeem Aslam, marktanalist bij Think Markets UK, die afgelopen week stelde dat "Bitcoin snakt naar een soort van zegen" behandelde in zijn stuk eenzelfde grafiek als bovenstaande en zei daarover het volgende:
De definitie van een uptrend zegt dat we hogere dieptepunten en hogere hoogtepunten zouden moeten hebben. De definitie voor een downtrend is het compleet tegenovergestelde daarvan. Dus door naar de grafiek te kijken, kunnen we niet zeggen dat de prijs een opwaartse of neerwaartse trend meemaakt. We hebben lagere hoogtepunten (rode cirkels) en vervolgens hebben we hogere dieptepunten (groene cirkels) en daarom zou het enige wat we hieruit kunnen concluderen zijn dat, zolang de vorige lagere dieptepunten intact blijven, dat de prijs geen nieuwe dieptepunten maakt, blijft de kans bestaan dat de prijs waarschijnlijk hoger zal worden.
Wil je op de hoogte blijven van het laatste nieuws? Abonneer je dan op onze push-berichten, 
Facebook
– of 
Twitter
 pagina.
[ci-widget-v2]