Bitcoin (BTC) kelderde de afgelopen 24 uur nog een stuk dieper. We waarschuwden gisterenochtend nog dat het ergste mogelijk nog niet voorbij was. We schreven ook al weken lang dat een test van 200-weken moving average zeer waarschijnlijk leek. Bitcoin zakte echter al nog dieper en volgens de fear & greed index komt momenteel de angst het hoogst uit sinds maart 2020, kort nadat de coronapandemie uitbrak.
Bitcoin Fear and Greed Index is 8. Extreme Fear
Current price: $22,319 pic.twitter.com/mH2KGtCkiu

— Bitcoin Fear and Greed Index (@BitcoinFear) June 14, 2022
Bitcoin koers zakt met nog eens 12%
De bitcoin koers zakte zondagnacht door $27.500 en toen kwam de daling in een versnelling terecht. Gisterenochtend zakte bitcoin al door $25.000 en vond toen heel even rond $24.000 wat support. Ook daar zakte bitcoin echter snel doorheen, en de koers dipte toen onder $23.000 en tikte $22.700 aan.
Daar maakte bitcoin een kleine bounce, maar de $24.000 was al omgeslagen van support naar weerstand. Kort na middennacht zakte bitcoin ook door $23.000 en kelderde vervolgens helemaal naar $21.000. Dat was de laagste prijs sinds medio december 2020. Op sommige beurzen dipte de koers al een stuk onder $21.000.
Vanochtend is bitcoin iets aan het herstellen, maar nu is ook de $23.000 van support naar weerstand omgeslagen. Op het moment van schrijven komt de BTC prijs uit op $22.350 op KuCoin en €21.400 op Bitvavo. Dat is weer rond die 200-WMA. Daarmee staat de BTC koers maar liefst 12% in de min vandaag en bijna 30% ten opzichte van een week geleden.
Enorme bitcoin en crypto liquidaties
De hevige koersdaling van bitcoin begon afgelopen vrijdag, toen de Amerikaanse inflatiecijfers werden gepubliceerd. Dat zorgde voor roodkleurende aandelenmarkten en de paniek sloeg ook gelijk over naar crypto. De daling van bitcoin werd gisteren mogelijk verergert door het fiasco omtrent Celsius Network. In de afgelopen 24 uur is maar liefst $580 miljoen aan BTC posities geliquideerd, voor heel crypto is dit zelfs $1,3 miljard.
Wow, over $560 Million in Total #Bitcoin Liquidations in 1 Day pic.twitter.com/I0C2amuYIt

— On-Chain College (@OnChainCollege) June 14, 2022
FOMC morgen, wat doet dat met bitcoin?
Vandaag en morgen vindt weer de Federal Open Market Committee (FOMC) plaats. Daarna krijgen we te horen met welk percentage de Federal Reserve de rentes zal verhogen om de inflatie tegen te gaan. Dat kan zelfs voor nog meer verkoopdruk zorgen. Toch verwachten sommige analisten dat door de extreme daling van de afgelopen dagen, de angst hieromtrent inmiddels al enigszins is ingeprijsd. Wij hielden afgelopen week een peiling voor Crypto Insiders leden in de premium Discord groep wat zij verwachten over FOMC. Zij stemden als volgt: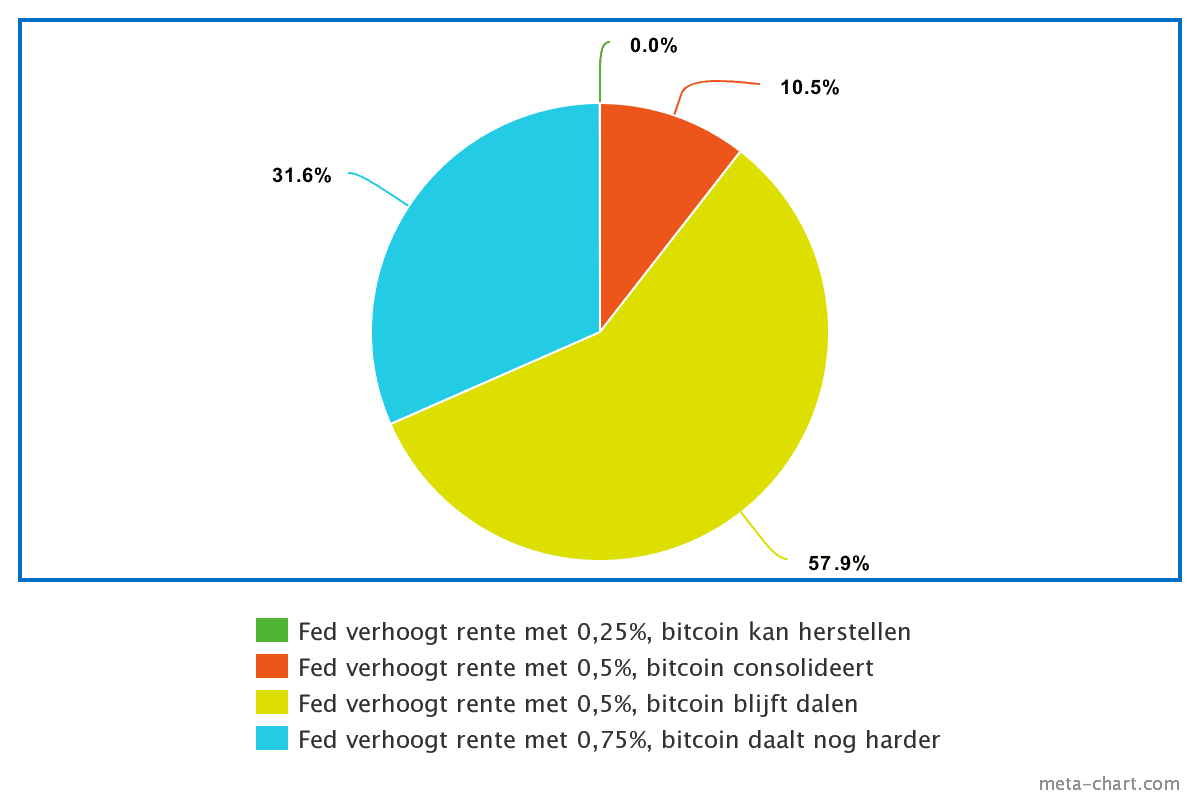 Hoe diep kan bitcoin nog zakken?
Bitcoin is dus inmiddels onder zijn realized price gekelderd en kwam zelfs al onder de 200-weken MA uit. Er lijkt wat hoop te zijn dat bitcoin mogelijk een bodem voor nu heeft bereikt, maar dat is natuurlijk verre van zeker. Aangezien de stuiter relatief zwak is, zou het geen grote verbazing zijn dat bitcoin binnenkort nog een lager dieptepunt gaat opzoeken.
De volgende prijs waar we dan rekening mee moeten houden, is wellicht de top uit eind 2017, rond de $20.000. Als die prijs niet standhoudt, kan BTC nog een stuk dieper zakken, en moeten we rekening al houden met $17.000-$18.000 of erger. We moeten er ook mee rekening houden dat ook al bereikt bitcoin zijn bodem, dat een dadwerkelijk herstel en trendommekeer wellicht nog ver weg is in deze macro-toestanden.
#Bitcoin | Support levels below the 200-week MA at $22,500 are:

⭕️ the 2017 all time high at nearly
$20,000,
⭕️ the TD's setup trendline at $17,600,
⭕️ the 2019 peak at nearly $14,000,
⭕️ and the psychological $10,000 level.

Which one of these support level can hold $BTC? pic.twitter.com/BKJsa9RI7C

— Ali Martinez (@ali_charts) June 14, 2022
Investeerders beginnen de bitcoin dip te kopen
Desondanks melden meerdere investeerders dat zij de huidige lage prijs al als een buitenkans zien. Zij melden dat zij al begonnen zijn met het "kopen van de bitcoin dip"
I finally got the majority of my bids filled today. May not be the pico-bottom, but here's why I was happy to allocate here for the long-haul:

– Price below realized price
– 200WMA tapped
– FTX and Okex quarterlies in backwardation
– One of lowest deviations from 200D trend ever pic.twitter.com/0PfH3BQqHw

— Will Clemente (@WClementeIII) June 13, 2022
Crypto Insiders Premium voor bitcoin analyses
Wil jij diepgaandere bitcoin analyses ontvangen? Dan verwijzen wij je graag door naar onze Discord community voor leden. Stel vragen aan analisten, klets met onze fanatieke community en ontvang dagelijks technische en fundamentele analyses van bitcoin, maar ook andere crypto. Via Discord kunnen we 24/7 kennis met elkaar delen en proberen we samen met onze leden de markt voor te blijven. In de premium omgeving van Crypto Insiders worden later vandaag nog diepgaandere analyses gedeeld.
Disclaimer: Beleggen brengt risico's met zich mee. Onze analisten zijn geen financieel adviseurs. Raadpleeg altijd een adviseur bij het maken van financiële beslissingen. De informatie en tips die op deze website worden verstrekt zijn gebaseerd op eigen inzichten en ervaringen van onze analisten en dienen alleen voor educatieve doeleinden.