Julian Hosp, mede-oprichter en voorzitter van crypto-startup TenX, zegt dat hij er nog steeds "vrij zeker" van is dat Bitcoin (BTC) in 2018 de $60.000 kan aantikken, meldt CNBC op woensdag 11 juli.
Tijdens een interview op de Rise conferentie in Hong Kong, vertelde Hosp aan Akiki Fujita, co-host van het CNBC programma Squawk Box, dat hij nog steeds achter zijn eerdere voorspelling staat, die hij in december vorig jaar deed over de grootste cryptocurrency:
Destijds, in december, was de prijs op een het hoogste punt ooit van $20.000. Ik voorspelde toen dat we in 2018 de $5.000 en de $60.000 zouden zien. De $5.000 hebben we dus soort van geraakt al, dus laten we zien of we ook de $60.000 kunnen doen. Ik ben er nog steeds vrij zeker van dat dat mogelijk is.
Bitcoin is dit jaar nog niet zo diep gedaald als $5.000, een prijs die de digitale valuta terug zou brengen naar haar waarde van september 2017. De recente downtrend vertoont echter bearish tekenen, waarbij BTC in juni het laagste punt van dit jaar bereikte van $5.880.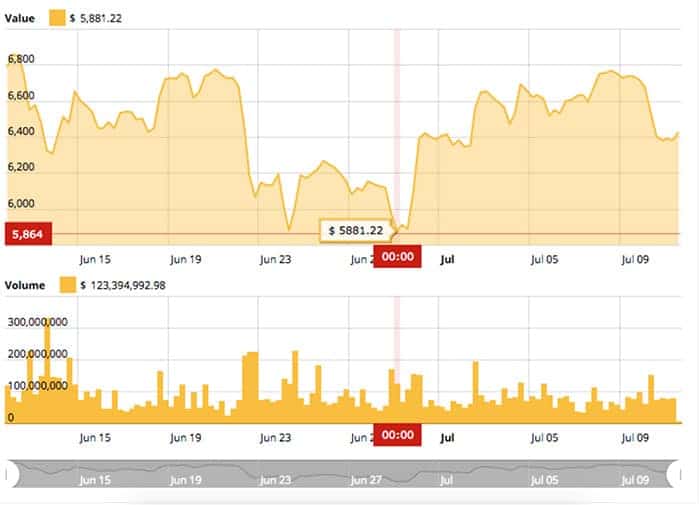 Hosp gelooft dat de $60.000 dit jaar nog realiteit kan zijn, ervan uitgaande dat er een "gigantische positieve gebeurtenis" gebeurt, een Bitcoin exchange traded fund (ETF) bijvoorbeeld, of een land dat iets aankondigt dat "zeer, zeer positief is voor Bitcoin". Als dat niet gebeurt, gaf hij toe, zou de grote opleving "iets langer kunnen duren".
Over het recente hardhandige optreden door de regelgeving die mogelijk negatieve gevolgen hebben voor de crypto-markten, waarbij Hujita Japan als een goed voorbeeld noemde, zei Hosp dat hij dacht dat de "perfecte route" naar crypto-specifieke regulatie duidelijkheid zou zijn over wat is toegestaan, in plaats van "wat verboden is".
In zijn eerdere voorspelling voor 2018 had Hosp gezegd dat een achtbaan van hoogte- en dieptepunten in de prijs eigen zal blijven voor crypto, totdat de ruimte alle overtollige projecten eruit gefilterd heeft en achter de projecten blijft staan die voelbare toepassing en echte waarde bieden.
Vorige week verdedigde Fundstrat's Tom Lee ook zijn eerder voorspelling dat Bitcoin tegen het einde van dit jaar $25.000 zou behalen, waarbij hij verduidelijkte dat een recentere voorspelling van $22.000 geen weerlegging is van zijn andere voorspelling.
Op moment van schrijven handelt Bitcoin op $6.188, een daling van 3% in de afgelopen 24 uur, wat de wekelijkse verliezen op bijna 5% brengt.