Op zaterdag 4 augustus, nadat de Bitcoin prijs van $7.200 weer hersteld was naar $7.500, kelderde de koers sinds 18 juli weer voor het eerst onder de $7.000.
De afgelopen 3 weken is de Bitcoin prijs redelijk stabiel gebleven, zo tussen de $7.200 en de $7.500.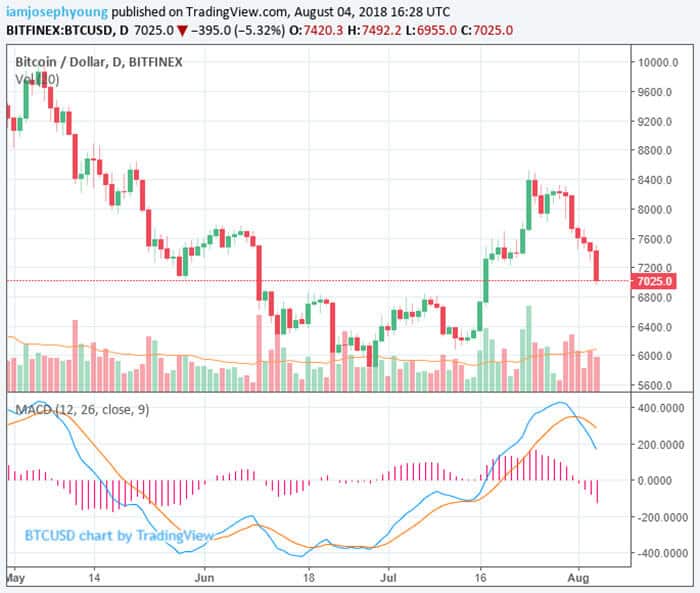 Mogelijke oorzaken
Bitcoin en de rest van de crypto markt hebben, wat retail-adoptie en institutionalisatie (zie nieuwsbericht omtrent NYSE, Microsoft en Starbucks) betreft, een hele goede week beleefd.
Maria Smith, Vice-voorzitter Partnerships and Payments bij Starbucks zei het volgende:
Starbucks zal, als bekend retail merk, een sleutelrol spelen in het ontwikkelen van praktische, betrouwbare en gereguleerde applicaties voor consumenten om digitale activa om te zetten in Amerikaanse dollars om mee te betalen in een Starbucks filiaal. Als leider in het gebruik van Mobile Pay, waarmee we meer dan 15 miljoen klanten van dienst zijn, is Starbucks gebrand op innovatie omtrent betaalmogelijkheden voor onze klanten.
Eerder zei voormalig Starbucks CEO Howard Schultz dat Bitcoin en andere grote cryptocurrencies niet kunnen worden beschouwd als legitieme valuta door het gebrek aan steun vanuit retailers. Afgaande op de woorden van Schultz zal de adoptie van cryptocurrencies door Starbucks, 's werelds grootste koffie retailer, voor een flink draagvlak zorgen binnen de retail.
Ondanks het positieve nieuws vanuit de Amerikaanse markt, heeft Bitcoin haar laagste waarde in een maand bereikt. Hoewel het gros van de analisten nog steeds gist naar een mogelijke verklaring lijkt het waarschijnlijk dat het te maken heeft met onderzoeksresultaat van de Tabb Group, die beweert dat de over-the-counter (OTC) markt twee tot drie keer groter is dan de cryptocurrency exchange markt.
Als we de bevindingen van de Tabb Group voor waar aannemen, dan zullen positief nieuws en ontwikkelingen in de cryptocurrency sector alleen de zogeheten 'short-term' handelaren op de markt ten goede komen die goed zijn voor maar 30% van de gehele cryptocurrency markt. Hiermee zou de kans worden vergroot dat de OTC-markt en haar gedrag de markt doet krimpen door het sluiten van grote orders.
Wil je op de hoogte blijven van het laatste nieuws? Abonneer je dan op onze push-berichten, Facebook– of Twitter pagina.