Bitcoin (BTC) zakte de afgelopen 24 uur nog iets dieper in aanloop naar de Amerikaanse consumentenprijsindex (CPI). In de bitcoin marktupdate van gisteren was al te lezen dat het Witte Huis waarschuwt voor "zeer verhoogde" inflatiecijfers.
Een maand geleden zorgde dit voor een flinke crash. Gaat dat de komende dagen weer gebeuren? Of is de angst inmiddels al ingeprijsd? De Amerikaanse CPI wordt vandaag om 14.30 Nederlandse tijd gepubliceerd.
Bitcoin koers zakt met 2,2%
De bitcoin koers dook door alle spanning al gisterenochtend onder $20.000. Tegen het einde van de middag maakte de koers een klein herstel, maar kon niet meer de $20.000 heroveren. Vervolgens maakte bitcoin een flinke duik en zakte richting $19.400.
Bitcoin dipte afgelopen nacht zelfs even naar $19.300, maar kon de afgelopen uren weet ietsjes stijgen. De bitcoin prijs komt op het moment van schrijven uit op $19.500 op Binance en $19.500 op Bitvavo. Daarmee staat de BTC koers vandaag 2,2% in de min.
Voor hoeveel angst gaat de CPI zorgen?
Volgens analysebedrijf Ecoinometrics zou een inflatie onder 8,32% goed nieuws zijn voor de markt en wellicht wat angst wegnemen. Bitcoin zou dan zelfs wat kunnen stijgen. Als de inflatie echter boven 8,76% uitvalt, zal dat waarschijnlijk slecht uitpakken. Er wordt zelfs al gespeculeerd dat de inflatie mogelijk boven 9% uitkomt op jaarbasis.
We are getting the US inflation data for June tomorrow.

Based on historical month on month changes of the CPI:
• A surge above 8.76% would be a bad news.
• A drop below 8.32% would be a pretty good news.

So which one is it going to be? pic.twitter.com/GBIXHFcVTJ

— ecoinometrics (@ecoinometrics) July 12, 2022
Als de CPI daadwerkelijk zo hoog uitpakt, kan dat wederom voor veel angst en paniek zorgen. Er is dan een grote kans dat meer risicovolle aandelenmarkten als de S&P 500 zullen dalen en ook bitcoin mee trekken. De twee gedragen zich zeer vergelijkbaar dit jaar met een hoge correlatie tussen beiden. Deze correlatie ligt nog steeds hoog, meldt analist IT Tech:
#Bitcoin price is still following S&P500. pic.twitter.com/mYaoPQOXKl

— IT Tech (@IT_Tech_PL) July 12, 2022
Bitcoin koers vast, maar whales accumuleren
Zoals vanochtend op Crypto Insiders al was te lezen, zit bitcoin nog steeds vast in hetzelfde krappe bereik. De markt vreest momenteel dat de publicatie van de inflatiecijfers tot een hertest van de onderkant van dit bereik kan leiden, rond de $18.700. Mocht deze niet standhouden, dan wordt de kans groot dat we de recente low rond $17.600 zullen hertesten en wellicht zelfs een lower low zullen opzoeken. Dat hoeft niet onmiddelijk te zijn, dat kan ook enkele dagen duren.
Toch ziet lang niet alles er negatief uit voor bitcoin. Zo meldt Santiment dat het whales, met 10+ BTC in bezit, sinds medio juni meer BTC accumuleren. Hun bezit is in de afgelopen 30 dagen met 1,12% gestegen. Er zijn nu maar liefst 149.200 adressen met 10+ BTC, het meest sinds februari 2021.
🐳 The amount of #Bitcoin addresses holding 10+ $BTC has ramped up, particularly since the mid-June drop. In the past 30 days, these addresses have increased by 1.12%. There are 149.2k addresses holding 10 or more $BTC, the most held since February, 2021. https://t.co/LOTtdvm1Rf pic.twitter.com/HZZsZXhqHe

— Santiment (@santimentfeed) July 12, 2022
Bitcoin staat ondertussen op "oversold" op een groot aantal indicatoren, meldt Coinalyze. Het is een mogelijk teken van de bodem, al kan de koers nog altijd dieper zakken voordat we een trendommekeer zien.
#Bitcoin $BTC oversold almost everywhere https://t.co/4RSG7W0Zn6 pic.twitter.com/oIPNcohB9F

— Coinalyze (@coinalyzetool) July 12, 2022
Wanneer denken Crypto Insiders leden dat bitcoin een nieuwe ATH bereikt?
Vorige week begonnen veel analisten alweer te spreken over wanneer bitcoin mogelijk een nieuwe all-time vestigt. Het was een teken van het verbeterde marktsentiment. Wij vroegen toen onze leden uit de Discord groep wanneer zij verwachten dat BTC een nieuwe ATH vestigt.
De resultaten zijn hieronder te vinden. De grootste groep verwacht het al begin volgend jaar wordt. Echter verwacht de grootste groep daarna dat dit pas in de tweede helft van 2024 zal zijn. Niemand van hen verwacht dat het pas 2025 wordt of later.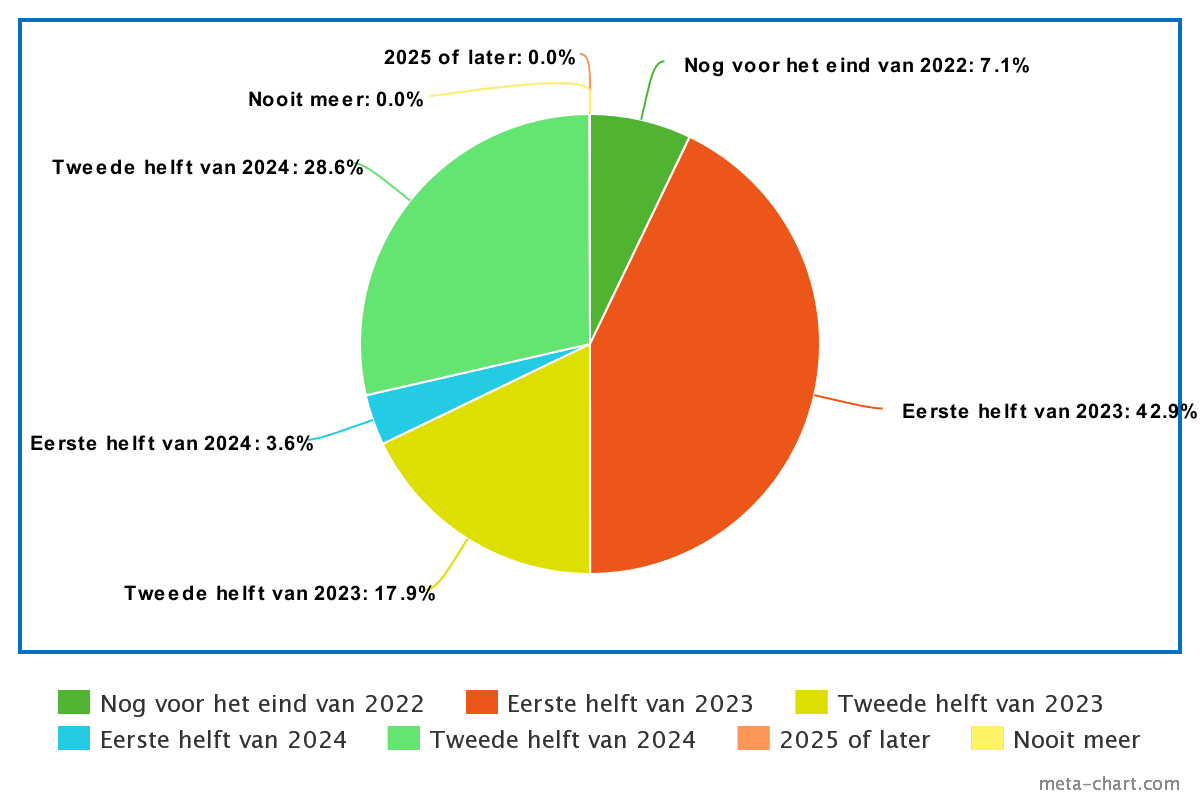 Crypto Insiders Premium voor bitcoin analyses
Wil jij diepgaandere bitcoin analyses ontvangen? Dan verwijzen wij je graag door naar onze Discord community voor leden. Stel vragen aan analisten, klets met onze fanatieke community en ontvang dagelijks technische en fundamentele analyses van bitcoin, maar ook andere crypto. Via Discord Premium kunnen we 24/7 kennis met elkaar delen en proberen we samen met onze leden de markt voor te blijven.
Disclaimer: Beleggen brengt risico's met zich mee. Onze analisten zijn geen financieel adviseurs. Raadpleeg altijd een adviseur bij het maken van financiële beslissingen. De informatie en tips die op deze website worden verstrekt zijn gebaseerd op eigen inzichten en ervaringen van onze analisten en dienen alleen voor educatieve doeleinden.