De bitcoin koers is de afgelopen 24 uur met 4% gedaald waardoor BTC verhandeld wordt voor 22.430 euro. Lang kon bitcoin zich meten met de koersen van verschillende aandelenindexen, maar die correlatie is gedaald tot het laagste punt in drie maanden.
Morgen deelt de FED nieuwe cijfers over de inflatie en een eventuele renteverhoging, zal de correlatie weer stijgen?
Bitcoin koers net geen 24.000 euro behaald
De daling van vandaag zorgt ervoor dat bitcoin evenveel waard is als zeven dagen geleden. Twee dagen geleden kwam 24.000 euro in zicht op cryptobeurs Binance, maar de bitcoin koers had (helaas) andere plannen.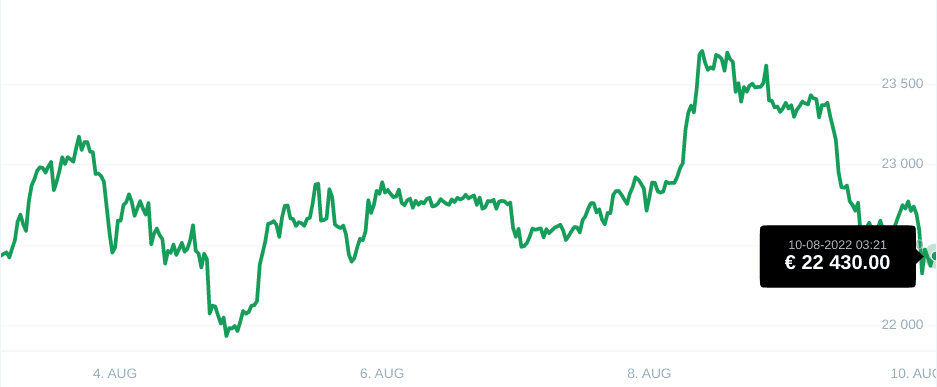 In de intro van dit artikel schreven we dat de correlatie tussen aandelen en bitcoin op een laag punt staat, maar dat betekent niet dat ze niet dezelfde beweging kunnen maken.
Bitcoin volgt vandaag aandelenkoersen
De Dow Jones Industrial Average en de S&P 500 Index en de Nasdaq daalden alle drie ongeveer 1% terwijl bitcoin dus 4% heeft moeten inleveren. Het lijkt of beleggers voorzichtig zijn in afwachting van de publicatie van Amerikaanse inflatiecijfers morgen. Verwacht wordt dat de Amerikaanse centrale bank een renteverhoging zal aankondigen.
Laagste correlatie bitcoin in 3 maanden
Los van de daling van vandaag, is de correlatie van bitcoin en de Nasdaq-index gedaald tot het laagste punt in drie maanden, aldus data van onderzoeksbureau Kaiko.
Zowel aandelen als obligaties maakten sinds het begin van 2022 grote dalingen mee, maar bitcoin heeft het nog slechter gedaan. Bitcoin is sinds begin 2022 met 52% gedaald terwijl de Nasdaq 21% heeft moeten inleveren.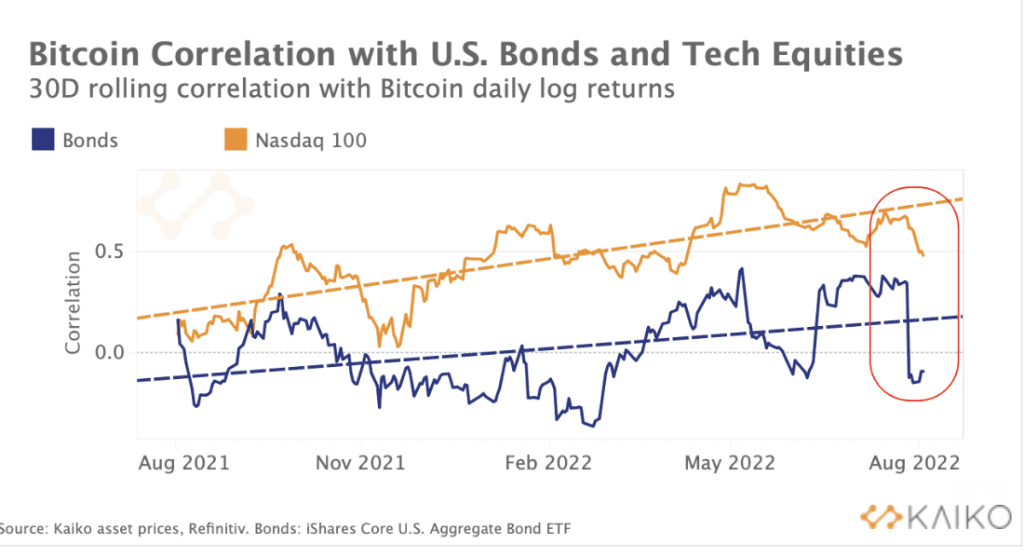 In de grafiek hierboven zie je dat de trend uiteenloopt. De blauwe lijn laat de correlatie van bitcoin zien met obligaties en de oranje lijn met de Nasdaq.
Sinds begin 2022 waren crypto- en aandelenmarkten nauw met elkaar verbonden. Het hoogtepunt van de correlatie werd zelfs behaald in mei. Maar in de daaropvolgende maanden is de correlatie verzwakt nadat vele cryptobedrijven omvielen en de bitcoin koers 12.000 euro moest inleveren. De aandelen- en obligatiemarkten waren vanaf mei juist positiever ingesteld.
Mei maakt verschil bitcoin en aandelen
In de grafiek hieronder is oranje de bitcoin koers en groen de koers van de Nasdaq Index. De waardes worden rechts uitgedrukt in percentages. Van begin 2022 tot begin mei volgen beiden hetzelfde pad, maar vanaf mei is duidelijk zichtbaar dat bitcoin harder daalt dan de Nasdaq.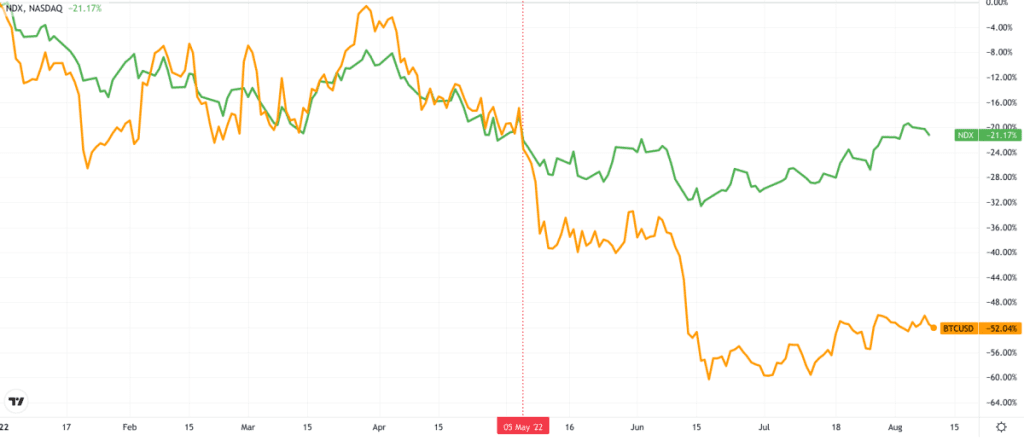 Bitcoin in wachtkamer FED
Analist Clara Medalie van Kaiko erkent de trend, maar legt uit dat op dagen waarop de markten wachten op nieuws van de FED, zowel bitcoin als de aandelenmarkten dalen en de correlatie oploopt:
"Wat we het afgelopen jaar hebben gezien, is dat de correlaties rond belangrijke publicaties van economische data, zoals mededelingen van de Fed of inflatiecijfers, meestal sterker worden."
Morgen wordt een belangrijke dag, want dan zal de Amerikaanse centrale bank nieuws delen over inflatiecijfers en een eventuele renteverhoging. Elke keer als de FED met een soortgelijke mededeling komt, zie je dat de bitcoin koers hevig beweegt.