Goedemorgen Insiders! Gisteren zagen we dat het een goede dag was voor de mogelijke adoptie van bitcoin (BTC). Allereerst kwam er bericht vanuit de Europese Centrale Bank (ECB) over de wet- en regelgeving omtrent bitcoin en crypto. Dit klink mogelijk niet zo enorm positief maar kan natuurlijk, mits het goed ingedeeld wordt, voor bitcoin op de lange termijn voordelen hebben. Daarnaast zien we dat Gustavo Petro, de nieuwe president van Colombia, voorstander is van bitcoin. Zou dit mogelijk het derde land kunnen zijn waar bitcoin als wettig betaalmiddel zal worden aangenomen?
Bitcoin is met 2,2% gestegen sinds 00:00. De actuele prijs is op het moment van schrijven $20.320 op crypto exchange Coinbase. De euro prijs van bitcoin is €19.229 op de Nederlandse exchange Bitvavo. Het handelsvolume steeg in hetzelfde tijdsbestek licht met 2%. Over de afgelopen zeven dagen daalde bitcoin met 7,3% in waarde. In de afgelopen 24 uur bleef de koers nagenoeg gelijk, met een lichte daling van 0,2%. De totale marktwaarde van bitcoin bedraagt op het moment van schrijven $388,7 miljard. Vergeleken met de totale crypto marktkapitalisatie komt de bitcoin dominantie hiermee uit op 43,1%, vrijwel hetzelfde niveau als 24 uur geleden.
Dit gebeurde er met bitcoin terwijl jij lag te slapen
Ki Young Ju, CEO van CryptoQuant een crypto data analyse tool, heeft een interessante constatering gedeeld met zijn bijna 300.000 Twitter-volgers. Hij zag namelijk dat bitcoin miners uit de Poolin pool voor ongeveer 5.000 BTC, ofwel $110 miljoen, naar Binance hebben gestuurd.
Some mining pool participants from Poolin just sent 5k $BTC (~$110M) to Binance.

This might indicate some miners' revenue can't meet the break-even point, so they have to cash out to cover expenses/loans.

Live Chart 👇https://t.co/lqim8dpbXi pic.twitter.com/VWLUMWxUBK

— Ki Young Ju (@ki_young_ju) June 22, 2022
Dit kan natuurlijk een aantal redenen hebben, maar de meest voor de hand liggende reden is het feit dat de mining operatie op het moment verlies maakt. Het minen kost dus meer dan dat het oplevert waardoor ze genoodzaakt zijn om hun opgespaarde bitcoins te verkopen.
De laatste keer dat deze mining pool dat gedaan had was in 2018 toen we in vergelijkbare marktomstandigheden zaten. Dit was voor de verkoper uiteindelijk een goede deal aangezien de koers daarna nog verder wegzakte. Laten we hopen dat dat dit keer niet het geval is.
Ki Young Ju gaf aan dat dit echter niet direct hoeft te betekenen dat we verder naar beneden gaan of dat dit per se direct bearish nieuws is. Het zou ook nog kunnen zijn dat de miner coins naar Binance stuurt om met onderpand een long positie te openen in plaats van de 5.000 BTC te verkopen.
Bitcoin prijsvoorspellingen van de analisten van Crypto Insiders
De analisten van Crypto Insiders hebben in de Premium omgeving een blik geworpen op de bitcoin koers. Op 20 juni is de meest recente update gedeeld waarop te zien was welke richting we mogelijk op zouden kunnen gaan.
Hierbij was te zien dat bitcoin de zone waar we dachten dat deze zou komen goed getest heeft. Hier kwam de dynamische trendlijn samen met de Elliott Wave. Om deze reden verwachten we een korte wave B omhoog voor we mogelijk weer verder naar beneden gaan.
In de Discord omgeving staat de volledige analyse beschreven met de duidelijk prijsniveaus.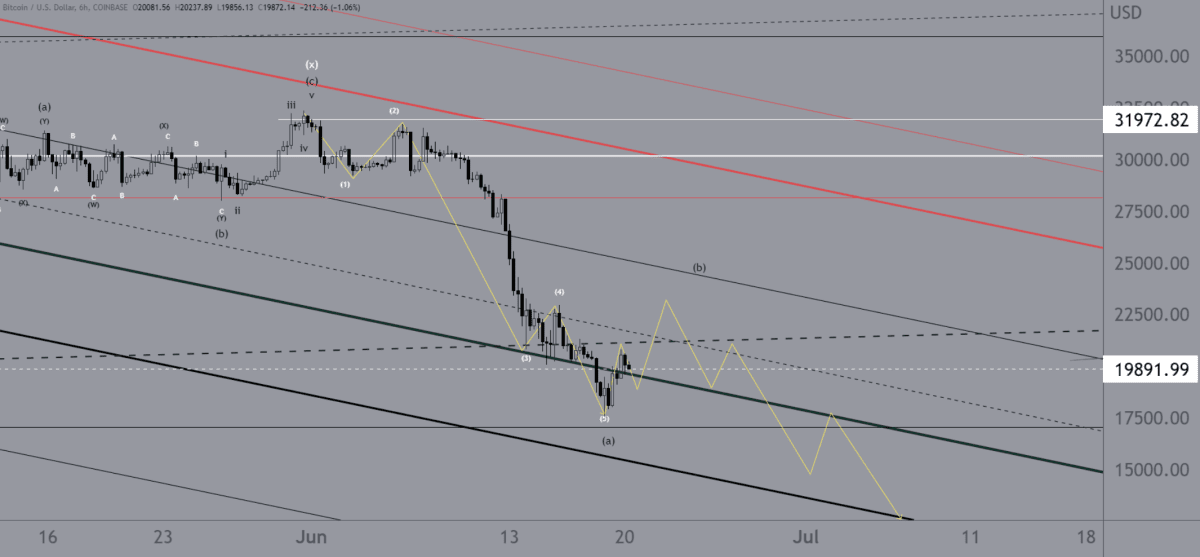 Dagelijks actuele analyses ontvangen?
De analisten van Crypto Insiders hebben nog meer analyses gedeeld in de Premium Omgeving van Crypto Insiders voor leden. Hier wordt o.a. bitcoin dagelijks besproken en zal je op de hoogte gehouden worden van alle ontwikkelingen rondom de koers en het project zelf. Ook analyseren onze analisten verschillende andere cryptocurrencies. Er staan op het moment al verschillende technische analyses voor je klaar! Neem een kijkje in onze discord omgeving voor leden.