De waarde van de markt voor cryptocurrency is de afgelopen 24 uur met $22 miljard afgenomen, terwijl de prijs van Bitcoin (BTC) daalde tot onder de $6.400.
Sinds de vroege ochtend registreerde de cryptomarkt een steile daling van $274 miljard tot $252 miljard, wat een waardedaling van 7% vertegenwoordigt. De daling van Bitcoin van $6.700 naar $6.400 zorgde ervoor dat andere grote cryptocurrencies en kleinere tokens interserve bewegingen aan de onderkant ervaren.
Bitcoin verliest 5%, Ether daalt met 10%
Terwijl Bitcoin 5% van haar waarde verloor, daalde de prijs van Ether (ETH), de oorspronkelijke cryptocurrency van het Ethereum blockchain-protocol, met meer dan 10%. Op 9 juli bleef de prijs van ETH rond de $480 hangen, maar in de afgelopen 12 uur daalde de prijs naar $430, waarbij het andere tokens en kleine cryptocurrencies met zich mee naar beneden trok.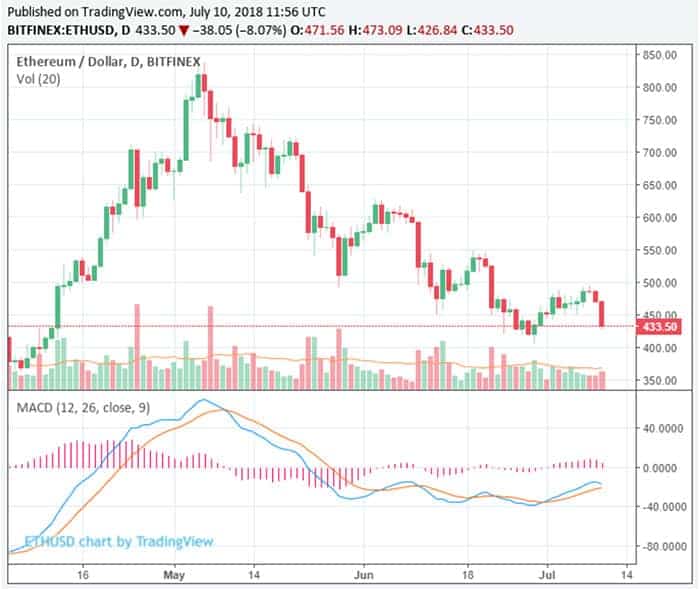 Gisteren werd nog gemeld dat een daling naar het laagste punt van $6.000 onvermijdelijk is vanwege het lage volume van Bitcoin en andere grote cryptocurrencies:
Over het algemeen zijn high-profile investeerders en experts in de crypto-sector van mening dat een stijging van BTC tot haar oude recordhoogte van $20.000 aan het eind van 2018 zeer waarschijnlijk is, maar dat een nieuwe daling tot onder de $6.000 onvermijdelijk is.
Vorige week was het volume van Bitcoin licht hersteld tot ongeveer $5 miljard, nader het eerder onder de $3,5 miljard was gedaald. Deze week zakte het volume van BTC terug naar $3,9 miljard, terwijl het volume van Tether steeg van $1,6 miljard naar $3 miljard.
Vaak duidt een piek in het volume van Tether (USDT), een stablecoin waarvan de waarde wordt afgedekt naar die van de Amerikaanse dollar, op extreme volatiliteit in de cryptomarkt en de verplaatsing van grote cryptocurrency naar fiat-valuta uit zorgen dat de markt zal blijven dalen op de korte termijn.
In de komende dagen, als de prijs van Bitcoin niet binnen 24 uur terugkeert naar de $6.700, is een daling naar $6.000 hoogstwaarschijnlijk. Nu al zijn tokens als Ziliqa, Aion, ICON, 0X en Aelf, die dit jaar sterke winsten boekten tegen zowel Bitcoin als de Amerikaanse dollar, begonnen te dalen met grote marges.
Elk negatief nieuws in een bear-cycle kan de beweging van een grote cryptocurrency of token aan de onderkant intensiveren. MyEtherWallet, een populaire open-source cryptocurrency-wallet die ETH en de ERC20-tokens ondersteunt, meldde dat de Google Chrome-extensie Hola was gehackt, waardoor gebruikersactiviteit op MyEtherWallet werd vastgelegd. Het team van MyEtherWallet (MEW) meldde het volgende op Twitter:
Als je de Chrome-extensie Hola hebt geïnstalleerd en MEW hebt gebruikt in de afgelopen 24 uur, moet je je fondsen onmiddellijk overplaatsen naar een volledig nieuw account. We hebben een rapport ontvangen dat suggereert dat de Chrome-extensie van Hola ongeveer 5 uur lang werd gehackt en dat de aanval je activiteit bij MEW registreerde.
Urgent! If you have Hola chrome extension installed and used MEW within the last 24 hrs, please transfer your funds immediately to a brand new account!

— MyEtherWallet | MEW (@myetherwallet) July 10, 2018

De kwestie van Hola en MyEtherWallet heeft waarschijnlijk geen grote invloed gehad op de prijs van Ether. Maar in een neerwaartse trend neigt negatief nieuws de daling van cryptocurrencies te verergeren.