Bitcoin (BTC) kon gisteren eindelijk uitbreken. De koers brak wellicht zelfs sneller uit zijn symmetrische driehoek dan werd verwacht. Ondertussen wordt het marktsentiment steeds positiever en neemt de angst langzamerhand verder af.
Bitcoin Fear and Greed Index is 20. Extreme Fear
Current price: $22,413 pic.twitter.com/HbW0cV3BY7

— Bitcoin Fear and Greed Index (@BitcoinFear) July 8, 2022
Desondanks maken veel analisten zich zorgen dat we nog niet uit de gevarenzone zijn. De macro-economische toestand zorgt nog altijd voor veel verkoopdruk en negatief nieuws blijft maar naar buiten komen. Er gaan nu geruchten rond dat Celsius mogelijk een ponzifraude was, maar later daarover meer op Crypto Insiders.
Bitcoin koers stijgt met 7%
De bitcoin koers begon na de crash van een maand geleden in een steeds krapper bereik te bewegen en vormde een zogenaamde symmetrische driehoek. De kans leek al erg groot dat bitcoin snel zou uitbreken, maar het ontbrak nog aan volume.
Bitcoin steeg gisterenochtend in eerste instantie gestaag naar $20.500 en de $20.400 sloeg van weerstand om in support. Gisterenmiddag kon bitcoin uit deze driehoek breken en de koers sprong vervolgens naar $21.000, maar kwam daar nog wat weerstand tegen.
Enkele uren later brak bitcoin hierdoorheen en schoot de koers naar $21.700. Dat was al boven het bereik waar BTC de afgelopen weken in vastzat. Ook daar brak bitcoin enkele uren later doorheen en sprong toen naar een piek van $22.300.
Sindsdien begint bitcoin weer iets wankelen en de koers lijkt momenteel moeite te hebben om aan $22.000 vast te houden. De BTC prijs zakt op het moment van schrijven naar $21.800 op Binance en €21.450 op Bitvavo. De BTC koers staat daarmee alsnog 7% in de plus vandaag.
Bitcoin short squeeze
De bitcoin koersstijging ging gepaard met een kleine short squeeze en bitcoin maakte vervolgens een higher high. Ook het volume nam met maar liefst 28% toe, maar dat komt vooral omdat deze een dip maakte de dag daarvoor, en ligt eigenlijk nog laag.
Always consider context behind price action. For this bullish movement to continue #Bitcoin needs spot follow through/volume.
This bull movement is characterized by a short squeeze ($50.8Million short liquidations) forcing non-organic market buys:

Trade Safe, Pls retweet. pic.twitter.com/wX7NP6Eiu9

— KellyKellam (@Kellykellam) July 7, 2022
De 200-weken MA van bitcoin
Als bitcoin nu het gebied rond $21.600-$21.800 om kan slaan van weerstand in support, dan lijkt de kans groot dat we snel eindelijk een test zullen zien van de cruciale 200-weken moving average. Die ligt nu rond de $22.560.
De vrees is echter dat de macro er nog te slecht uitziet en er te weinig momentum is om hierdoorheen breken. Een afwijzing zou vervolgens de koers zelfs naar een lower low kunnen leiden onder $18.000 of nog dieper. Analist M Ernest vreest dat de huidige stijging zelfs een pump & dump is:
#BTC market.
1- MM have been selling while the price has been in a range (20.3k and 20.6k).
2- The recent pump has been used for short liquidation, more than 3 MUSD in a minute.
3- Also the last pump is being sold.
Therefore, it is possibly a pump and dump…🧠💡
👇 pic.twitter.com/4PEk40jZlB

— M_Ernest_💯​₿ (@M_Ernest_) July 7, 2022
Mt. Gox bitcoin dump
Ondertussen neemt ook weer de vrees toe over een BTC dump omtrent de failliete Mt. Gox exchange, ooit de grootste BTC beurs ter wereld. Mt. Gox ging in 2014 ten onder nadat maar liefst 850.00 BTC waren gestolen. 150.000 BTC zijn hersteld en worden eindelijk verdeeld onder gedupeerden.
Deze BTC worden dan mogelijk massaal gedumpt op de markt wat veel verkoopdruk kan zorgen. Lang niet iedereen verwacht dat dit zal gebeuren, maar zoals analist Ki Young Ju aangeeft, kun je je alarm ervoor instellen:
MtGox emailed creditors about repayment info.

You can set an alert for $BTC outflows from MtGox wallets at the link below. It's still quiet for now.https://t.co/RwZCTBP9Ps https://t.co/CgZ0xJ6eNj

— Ki Young Ju (@ki_young_ju) July 7, 2022
Bitcoin mining difficulty daalt
Daarnaast is de zogeheten bitcoin-mining difficulty, of moelijkheidsgraad, voor de tweede keer op rij gedaald. Volgens gegevens van BTC.com nam deze gisteren met 1,41% af omdat de totale gemiddelde hash rate, of rekenkracht, van het Bitcoin-netwerk over de afgelopen twee weken iets was gedaald naar 208,5 exahashes per seconde (EH/s). De groei van de hash rate is de afgelopen weken afgeremd door de lage koers die miners onder druk zet.
Volgende week nieuwe Amerikaanse CPI
Volgende week, op 13 juli, wordt weer de Amerikaanse consumentenprijsindex (CPI) gepubliceerd. Vorige maand zorgden deze verhoogde inflatiecijfers voor de flinke crash. Het is mogelijk dat inmiddels een groot deel van de angst is ingeprijsd of dat de inflatie lager uitpakt dan men vreest. Toch raadt analist IncomeSharks aan om wellicht dit weekend nog wat winst te verzilveren.
CPI data gets released July 13th. It tends to be priced in so we usually drop before with the uncertainty. Monday and Tuesday probably red. Not a bad idea to TAKE PROFITS this weekend.

— IncomeSharks (@IncomeSharks) July 8, 2022
Hoe hoog ligt de angst onder Crypto Insiders leden?
Begin deze week steeg de Fear & Greed index naar "14." Dat is alsnog in "extreme fear" gebied, maar hoe zit dat onder onze leden? Houden ze nog hun geld weg bij crypto (angstig) of investeren ze al flink (hebberig)? Oftewel, hoe hoog ligt de angst onder hen?
De resultaten zijn hieronder te zien en tonen aan dat de angst onder CI leden al een stuk lager ligt dan in de rest van de markt: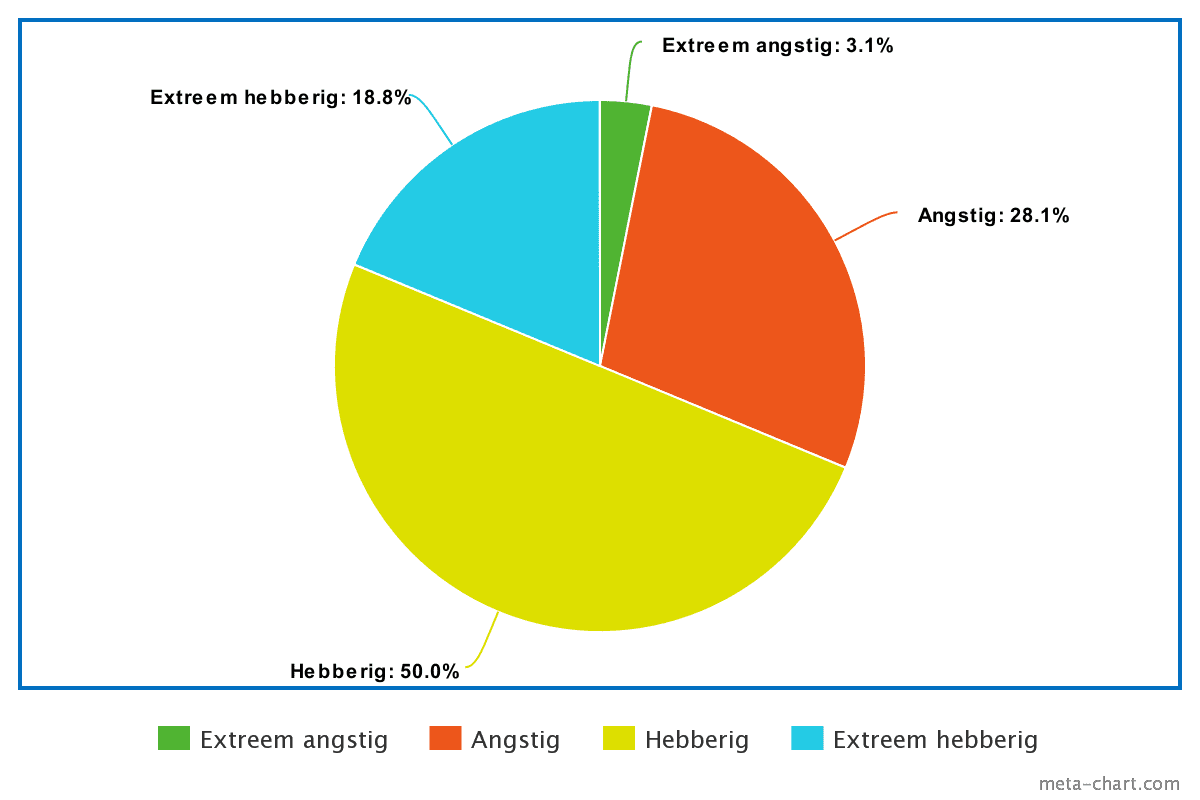 Crypto Insiders Premium voor bitcoin analyses
Wil jij diepgaandere bitcoin analyses ontvangen? Dan verwijzen wij je graag door naar onze Discord community voor leden. Stel vragen aan analisten, klets met onze fanatieke community en ontvang dagelijks technische en fundamentele analyses van bitcoin, maar ook andere crypto. Via Discord Premium kunnen we 24/7 kennis met elkaar delen en proberen we samen met onze leden de markt voor te blijven.
The real signal regarding Bitcoin adoption:

Every price drawdown some new market participants leave (that were only here for price going up), but there's a higher base of people who gain conviction in Bitcoin and stay. pic.twitter.com/Dfh04vETdu

— Will Clemente (@WClementeIII) July 8, 2022
Disclaimer: Beleggen brengt risico's met zich mee. Onze analisten zijn geen financieel adviseurs. Raadpleeg altijd een adviseur bij het maken van financiële beslissingen. De informatie en tips die op deze website worden verstrekt zijn gebaseerd op eigen inzichten en ervaringen van onze analisten en dienen alleen voor educatieve doeleinden.