De afgelopen uren zag bitcoin (BTC) een flinke dip en gingen ook veel altcoins hard onderuit. Een duidelijke reden lijkt er niet te zijn, maar een mogelijke reden is een op 16 december gepubliceerd blogartikel van onderzoeksbedrijf Chainalysis omtrent het PlusToken-schandaal.
PlusToken is een van de grootste gevallen van ponzifraude in de crypto-industrie. Chinese fraudeurs wisten investeerders over te halen bitcoin en ethereum (ETH) naar hun wallet te sturen in ruil voor het PLUS-token van het project. De investeerders zouden een hoog rendement behalen uit "exchange-winsten, mining en referral-bonussen." In totaal stuurden de slachtoffers cryptocurrency ter waarde van $3 miljard naar de wallets van de fraudeurs.
Chainalysis volgde 45.000 BTC en 800.000 ETH. De cryptocurrencies die het bedrijf volgde worden nog steeds verspreid over duizenden wallets in een poging om het ongemerkt om te zetten in fiatgeld. Zo legt het bedrijf uit:
Tot nu toe is ongeveer 25.000 daarvan [bitcoin] omgewisseld. De andere 20.000 zijn momenteel verspreid over meer dan 8.700 cryptocurrency-adressen, wat de hoge inspanningen van de oplichters aantoont om de beweging van fondsen te verdoezelen. De oplichters hebben de Bitcoin meer dan 24.000 keer verplaatst, met behulp van meer dan 71.000 verschillende adressen – en dat is zelfs exclusief uitbetalingen of overdrachten naar off-ramps zoals exchanges.
De meeste omwisselingen vinden volgens Chainalysis plaats via Huobi OTC-brokers. Het bedrijf keek daarom naar de bitcoin-prijs op deze exchange om in combinatie met de gemonitorde bitcoin te achterhalen wat het met de prijs deed. Chainalysis concludeert op basis van een toenemend activiteit van de tegoeden van de fraudeurs en de dalende bitcoin-prijs dat de verkoop van de gestolen cryptocurrency de prijs wel degelijk omlaag drukt: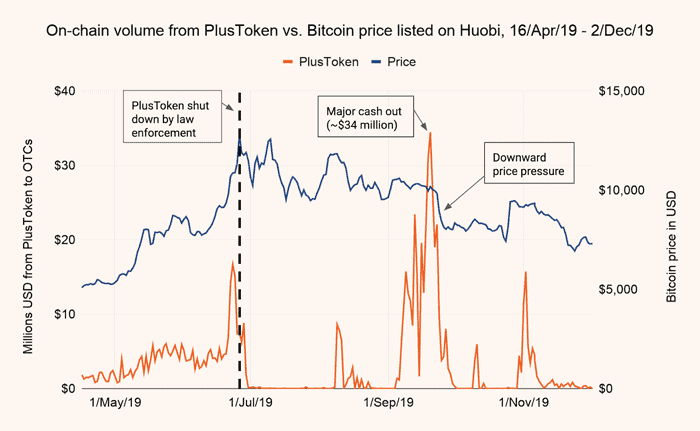 De publicatie van Chainalysis kan een bijdragen hebben geleverd aan de recente dip. Echter kunnen factoren als technische analyses ook een groot effect hebben. Wel toont Chainalysis aan dat PlusToken dus wel degelijk een effect heeft op de bitcoin-prijs en verkoopdruk veroorzaakt.
Crypto Insider David heeft weer een nieuwe wekelijkse bitcoin (BTC) analyse online staan! Het wordt volgens David mogelijk tijd om toe te slaan!
Wil je op de hoogte blijven van het laatste nieuws? Abonneer je dan op onze push-berichten, Facebook– of Twitter. Meediscussiëren? Meld je dan aan voor ons Telegram kanaal.