2021 was een enorm jaar voor de adoptie van cryptocurrencies als bitcoin (BTC) en ethereum (ETH). Uit een nieuw onderzoek blijkt dat maar liefst 41% van crypto bezitters wereldwijd hun eerste crypto in 2021 kocht. Voor investeerders uit Brazilië, India en Hong Kong is dat zelfs meer dan 50%.
Gemini, de bekende cryptocurrency-exchanges van de Winklevoss tweeling, hield tussen november 2021 en februari 2022 een enquête onder 29.293 volwassen respondenten, verdeeld over 20 landen. De resultaten werden op 4 april samengevat in het '2022 Global State of Crypto' rapport.
Crypto adoptie werelwijd
Uit het onderzoek blijkt dat bijna de helft van alle crypto investeerders hun crypto voor het eerst in 2021 kocht. Voor Europa was dat 40% en voor de VS 44%. Voor Latijns-Amerika 46% en voor de regio Azië-Pacific is dat 45%. Het was zelfs meer dan de helft in landen als Brazilië (51%), India (54%) en Hong Kong (51%). Dat veel investeerders pas recent hun crypto kochten is ook te zien in een recente Instagram poll van Crypto Insiders: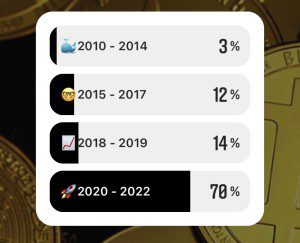 Verder meldt het onderzoek dat de adoptie in Brazilië en Indonesië ver boven de rest uitschiet. In beide landen bezit maar liefst 41% crypto. Dan volgt de Verenigde Arabische Emiraten met 35% en Singapore met 30%. De VS komt op 20% en dat komt overeen met de 21% uit dit recente onderzoek van NBC News. Ook komt Duitsland op 16% uit, hetzelfde als in dit onderzoek van KuCoin. Noren komen op 19% uit, dat is echter een stuk hoger dan in dit onderzoek van Arcane Research.
De "Crypto-curious"
Gemini bestempelt mensen die nog geen crypto hebben, maar overwegen om het komende jaar te kopen als "crypto-curious." 41% van de respondenten meldt dat zij nieuwsgierig zijn naar crypto. Gemini meldt dat Europese landen gemiddeld gezien een hoog aantal van deze crypto nieuwsgierigen heeft.
Gemini meldt daarnaast dat het aantal vrouwen dat crypto bezit ook toeneemt. In rijkere regio's als VS, Europa en Australië is ongeveer een derde van de crypto-eigenaren vrouwelijk. Van de crypto-curious is bijna de helft (47%) vrouwelijk. In Latijns-Amerika is al 42% van de huidige crypto-eigenaren vrouwelijk en 54% van de nieuwsgierigen.
Wat weerhoudt men in crypto te investeren?
De onzekerheid omtrent de regelgeving is nog altijd een grote zorg en weerhoudt veel mensen te investeren, meldt het onderzoek. Voor Azië-Pacific is dat 39%, voor Latijns Amerika 37%, Europa 36% en de VS 33%. Een andere groot obstakel is het gebrek aan educatie. 40% van de respondenten geeft aan dat meer educatieve bronnen hen zou helpen om in crypto te stappen. Voor Latijns-Amerika en Afrika is dat meer dan 50%.
Is crypto de toekomst van geld?
In Europa en de VS gelooft maar zo'n 20% dat crypto de toekomst van geld is. In landen die de laatste jaren aan hyperinflatie hebben geleden, schiet dat snel naar 60% of meer. Zo ligt dat percentage in India op 59%, in Indonesië op 61%, Nigeria 63% en Brazilië zelfs 66%.
Wederom is een waarschuwing op zijn plaats. Neem de resultaten van dit soort onderzoeken, vooral enquêtes van crypto-platformen, altijd met een korrel zout.