Na de forse stijging op vrijdag blijft bitcoin (BTC) vooralsnog voorzichtig klimmen. Bitcoin piekte afgelopen nacht rond $21.750, de hoogste prijs in meer dan drie weken. Vanochtend dipte bitcoin even naar $21.400, maar herstelt op het moment van schrijven naar een prijs van $21.750 op FTX en €21.450 op Bitvavo.
Daarmee staat de BTC koers vandaag 1% in de plus. Het handelsvolume van bitcoin daalde in de afgelopen 24 uur met 22,9%. De totale marktkapitalisatie komt momenteel uit op $414 miljard en de dominantie van bitcoin op 39,1%. De Fear & Greed Index komt op 26 uit:
Bitcoin Fear and Greed Index is 26 – Fear
Current price: $21,631 pic.twitter.com/OwW2S7hea7

— Bitcoin Fear and Greed Index (@BitcoinFear) September 11, 2022
Bitcoin nieuws van gisteren
Wanneer breekt BTC zijn opwaartse trend?
De bitcoin koers maakt op de 1-uurs grafiek een mooi opwaartse trend, maar hoe lang houdt bitcoin dit nog vol? Zoals op de onderstaande grafiek is te zien, maakt BTC momenteel een 12345 Elliot Wave structuur. Binnen de regels van de theorie betekent dit dat we na het einde van de huidige wave een corrective patroon gaan zien in de vorm van 3 waves.
Het lijkt erop dat de koers momenteel in de buurt zit van een top en dat bitcoin op het punt staat om aan deze corrective wave te beginnen. De verwachting is dat bitcoin dan in eerste instantie naar $20.000 daalt. Heb je vragen over deze analyse of wil je dergelijke analyses van bitcoin en andere crypto eerder ontvangen? Neem dan een kijkje in onze Discord omgeving.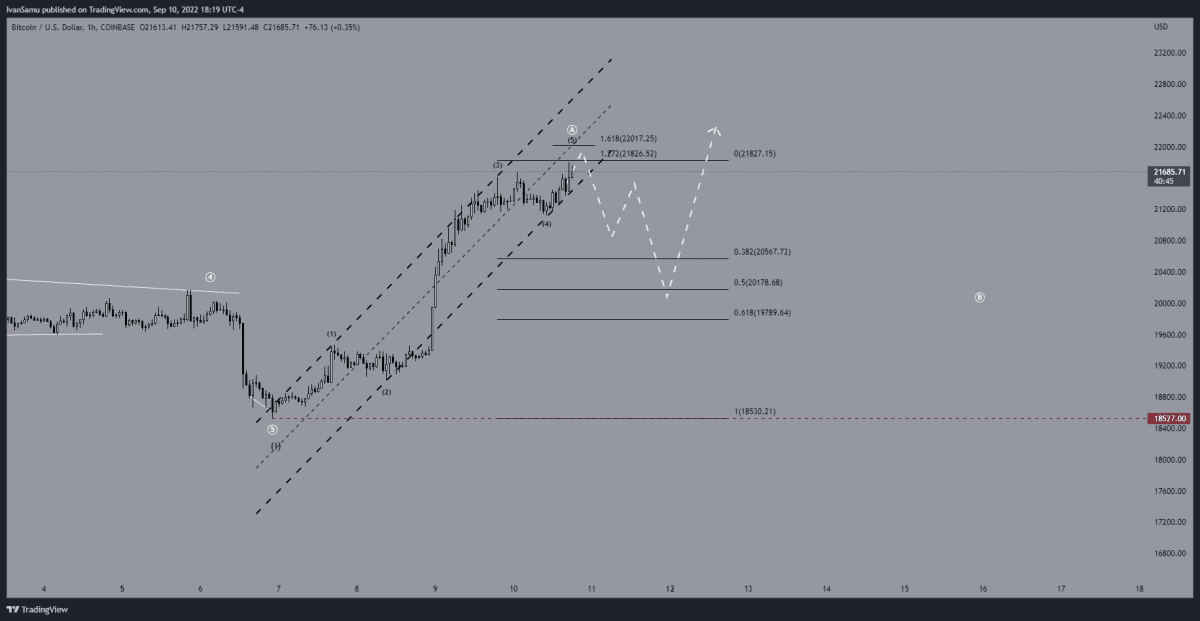 Korte termijn investeerders durven geen bitcoin te kopen
De bitcoin realized HODL (RHODL) ratio is een indicator die weergeeft of er nog veel korte termijn of alleen lange termijn investeerders in de markt zitten. Wanneer er alleen veel lange termijn investeerders in de markt zitten, zien we een laag RHODL ratio. Dit geeft vaak weer dat de markt dicht bij een bodem is, omdat korte termijn investeerders voor een groot deel uit de markt zijn gestapt. Tijdens een marktpiek, en dus een hoge RHODL ratio, zien we juist het tegenovergestelde. Dan zitten nog veel korte termijn investeerders in de markt.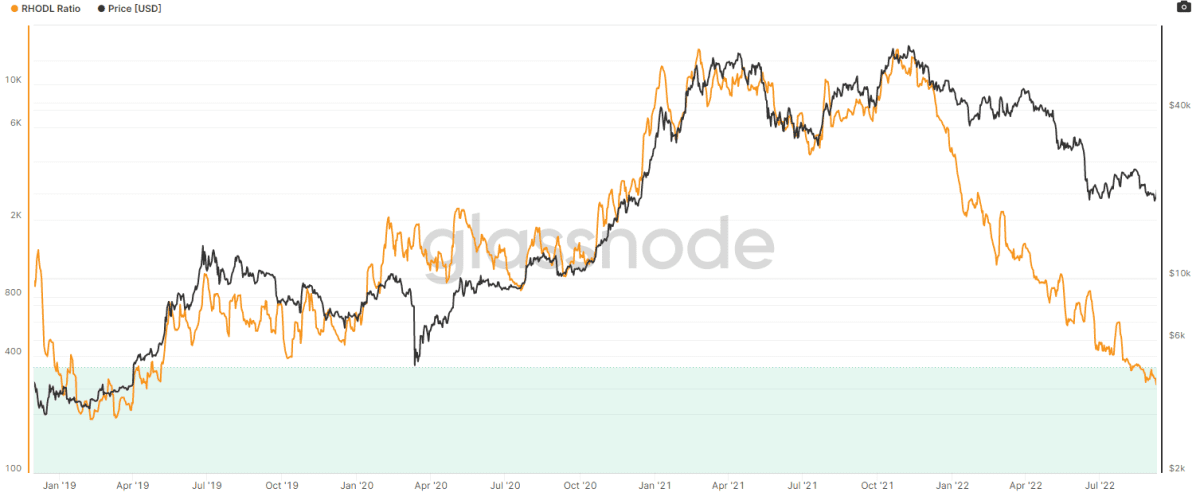 Op de bovenstaande grafiek zien we de RHODL ratio. Hier zien we dat de afgelopen weken de RHODL ratio in de groene zone is beland. Dit is indicatief van een potentiële marktbodem en dat korte termijn investeerders nog terughoudend zijn.
Handel samen met Crypto Insiders
Zoek jij hulp met handelen? Wil je graag exclusieve technische analyses ontvangen voor crypto? Neem dan een kijkje in onze premium omgeving. Hier delen analisten 24/7 hun marktkennis en nieuwste analyses. Hier kan je ook direct in contact komen met verschillende marktexperts en crypto-enthousiastelingen die klaar staan om jou te helpen!
Disclaimer: Beleggen brengt risico's met zich mee. Onze analisten zijn geen financieel adviseurs. Raadpleeg altijd een adviseur bij het maken van financiële beslissingen.