Quartz onthulde een grafiek die de prijsontwikkeling op de middellange termijn van Bitcoin (BTC) in 2014 en 2018 vergelijkt, en op basis van de beweging van Bitcoin van december 2017 tot juni dit jaar, kan de correctie die BTC momenteel meemaakt aanzienlijk korter zijn dan die van 2014.
2014 en 2018 zijn zeer vergelijkbaar
Van 4 december 2013 tot 4 januari 2015, in een periode van 400 dagen, daalde de prijs van BTC met meer dan 80% en registreerde het de slechtste correctie in haar geschiedenis. De daling van de BTC-prijs op de middellange termijn werd verlengd met een periode van vier maanden waarin BTC terugkeerde naar haar eerdere support level en boven dat niveau bleef het staan voordat het onvermijdelijk met meer dan 80% daalde.
In 2014 had Bitcoin 300 dagen nodig om met meer dan 70% te dalen. In 2018 duurde het minder dan 200 dagen om met meer dan 72% terug te vallen, en vergeleken met de correctie van 2014 daalt BTC nu dus aanzienlijk sneller dan vier jaar geleden.
Als de prijsgrafiek van BTC year-to-date vergeleken wordt met die van december 2013 tot januari 2015, vertoont de huidige prijsontwikkeling veel overeenkomsten met die van 2013-2015, maar met één belangrijk verschil: snelheid.
Puur gebaseerd op de prijsontwikkeling van Bitcoin in 2018, en die van 2014, beleeft BTC nu een snellere versie van de correctie van 2014. Het heeft vergelijkbare dalingen en corrigerende rally's meegemaakt in dezelfde timing, en loopt nu op schema om tot een dieptepunt in een stabiele regio te dalen.
Als de grafiek van de prijs voor Bitcoin van dit jaar bovenop die van 2014 wordt gelegd, zoals hieronder weergegeven wordt, kunnen veel overeenkomsten gezien worden.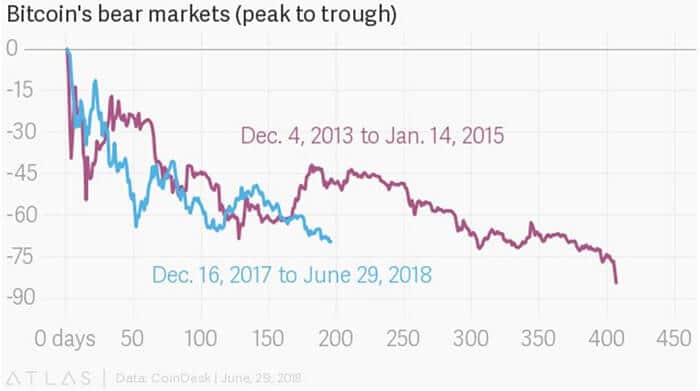 Kortere correctie
Zoals de CEO van BitMEX, Arthur Hayes, zei tijdens een interview met CNBC Fast Trader op 30 juni, is het mogelijk dat Bitcoin een dieptepunt bereikt ergens tussen de $3.000 en $5.000 om daarna een corrigerende rally van meer dan 80% mee te maken. In antwoord op de vraag of Bitcoin nog in 2018 de $50.000 kan bereiken, zei Hayes:
Absoluut! Ik denk dat als iets als Bitcoin in een jaar kan oplopen tot $20.000 een correctie tot $6.000 kan ondervinden. Ik denk dat we een dieptepunt kunnen vinden ergens tussen de $3.000 en $6.000, maar zijn maar één positieve regelgevende beslissing, misschien ETF goedgekeurd door de SEC, verwijderd van het stijgen naar $20.000 of zelfs naar $50.000 aan het einde van dit jaar.
Gezien het feit dat Bitcoin dit jaar de correctie van 2014 op versnelde wijze heeft doorgemaakt, is het zeer waarschijnlijk dat de correctie van BTC in 2018, gezien het verschil in marktomstandigheden en de regelgevende situatie van de sector, aanzienlijk sneller eindigt dat de correctie in 2014.
Bovendien zou, zoals Hayes zei, een onvoorziene wijziging in de regelgeving door de Amerikaanse overheid ertoe kunnen leiden dat de prijs van BTC en andere belangrijke cryptocurrencies zich herstelt met een sterk momentum en vraag, vooral als een ETF of een openbaar verhandelbaar instrument wordt gelanceerd op de Amerikaanse financiële markt.