De bekendmaking van de inflatiecijfers in de Verenigde Staten in januari zorgde vanmiddag voor een heftige bitcoin (BTC) koersschommeling. Wat zijn de mogelijke gevolgen van de inflatie?
Bitcoin koers reageert op inflatiecijfers
Maar eerst blikken we nog even kort terug op de koersbeweging van vanmiddag. Zoals te zien op de onderstaande grafiek zakte bitcoin in het eerste uur na de bekendmaking met bijna 4% in waarde. Maar vervolgens grepen een hoop investeerders hun kans om wat BTC te kopen. De stuiter bracht de koers zelfs terug hoger dan voor de dip!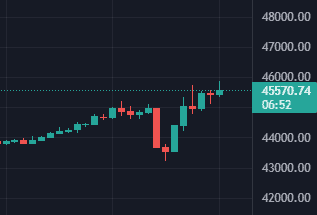 De dip ging gepaard met flink wat handelsvolume. Het zal interessant worden wat het vervolg zal zijn. Zeker nu BTC opnieuw een poging waagt om de weerstand tussen $45.000-46.000 te breken.
Playing just the tip with resistance, could finally go all the way this time.

We are all cheering for him. pic.twitter.com/M9IUda2Vwp

— The Wolf Of All Streets (@scottmelker) February 10, 2022
Waarom stijgt de bitcoin koers?
Nu de inflatie wereldwijd hoge waarden aanneemt, zijn investeerders op zoek naar een manier om hun kapitaal te beschermen. Goud is al eeuwen lang zo'n veilige haven, maar sinds de afgelopen decennium is ook bitcoin een interessant toevluchtsoord voor investeerders.
Dat komt omdat bitcoin, net als goud, een schaarse activa is. Nooit zullen er meer dan 21 miljoen bitcoins in omloop zijn. De inflatiecijfers dragen mogelijk bij aan de huidige koersbewegingen. In plaats van cash te zien verdampen, hopen investeerders in bitcoin bescherming te vinden.
Mogelijke keerzijde voor BTC
Het is echter niet vanzelfsprekend dat inflatie voor verdere koersstijgingen zorgt. Te hoge inflatie, zoals nu, kan er namelijk ook voor zorgen dat de Amerikaanse centrale bank, de Fed, de rentetarieven gaat verhogen in maart. Dit zou risicovollere investeringen minder aantrekkelijk maken voor investeerders, een klasse waartoe bitcoin nog altijd behoort. In een tweet laat analist Lark Davis zien hoe de markt zich op dit moment gedraagt:
A succinct explanation of the price of #bitcoin today pic.twitter.com/s4lFdAY6pm

— Lark Davis (@TheCryptoLark) February 10, 2022
Hoe dan ook zijn het interessante tijden voor de bitcoin hodler. Wil jij meer leren over crypto, elke dag updates ontvangen en in discussie gaan met Crypto Coaches en analisten? Word dan Insider en probeer de eerste 30 dagen helemaal gratis uit!