Uit een analyse van een anonieme analist blijkt dat een bitcoin (BTC) whale een enorme hoeveelheid bitcoin heeft verplaatst. Uit de laatste gegevens van de op drie na grootste BTC-wallet is te zien dat de entiteit 60.000 BTC heeft verplaatst en wellicht verkocht. De waarde van deze hoeveelheid BTC is zo'n $230 miljoen.
Daarmee zou de wallet nu naar verluidt leeg zijn. De bitcoin whale in kwestie was al sinds mei 2014 bezig met het inslaan van bitcoins. Sinds vorig jaar is de entiteit echter overgegaan tot het verplaatsen en verkopen van de ruim 113.000 BTC die sinds 2014 in de wallet terecht zijn gekomen.
Uit de laatste gegevens blijkt dat de laatste 60.000 BTC op 28 februari tussen 8 uur 's ochtends en 3 uur 's middags de wallet hebben verlaten. Dit gebeurde echter niet in één transactie, maar verspreid over meerdere transacties ter grootte van ongeveer 1.000 BTC en meer. Er zijn meerdere redenen mogelijk voor wat betreft de manier waarop de BTC de wallet verliet.
Zo is het mogelijk dat de wallet-eigenaar de transacties deed om de analyse van de anonieme analist te dwarsbomen. Maar een andere mogelijkheid is dat het om over-the-counter (OTC)-verkopen gaat. Dit zou betekenen dat de de bitcoin bearwhale nu eindelijk klaar is het met verkopen van zijn of haar BTC.
Een andere aannemelijke mogelijkheid is dat de eigenaar heeft besloten om de BTC te verspreiden over meerdere wallets voor meer veiligheid. Gezien de lancering van verschillende custody-oplossingen van institutionele investeringsbedrijven zoals Fidelity, is het ook mogelijk dat de BTC nu zijn ondergebracht bij dergelijke custody-services. Hieronder vind je een grafiek van de transacties van de wallet: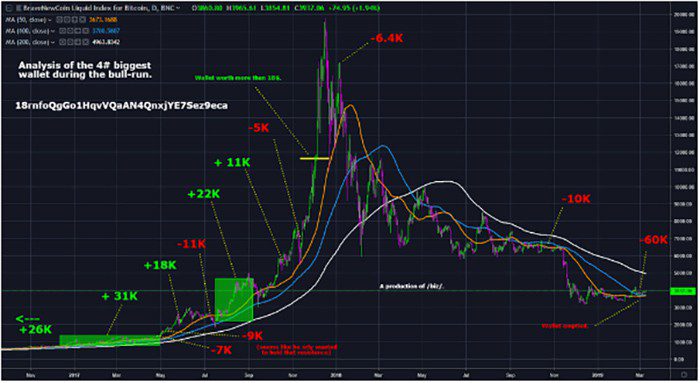 Wil je op de hoogte blijven van het laatste nieuws? Abonneer je dan op onze push-berichten, 
Facebook
– of Twitter.
[ci-widget-v2]