In het verleden behaalde resultaten bieden geen garantie voor de toekomst, maar als we puur naar de resultaten van Bitcoin (BTC) in het laatste kwartaal van de afgelopen jaren kijken kunnen crypto-bulls zometeen met een gerust hart de laatste drie maanden van 2018 in.
Market Watch, een website voor financiële informatie, laat aan de hand van een grafiek van Element Digital Asset Management zien dat de rendementen van BTC in het vierde kwartaal van de meeste jaren indrukwekkend waren. In de grafiek wordt elke dag van het jaar groen of rood gekleurd op basis van het behaalde rendement in de vier weken die aan die dag voorafgingen. Daarbij wordt een positief rendement groen en een negatief rendement rood gekleurd.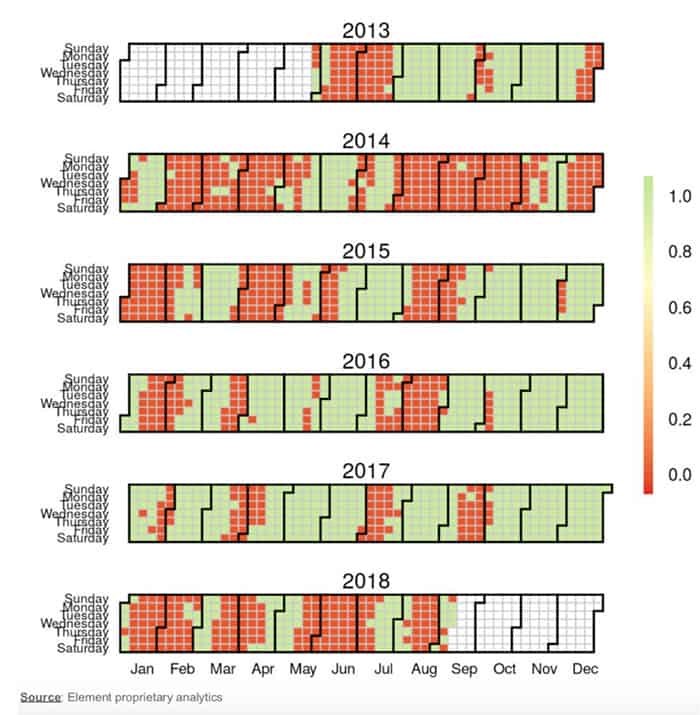 Bij elkaar opgeteld zijn er in het laatste kwartaal van zowel 2015, 2016 en 2017 dus kennelijk slechts 14 dagen geweest waarop BTC een een negatief rendement had. Thejas Nalval en Kevin Lu van Element Digital Asset Management schreven het volgende over het onderzoek:
Gezien het feit dat de markten voor cryptocurrency sterk afhankelijk zijn van menselijk sentiment en zelden verankerd zijn in een of andere fundamentele waarde, is het niet onredelijk om te onderzoeken of er een soort van seizoensgebondenheid bestaat.
Niemand kan voorspellen wat er met Bitcoin en de hele markt voor cryptocurrency zal gebeuren in de laatste maanden van dit jaar. Het moge duidelijk zijn dat de bearmarkt voorlopig nog niet voorbij is maar zoals Mike Novagratz al zei zou het zomaar kunnen dat de bodem wel bereikt is nu. Bitcoin vertoont op het moment van schrijven nog altijd enige vorm van stabiliteit rond de $6.500.